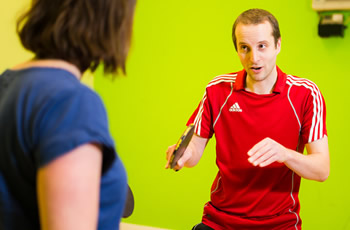 I provide 1 to 1 table tennis coaching in Cambridge, UK.
I am happy to coach players of all standards and all ages.
For example, you may be:
A complete beginner wanting to learn the basic table tennis strokes
An improving player wanting to learn the skills needed to play for a local club or league
A local league player wanting to develop the skills needed to win more matches
An advanced player wanting to fine tune your technique and improve matchplay to compete at the highest level.
Benefits of 1 to 1 coaching
1 to 1 coaching is a great way to improve because the coaching is entirely focused on your game. You get all of my attention!
This is probably the quickest way to improve. I will work with you to identify weaknesses, and strengths, and then we'll do lots of exercises to get you playing better and better.
I very much take part in every session, so you get the benefit of a reliable training partner. I can keep returning the ball (most of the time!), so you get the chance to play lots of shots to perfect your technique, footwork and consistency.
What does a 1 to 1 table tennis coaching session involve?
Typically, a 1 to 1 coaching session will last one hour and will involve a combination of exercises working on technique, footwork, consistency, tactics and match play.
Most of the session will be spent at the table hitting balls, so you will feel as though you have had a good workout.
The focus of each coaching session will depend upon your own needs and speed of progress. If there is something specific you want to work on, just let me know and I will include it in the coaching session.
Where does 1 to 1 coaching sessions take place?
I coach at three main venues in central Cambridge – Kelsey Kerridge Sports Centre, Hills Road Sports Centre and Cambridge-Parkside Table Tennis Club.
When does 1 to 1 coaching take place?
I provide coaching on weekday evenings and Saturday/Sunday mornings.
How much does 1 to 1 coaching cost?
The cost for one hour of coaching is £30 (this includes venue hire). You can book as many or as few sessions as you like. It's absolutely fine to book one introductory session to try it out and then book more sessions if you find it enjoyable and beneficial.
How to book
If you would like to book 1 to 1 table tennis coaching sessions, just email me at tom@tabletenniscoach.me.uk with your requirements or call me on 07919 484441.