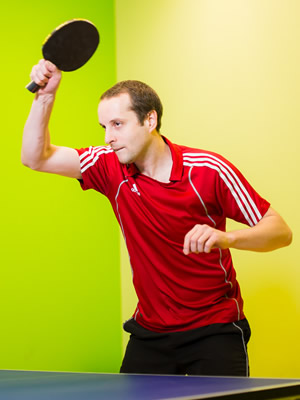 I am a Table Tennis England qualified coach (level 2) and work with players of all standards.
I was  relative late comer to table tennis. I played on and off during my youth, but it wasn't until I was in my mid-twenties when I started playing regularly. The seemingly simple challenge of hitting a small ball, with a small bat, over a small net soon turned into a lasting passion. The sport is not as simple as it looks! To develop the movement, coordination and technique to return balls travelling up to 100 kilometres per hour can take a lifetime to master.
I played for many years in the Central London Table Tennis League for Finsbury Table Tennis Club, before setting up and representing Highbury Table Tennis club. In 2013, I moved to Cambridge and now coach and play in the city and surrounding areas. I'm currently captain for the Cambridge-Parkside Table Tennis Club first team.
I offer 1 to 1 coaching to players of all standards – you may be a complete beginner wanting to learn the basics or an elite player preparing for a tournament. With my knowledge and experience of playing table tennis, I can help you achieve your goals.
I write articles about table tennis – anything from training tips to match tactics, equipment guides to opinion pieces. Take a look at my blog page to see my latest posts.
Sign up to my FREE monthly newsletter and I'll send you table tennis tips, blogs, articles and videos to help you improve and win more points. You can also follow me on Twitter and subscribe to my Youtube channel.
I am DBS (formally CRB) checked and first aid qualified.