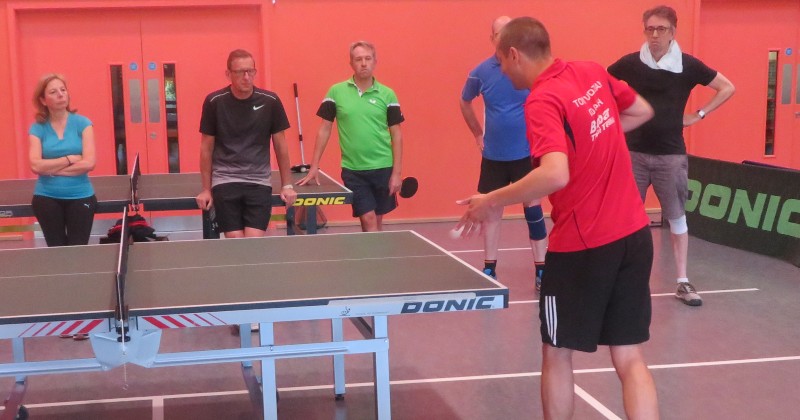 THIS TRAINING CAMP HAS NOW FINISHED. I will be organising more training camps in 2023. More details here.
Alternatively, you may be interested in attending one of my group coaching days.
---
My next table tennis training camp will be in August 2022.
Date: Monday 1 August 2022 to Friday 5 August 2022
Venue: Cambridge University Sports Centre, Philippa Fawcett Drive, Cambridge, CB3 0AS
Start / finish time: 10am-4pm each day
Coaches: Tom Lodziak and Ferenc Horvath
Participants: Maximum of 12 players per day
Cost: £65 per day
This training camp is aimed specifically at local league table tennis players. And I will focus on the skills, technique and tactics needed to win extra points when playing local league matches.
It will be a small, more intimate training camp (maximum of 12 players per day), compared to other larger scale camps. I want to get to know each player's game and give player-specific feedback to help you improve and win those extra points.
I will be joined throughout the training camp by Ferenc Horvath, who is head coach of Paragon Table Tennis and has featured in some of my YouTube videos. He has coached in many countries in Europe and plays to a very high standard.
The training camp is suitable for players who are already playing local league table tennis (intermediate to advanced standard).
---
Schedule
Here's an overview of what we will be working on each day…
Monday 1 August
10am-10.15am – Warm-up
10.15am-12.45pm – Footwork … Learn how to move quicker side to side and in and out. Lots of footwork drills. Be prepared to work your legs hard!
12.45pm-1.15pm – Lunch
1.15pm-3.45pm – Rallying skills … Learn how to switch efficiently between backhand and forehand strokes and play that one extra shot to outplay your opponent.
3.45pm-4pm – Debrief / cool-down
Tuesday 2 August
10am-10.15am – Warm-up
10.15am-12.45pm – Ball placement … Learn how to improve the placement of your shots to put your opponents under more pressure.
12.45pm-1.15pm – Lunch
1.15pm-3.45pm – Defensive skills … Learn how to use pushes, blocks, chops and lobs more effectively to make your opponent miss or play weak shots.
3.45pm-4pm – Debrief / cool-down
Wednesday 3 August
10am-10.15am – Warm-up
10.15am-12.45pm – Service strategy … Learn how to make your existing serves even stronger with more spin, better placement and clever variations.
12.45pm-1.15pm – Lunch
1.15pm-3.45pm – Returning serves … Learn how to return serves the easy way and apply pressure on your opponent straight away.
3.45pm-4pm – Debrief / cool-down
Thursday 4 August
10am-10.15am – Warm-up
10.15am-12.45pm – Topspin vs backspin … Learn how to attack pushes and chops with fast, spinny and consistent topspin shots.
12.45pm-1.15pm – Lunch
1.15pm-3.45pm – Flicking … Learn how to attack short serves with backhand and forehand flicks. No pushing allowed!
3.45pm-4pm – Debrief / cool-down
Friday 5 August
10am-10.15am – Warm-up
10.15am-12.45pm – Match tactics … Learn how to assess strengths and weaknesses and use tactical thinking to outwit your opponents.
12.45pm-1.15pm – Lunch
1.15pm-3.45pm – Mental strength … Learn how to control your nerves, keep focused and succeed when under pressure.
3.45pm-4pm – Debrief / cool-down