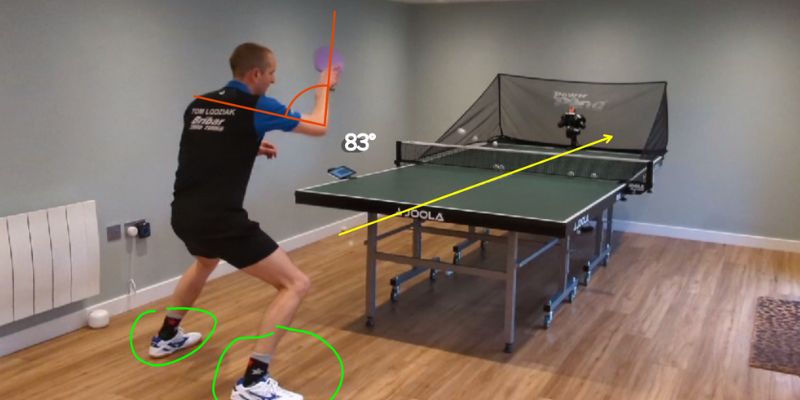 Video analysis can be a really useful way for you to make significant improvement to your table tennis game.
Filming yourself enables you to see both your strengths and weaknesses in a way which isn't possible with traditional self-reflection. Your perception of how you play, how you move, how you hit a ball is often different to the reality.
Video analysis helps you overcome this perception deficit. By watching yourself play and getting your footage analysed by a coach, you will have a much clearer understanding of what you need to do to improve your strokes, footwork or match-play.
---
How it works
Step 1 – You record yourself playing (up to 20 minutes duration). This could be a training exercise with a partner or a robot. Or it could be a match.
Step 2 – You complete my Video Analysis Order Form. In this form I ask a few details, including what you would like me to focus on when doing my video analysis.
Step 3 – When I have accepted the request and payment is complete, I will set you up on the CoachNow app. This is the app I use to conduct the video analysis.
Step 4 – You will upload your video to the CoachNow app. This is very easy to do. No technical skills required!
Step 5 – I will analyse your video and you will get a notification for when the analysis is complete.
---
What to expect
The final analysis will be delivered by video format. I will take your footage and add my analysis via a mixture of audio feedback, visual demonstrations and graphical annotations.
The length of my analysis will be broadly similar to the length of the video you send me. So if you send me a 10 minute video, you will get a minimum of a 10 minute video in return. Usually the video I give you will be longer, as I like to emphasise key coaching points during the analysis.
Where relevant I will also share training drills to help you work on any technical or tactic issues identified in the analysis.
The feedback I give will be tailored to your level of play. I want to help you develop useable strokes, which are reliable and effective and will help you win more points.
If you have follow-up questions from my analysis, you can send me messages in our private space on the CoachNow app.
---
What can I analyse?
I am happy to do a video analysis on any aspect of table tennis. Typically players ask for two main types of analysis…
Stroke review – I will review a specific stroke, e.g. a forehand loop, and suggest technical adjustments to help fix a problem or progress a player to a higher standard.
Match analysis – I will review a practice, league or tournament match and suggest technical and tactical adjustments to help you develop your game and win more points.
If there is something else you would like to focus on, simply let me know when completing the Video Analysis Order Form.
---
Filming equipment
You don't need any fancy filming equipment. You can just use your mobile phone. The camera quality on modern mobile phones is excellent and the technology is very easy to use. But please feel free to use whatever recording equipment you have.
In terms of filming angle, I can do an analysis from whatever angle you send me. Ideally the camera would be far enough back so that I can see the whole table.
---
Cost
The cost of my video analysis service will depend on the length of your video, as outlined below. You will be paying for both my time and expertise. Typically I will watch your video in full, whilst making notes. I will then plan the feedback. Finally I will record a video to send back to you. This process can take some time, which is reflected in the cost below.
| | |
| --- | --- |
| Duration of your video | Cost of video analysis |
| 0-5 minutes | £30 |
| 6-10 minutes | £40 |
| 11-15 minutes | £50 |
| 16-20 minutes | £60 |
If you plan to do video analysis with me on an ongoing basis, you might want to consider my Remote Coaching Service. This will work out better value in the long term and would help us to develop a stronger coaching relationship.
Alternatively, you could join my online table tennis academy, where you will get access to exclusive coaching content, including in-depth technique tips and a wide range of training drills. You will also be able participate in live seminars, demonstrations and workouts.
---
What next?
If you would like to use my video analysis service, please complete my Video Analysis Order Form. I will review your request. If accepted I will contact you with instructions on payment and submitting your video.
If you have any questions, please email me – tom@tabletenniscoach.me.uk