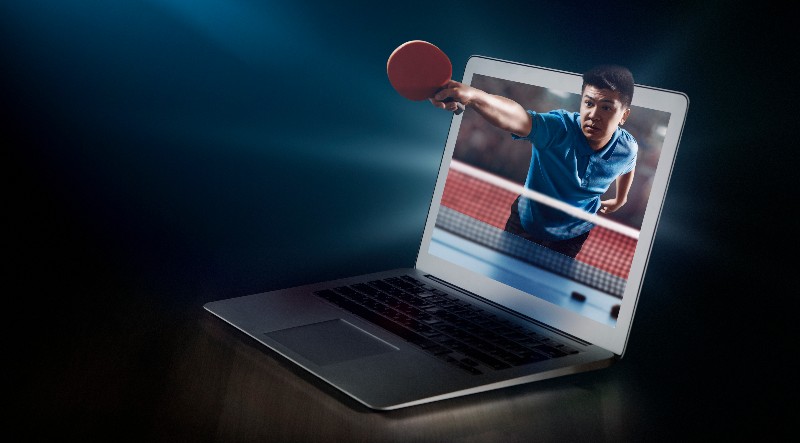 If you would like to be coached by me, but don't live near Cambridge, you could try my remote coaching service.
With the use of bespoke coaching technology, it is possible for me to provide a very thorough coaching service to players in any part of the world.
I will work with you to develop a training plan and then provide a lot of coaching support using a mixture of video, audio and text feedback. Think of me as a table tennis coach in your pocket!
This is what to expect…
Stage 1 – Initial analysis
I will ask you to complete a player profile questionnaire and send me videos of you training and playing matches. From this, I will develop a training plan. This training plan will include drills and exercises to help you improve weaknesses and develop strengths. There will be some technique goals, but I am very interested to develop your entire game, so there will be plenty of focus on drills which will improve your match-play level.
Stage 2 – Play and film
It's time to get to work. You will spend time completing the drills and exercises I give you with a practice partner or a robot (or both). I will ask you to film yourself and send my the footage. I will analyse the video footage, give feedback and suggest additional exercises where necessary. This will be an ongoing process during the time we work together. Even though I will be directing you, I want us to have a collaborative relationship. I will encourage you to share thoughts with me and make your own suggestions too.
Stage 3 – Review and refine
At the end of each month, I will review your progress against your training plan. At this stage I may suggest new drills and exercises or we may need to continue with the same ones. Every player has different needs and progresses at a different rate. I will keep an open mind about your long term training plan and refine it where necessary. Once I have completed my monthly review, it will be time for lots more table tennis for you! You will start the new exercises and send me more footage. I will analyse and give feedback. And the process continues in this way for the length of time we work together.
Stage 4 – Win more points!
I don't waste time on drills which look nice but have little practical impact on your match performance. Sometimes coaching can become too obsessed with achieving 'flawless' technique and neglect the areas of the game which actually have an impact on your match results – serve, receive, playing style, strategy, tactics. I take a different approach. Yes, technique is important, but it doesn't need to be perfect. I will help you develop reliable and usable strokes, but I will give you so much more than this. The drills I give you will be directly transferable to the matches you play. I will help you develop your tactical game, devise match-winning strategies and teach you how to win more points.
---
Equipment
Video footage of you playing is essential. How we think we play is often very different to the reality. The camera never lies! But you don't need any fancy camera equipment. Your smartphone and a basic tripod will be good enough.
You will upload footage and communicate with me via the CoachNow app. This app can be accessed by a smartphone or a web version can be accessed by a laptop or desktop computer.
You will also need access to a table tennis table at a club, or at home, and a training partner (it doesn't always have to be the same person). Or you can use a robot. Or both.
---
Communication
All of our communication will take place via the CoachNow app. This is a very easy to use app, which can be accessed on your phone or via a tablet, laptop or desktop computer. We will communicate via video footage, text messages and audio messages. You will be able to send videos and send messages whenever you want. I will try and respond quickly. There may be times when I am physically coaching for many hours, so I can't respond. But I will always aim to respond within 24 hours.
Please note that we will not have 'live' lessons in a traditional coaching format. These are very challenging to co-ordinate as players are often in a different time-zone. A 'live' remote coaching session is also not very productive. Too much time is wasted with setting up technology and I think it is hard to achieve much progress. If you wish to have an actual live coaching session, then I recommend seeing a coach in-person.
---
Playing standard
I am happy to work with players of all standards, beginner through to advanced.
If you are a beginner player, I can help you learn the skills needed to join a club and play in a league or a tournament.
If you are an intermediate player, I can help you learn the new shots, and win more points in your matches.
If you are an advanced player, I can help you progress your technique, improve your win percentage and take your game to a higher level.
Regardless of current playing standard, your most important attribute will be your attitude. You will need to be committed, passionate and have a strong desire to improve.
---
Cost
I am eager to develop a strong relationship with every player I coach. Therefore you will need to commit for a minimum of one month.
I offer four packages…
1 month of remote coaching – £149
3 months of remote coaching – £399
6 months of remote coaching – £599
12 months of remote coaching – £999
For this investment, you will get plenty of my time, plus access to my coaching expertise.
Please note, I also offer an ad-hoc video analysis service. If you just want me to analyse an occasional video of you playing, this would be a better option.
Alternatively, you could join my online table tennis academy, where you will get access to exclusive coaching content, including in-depth technique tips and a wide range of training drills. You will also be able participate in live seminars, demonstrations and workouts.
---
How to apply
If you want to sign up for remote coaching, please complete this short application form. You will need to enter a few personal details and also information about your current playing standard and activity.
I will then review your application. If accepted, I will contact you with more information about what is needed to start the remote coaching and payment instructions.
If you have any questions about remote coaching, please email me at tom@tabletenniscoach.me.uk