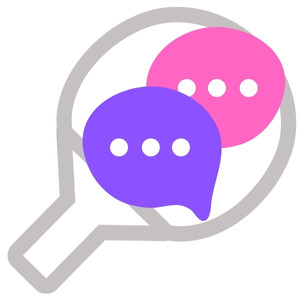 Do you need help with your table tennis game? Post a topic and get advice from Tom Lodziak and other forum members.
Serves & returning serves
Topic starter
04/11/2022 11:11 am
I have always struggled reading the spin on serves when players disguise what they are doing.  Which rubber is the least sensitive to the incoming spin?  I have tried various reverse rubbers in different thicknesses and spin values without success.  I have recently tried short pips (not good) and long pips (some limited success) but if I manage to keep my return on the table it is easily diven or smashed past me.  Any suggestions please?
Long pimples or anti-spin will be the least sensitive to incoming spin. Both could work well, especially if you have a naturally chopping style. However, there is no easy solution. It requires plenty of practice and skill to return serves well with long pimples or anti-spin. So even if you use one of these, you still have to work hard at this aspect of your game. 
Returning serves and reading spin is probably the hardest part of table tennis. But it is possible to improve at reading the spin. This should really be your biggest priority, rather than hoping a change of rubber will solve your problems.
Look at for the key clues the server gives you...
Bat angle open and bat moving down = backspin or side-backspin
Bat angle straight and bat moving up = topspin or side-topspin
It all happens very quickly, but if you are really watching your opponent's bat, you can start to consistently read the spin. The more you focus on this, the more it develops into a positive habit. Eventually it becomes a subconscious habit. You see the service action and you just know what the spin will be (most of the time!). 
I agree - I'm just starting to get better at looking properly at the opponents bat . For me it is also key not to panic at their serve and make sure I play a definite shot and follow through properly ..
@nev57 Yes, that's a good point. Make sure you play a definite stroke and don't prod at the ball. When you prod at the ball, the server's spin tends to dominate and the ball shoots off up, down, left or right. When you play a definite stroke, you add your own spin to the ball, whether backspin or topspin, and you control the server's spin more.
I'm currently helping a relatively new player with trying to read spin serves. I decided to try and teach her how to do some pendulum spin serves herself. This has proved really useful as she is now beginning to understand her opponent's service action much better. 
@stevew I like this idea. Makes a lot of sense. Once a player understands how a serve works it seems far less intimidating.
I like to help out other players at our club that have obvious weaknesses to their play that's holding them back and the number one issue I come across is returning spinny serves. To try to help, I usually announce what serve I'm going to make in advance so they can associate the serve action with a certain type of spin. I also suggest the appropriate return for each type of serve. This works to a degree but as soon as I stop announcing they resort to their usual passive 'prod'. Are there any tips or drills I can use to help them remember? 
@borderline955i The method you use - announcing the serve - is a good starting point. I will use this method in my coaching sessions too. The next stage is to add a variation. So I will show a player how to return a backspin serve. I will then show a player how to return a topspin serve. When a player has understood both, we will then work on reading spin. I ask the player to put his / her bat on the table and just watch me as I serve and call out the spin. When the player can consistently call at the correct spin, he / she picks up the bat and then tries to read the spin and play the correct shot. When a player can consistently return these two serves (served randomly), I can then add in another type of serve. This process can take quite some time, although some players can pick it up quickly. You will need to repeat the serves a lot of times, until the player instantly recognises the service action and plays the correct shot.
I have finally started to return serves by playing a stroke rather than prodding. I have also been learning to relax my grip and I think this can be almost as important as not doing the prod thing. Now I just have to do this in tense matches. It has been strange that I have found slower serves harder to return. It seems I'm better if I don't have time to think about the spin!
@nigec Sounds like good progress. Relaxing the grip is really important. You have much more feeling when you return a serve.