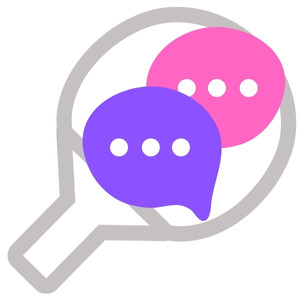 Do you need help with your table tennis game? Post a topic and get advice from Tom Lodziak and other forum members.
French League Game - 01/11/2022
Topic starter
02/11/2022 2:18 pm
Hello there,
Cool to see a forum from the people making some of my favorite table tennis videos. Those are so much more applicable for us average amateur players than some others dealing with pro level players!
Please see below a link to my last league game yesterday evening, I'm looking forward to read your comments!
Cheers!
All the best from France!
I'll take a look. Just one question, are you the player in blue or green?
Topic starter
02/11/2022 2:52 pm
@tom-lodziak 
The blue one (the one in common in the three games 😘 )
So, good things...
You have a strong backhand attack. When you use your spinny backhand topspin vs backspin, you often win the point or at least get a weak return.
Your pushing game is consistent and your return a lot of balls
Your serves were working pretty well and you were getting a lot of passive returns
And these are some things I think you could improve upon...
1. Too much pushing ... I don't think you need to push as much as you do. You are often content to start the rally with 2, 3, 4 pushes and then attack. This is OK if your opponent never attacks, but with opponents 1 and 3, you were giving them too many opportunities to attack first. Your backhand topspin is good, so there is no need to push so often. Try to attack earlier in the rally. Maybe you lack a little confidence with your forehand topspin vs backspin, so you could drill this a lot more to get it more consistent.
2. Try to serve and attack ... Sort of related to the above point. Your serves often got returned passively, with a long, floaty push. You are setting up an opportunity to attack, but instead push the ball back. So in training work on serve + 3rd ball attack. Put your opponent under pressure straight away.
3. Too much backhand ... I think you rely on your backhand too much. This was clear in the third game, when you were cover 2/3rds of the table with your backhand and your opponent was taking advantage by attacking to your wide backhand. So you need to develop your forehand side more, so you have a more balanced game. You can attack with your forehand (you played a few good forehand attacks), but you usually wait for an easy ball. So in training, work on developing both you forehand topspin vs backspin and forehand topspin vs block.
But actually you play pretty well and I don't think it would take that much to raise your game to a higher level. You were technically better than your opponents, but maybe you were too kind to them. Play more positively and assert your game on them.
Thanks for posting the video!
Topic starter
02/11/2022 5:23 pm
Wow, thanks a lot for the quick feedback! It is very consistent with what we decided to work on as well.