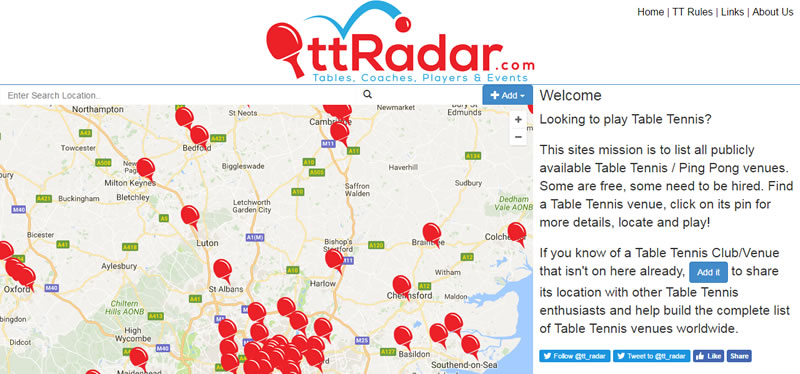 It can often be a challenge to find information online about where you can play table tennis. In an internet-obsessed age, we expect to find all information online. But table tennis clubs aren't always great at having an online presence.
I know this from personal experience. When I first moved to London, I had great trouble finding where to play. It turned out, there was a great club close to where I lived, but I didn't know that for two years, as I could never find any information.
The same thing happened when I moved to Cambridge. Information was very patchy. It was difficult to find out where clubs were, when they opened and how I could take part. Again, I had to do plenty of research and send a number of emails to find out there was a club close to where I lived.
In reality, most clubs are run by volunteers and setting up and maintaining a website is often at the bottom of the list of things which need to be done.
But do not despair!
I'm going to share a great new(ish) website with you, which makes it easier to find a table tennis club near you.
The website is ttRadar.com. It's aim is to list all of the publicly available tennis venues. This includes clubs and other venues where you can hire a table to play. In short, you can go to ttRadar, enter your location and it will show you a map of all the places you can play table tennis near you. It is as simple as that.
The site already has over 500 venues. The is a strong focus on the UK (300+ venues), but it has potential to be a global resource.
The website was co-founded by Tarun Goel. I first met Tarun when playing in the Central London Table Tennis League and now we both play in the Cambridge Table tennis League (I think he's following me!).
ttRadar has lots of potential but it needs your help. It's a community driven website. This means it relies on all of us who play table tennis to add information about venues and clubs.
So you can do two things:
Use the website and let other people know about it.
Add information about any venues and clubs where you currently play table tennis.
Anything we can do to make it easier for people to find table tennis venues is a great thing. So please take a look at the ttRadar website. Use it to find places to play. And if your venue or club isn't on the website, then please add it.