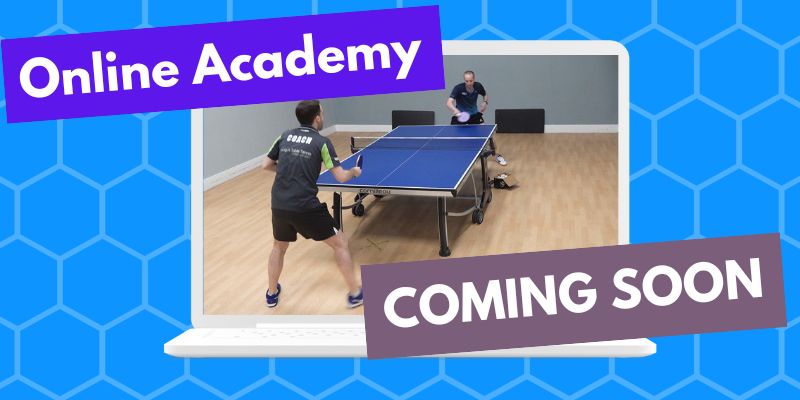 Want to win more points and games? Want to improve your ranking? Want to beat that player you have never beaten before?
If yes, then I would love to invite you to join my new online table tennis academy.
I will be launching my online academy in October 2023. You will get access to expert advice, a wide range of training drills and in-depth demonstrations. It will be an interactive community with table tennis players all over the world. You will be able to post questions and videos and give tips and feedback to others.
Here are features I am currently developing…
Training drill library … Get inspiration for your training sessions. Each drill will be clearly explained and demonstrated. You can save your favourite drills to create your own training drill library.
In-depth courses … Get detailed tips and demonstrations on a range of table tennis topics, taken directly from my real coaching sessions. In every lesson, you will have the opportunity to leave comments, ask questions and discuss the content with Tom and other academy members.
Coaching clinic … If you need help with your table tennis game, you can ask me a question about technique, tactics, training, service, returning serves or anything else you would like help with.
Interactive groups – You will be able to join a number of special interest groups. In these groups I will be sharing exclusive coaching content, plus academy members will be able to share their own tips, comment on posts and create discussions. Some of the planned groups are…
Match-play group … share your latest match results and experiences and get advice and help from Tom and other academy members
Training group … get advice on how to train better and post footage of your own training exercises
Coaching group … get exclusive coaching videos from real-life sessions and post your own coaching videos which you think other members will find useful
Equipment group … discuss rubbers, blades and other equipment, and get recommendations from Tom and other academy members
Fitness group … get exclusive work-out videos specific to table tennis and share your own fitness tips with others
Pro table tennis group … watch and discuss the latest pro matches and learn from the best!
Tom's top 10 challenge – Follow my progress in trying to reach the top 10 in the English veterans ranking list. I will be posting matches, training sessions and all my ups and downs in trying to achieve my incredibly tough goals.
The Leaderboard – And finally, academy members will gain points by using the site. The most engaged (and helpful!) members will gain the most points and have a chance of finishing top of the weekly, monthly and yearly leaderboard. It's a nice way to recognise the contribution of members to the academy community.
---
Cost
There will be three payment options…
Monthly – £7 … Ideal if you are on a limited budget or you just want to try the academy for a month or two.
Yearly – £49 … Ideal for dedicated academy members. It works out as less than £1 per week. You will get tremendous value for your yearly subscription.
Life-time – £299 … Ideal if you don't like recurring subscriptions. Pay once and get access to the academy forever!
Launch date
My online academy will be launching in October 2023.
Register your interest
If you're interested in finding out more about my online academy, please complete this expression of interest form. I will be in contact in October 2023 when the online academy is due to launch.
Join now and get 25% discount on a yearly subscription
If you sign up by 30 September 2023, I will give you a 25% discount on your first year of membership. Instead of £49, you will pay only £36.75. This is an absolute bargain for all of the content and coaching tips you will receive. Your membership will only begin when the online academy launches in October 2023, so you won't miss a thing.
If you have any questions about my online table tennis academy, please email me at tom@tabletenniscoach.me.uk