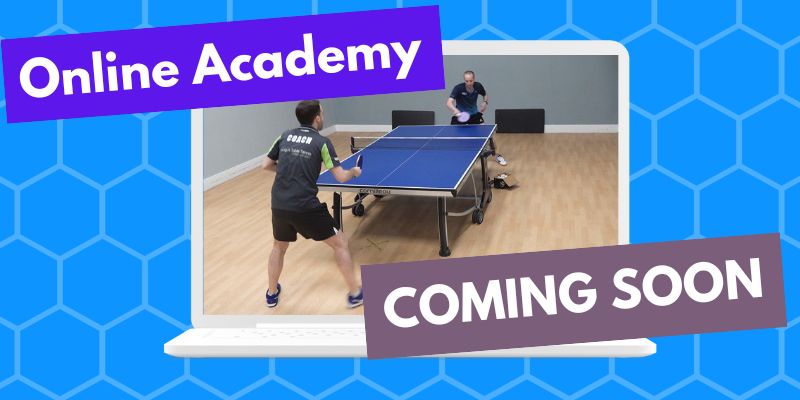 Want to win more points and games? Want to improve your ranking? Want to beat that player you have never beaten before?
If yes, then I would love to invite you to join my new online table tennis academy.
Launching in October 2023, my online academy will be a source of great coaching tips. I am currently in the process of creating the content and planning the interactive features, but here are some of the things you can expect to see…
A wide range of training drills
In depth technique tips and demonstrations
Live seminars
Live technique demonstrations
Live workouts
Skills challenges
Bonus material from my YouTube videos
This will be an interactive community with table tennis players all over the world. You will be able to post questions and videos and give tips and feedback to others. Here's some things you will be able to do…
Post videos of your matches and training exercises
Share your match results and training experiences
Get feedback from Tom and other members
Get equipment advice (rubbers, blades, shoes, robots, tables etc)
---
Cost
The cost for joining my online academy will be £49 per year, which works out as less than £1 per week. You will get tremendous value for your yearly subscription.
Launch date
My online academy will be launching in October 2023.
Register your interest
If you're interested in finding out more about my online academy, please complete this expression of interest form. I will be in contact in October 2023 when the online academy is due to launch.
Join now and get 25% discount
If you sign up before the launch date in October 2023, I will give you a 25% discount on your first year of membership. Instead of £49, you will pay only £36.75. This is an absolute bargain for all of the content and coaching tips you will receive. Your membership will only begin when the online academy launches, so you won't miss a thing.
If you have any questions about my online table tennis academy, please email me at tom@tabletenniscoach.me.uk