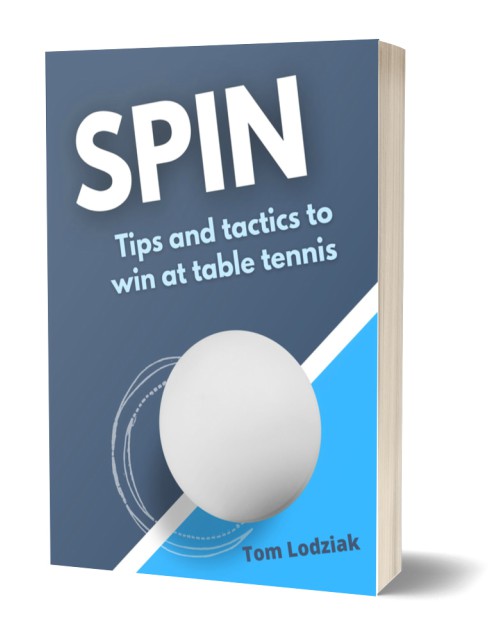 Table tennis is a weirdly addictive sport. All over the world, an army of amateur table tennis players compete in leagues, tournaments, pub battles, work challenges and 'friendly' family games. A 78-year-old can beat a 28-year-old. A 10-year-old can make a grown man cry. To win, you need ninja-like reflexes, the control and coordination of a tightrope-artist, and the tactical dexterity of a chess grandmaster.
In my debut book, I will help you improve your table tennis skills, win more points and win more matches. I share tips on training, service, returning serves, winning points, tactics, playing matches and continual improvement. These are tips which work at amateur level. Tips which are achievable. Tips which will make a difference, even if you only play one hour per week. Are you ready to transform your table tennis game?
SPIN: Tips and tactics to win at table tennis is available to purchase from Amazon in both paperback and Kindle format in the following countries…
---
Contents
1. Amateur table tennis
2. My story
3. Training
How long does it take to get "really good" at table tennis?
How often should you train?
Training with a purpose
Three training methods
Your training plan
4. Technique
My deficient technique
What is 'correct' technique?
Copying the professionals
Unorthodox technique
Improving your technique
5. Service
Legal serves vs illegal serves
Improving your serves
Solo service practice
The perfect serve
Long serves
Always expect your serve to be returned
Service tactics to win cheap points
6. Returning serves
Reading spin
Shot selection
Asserting pressure
7. Winning points
What is the best playing style to win at table tennis?
Ball placement
Spin, speed and power
Disruptive shots
How do you win points?
8. Tactics
The pusher
The chopper
The blocker
The lobber
The topspin attacker
The mid-distance looper
The one-wing attacker
The flat hitter
The long pimples player
The short pimples player
The anti-spin player
Develop your tactical thinking
9. Playing matches
Warm-up
Analysing your opponent
Game plan
Coping with pressure
Staying positive
The winning secret
Reflecting
10. Continual improvement
Problem-solving mindset
Age is no barrier
Overcoming adversity
No matter how good you get, there's always someone better
11. Follow your own path
---
SPIN: Tips and tactics to win at table tennis is available to purchase from Amazon in both paperback and Kindle format in the following countries…