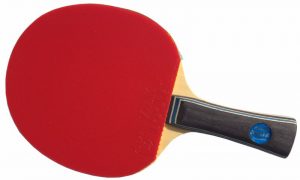 When players I coach progress from beginner to intermediate standard, I encourage them to buy a better bat. But what the heck should they buy? There are just so many bats available – all with different levels of speed, spin and control. Plus decisions need to be made about rubber thickness, blade speed and handle shape.
For a player who is buying their first 'proper' bat, it can be quite an overwhelming experience. But do not worry, help is at hand. In this blog post, I share the advice I give to the intermediate players I coach (including specific recommendations). I hope my advice helps you too…
[Related: If you are a beginner player, take a look at my blog post 'Best table tennis bats for beginners'. If you're an advanced player, take a look at my blog post 'Best table tennis bats for advanced players']
Spin, speed and control
Many beginner players start with fairly basic bats. They're not too fast or spinny but they do have plenty of control. This is ideal for a beginner. But as your technique improves, you should improve the quality of your bat too. As a general guide, you should be looking to buy a bat which is a little faster and can generate more spin than your existing bat, but still retains good control.
In other words, don't jump from a beginner bat to a really advanced, super-fast and super-spinny bat. You may find it difficult to control the ball, as the rubbers on these bats are very responsive. Instead you want something in between – faster than your beginner bat, but not as fast as the bats the professionals play with.
Custom-made bat or ready-made bat?
At the intermediate level, it doesn't really matter if you buy a custom-made bat or a ready-made bat. It won't be your 'forever' bat. You'll probably use it for a 12-18 months and then buy something better again.
If you want to buy a custom-made bat, you need to choose a rubber for your forehand, a rubber for your backhand and a blade.
The benefit of a custom-made bat is that you can choose any combination. For example, you may want a faster rubber for your forehand (for attacking play) and a slower rubber for your backhand (for all-round play). You can customise the rubber thickness (thicker = faster, thinner = slower) and the shape of the bat handle.
For table tennis geeks, like myself, this level of customisation is wonderful. You can lose hours researching and reading reviews, as there is just so much choice available.
However, this doesn't appeal to everyone. If spending hours trawling through table tennis equipment websites isn't your thing, then you should consider buying a ready-made bat (recommendations below).
A ready-made bat usually has the same rubber for both the forehand and the backhand and limited choice on blade, rubber thickness and handle shape. The quality of the bat is good, but there is simply less customisation and less choice available. But if you play a similar style for both forehand and backhand strokes, then it's fine the have the same rubber on both sides of your blade.
Cost
A intermediate bat is going to cost more than a beginner bat. You're paying for the extra quality of material. However, you don't need to spend a fortune. Typically, a good intermediate bat will cost between £50-£100. From my experience, a ready-made intermediate bat is usually a little cheaper than a custom-made intermediate bat.
Recommendations
I'll start with ready-made bats. Almost all online table tennis shops will sell some ready-made bats. On their websites look for 'pre-assembled', 'ready-made' or 'complete' bats.
Another good option for ready-made bats is Amazon. The good thing about Amazon is you can read lots of user reviews to help you make an informed choice. My personal favourite is the Bribar Allround Professional (read review), but all the table tennis bats listed below are very good choices for intermediate players.
Recommended bats (UK)
Recommended bats (USA / Rest of world)
BEST-SELLERS: Take a look at my list of the most popular table tennis bats purchased by readers of my website.
What about custom made bats? There are hundreds of rubbers and blades available to buy and there is no way I (or anyone else) have tested them all. But here are a few blades and rubbers I recommend for intermediate players based upon my own playing and coaching experience.
Blades
Rubbers
If you want to buy a custom-made table tennis bat, you will need to purchase via a table tennis shop. Take a look at my list of shops in UK, USA, Europe, Asia and Australia.
---
Final thoughts
Whatever bat you decide to buy, remember – get something faster and spinnier than your existing bat, but not too much faster and spinnier!
I remember the first 'proper' table tennis bat I bought when I played my first league season about 10 years ago. I was intermediate standard, but wanted something fast like the other players in the club. I looked through the catalogue and picked out a very fast rubber for my forehand, a very fast rubber for my backhand and an offensive blade. It was a very quick bat, to help me play fast table tennis.
What happened? I had a terrible season. I just couldn't control the ball. Yes, my shots were fast, but they weren't landing on the table! Attacks went long, pushes popped up high, blocks catapulted off my rubber. In short, the bat was too fast for my developing technique.
When the season finished, I bought my next bat. This time I went for an all-round blade, and rubbers with a bit more control. There was an instant improvement. I stopped making so many unforced errors and I was enjoying my table tennis again.
Moral of this story? Just because you're improving, it doesn't mean your Ma Long yet! Buy a faster bat, yes, but not too fast! Make sure you still have plenty of control.
---
Please note: I have now closed comments on this blog post. If you need specific equipment advice, I recommend contacting a table tennis shop near you.
---