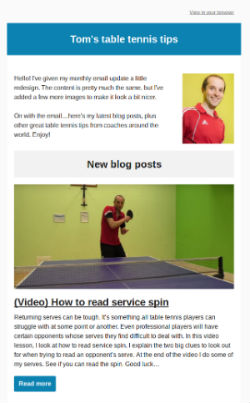 Sign up for my free and popular monthly newsletter.
Each month I share my latest table tennis tips, tactics and training drills to help you improve and win more points.
I also share tips from other coaches and table tennis action from tournaments around the world.
The newsletter is useful for table tennis players of all standards.
Not sure?
I usually send the newsletter on the first Saturday of every month. If you want to know what to expect, take a look at one of my newsletters from the past six months. If you like the look of it, then please subscribe in the box above.