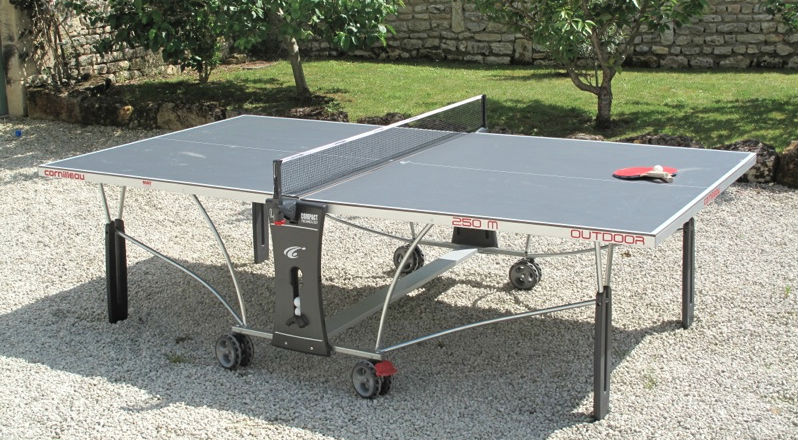 If you're thinking of buying a table tennis table for your home, your first big decision is where are you going to put the table – inside or outside?
If you have space inside, I'd definitely recommend getting an indoor table. Table tennis an indoor sport after all (you can read more about buying an indoor table tennis table here).
But if you don't have space inside your home or in a garage, then your only choice is to get an outdoor table tennis table for your garden.
Actually this is ok. Outdoor table tennis can be great fun. It tends to have a more social aspect to it – drink, food, laughter, fun and games with friends and family. An outdoor table tennis table in the garden can provide hours and hours of entertainment.
In this blog post, I share some advice about buying an outdoor table tennis table, including information on brands, cost and some practical advice for how much space you need in your garden and how to look after your table. I also give a few recommendations on which outdoor table tennis table to buy.
Indoor vs outdoor table tennis
First a few words about the difference between indoor and outdoor table tennis. At a competitive level, both amateur and professional level, table tennis is most definitely an indoor sport.
This is mainly to do with the weather. Table tennis balls are very light, so any kind of wind can have a big impact on the flight of the ball. And if there are any wet patches on the table (because of rain), the ball won't bounce, which makes it very hard to play.
But despite the weather there is a growing popularity for outdoor table tennis. It isn't as serious as indoor table tennis and is played more for fun – what you might consider more as 'ping pong'.
In many countries, there are outdoor table tennis tables dotted everywhere – parks, schools, train stations, shopping areas. In many cities in the UK, we now have lots of outdoor tables thanks to a project called 'Ping'. And the ITTF has an introduced a new informal version of table tennis, called TTX, which can be played indoors or outdoors.
When thinking about getting a table tennis table for your home, the biggest advantage of an outdoor table is you have more space to play. Most people don't have enough space inside their home for an indoor table. You actually need a fairly big sized room. This is less of an issue if you get an outdoor table. If you have a garden, even a small sized garden, you should have plenty of space to play (more on this later).
The biggest disadvantage is the weather. If there is too much wind, it is much harder to play, although it can be fun trying to battle the wind and your opponent – you get to play some crazy shots! If it is raining a lot, then just forget about playing. This is no fun. But you can play through a light drizzle. When the sun is out and there's not much wind, outdoor table tennis can be great fun.
Table differences
Indoor and outdoor table tennis tables are very similar. They are the same width, the same length and the same height. The biggest difference is the material the table tennis top is made from. Indoor tables are solid wood. Outdoor tables are a mixture of metal and wood and finished with a coating to protect the table from sun, rain and wind. Outdoor tables also tend to have sturdier frames, which adds a little to the overall cost.
I wouldn't recommend using an indoor table outside, as the wood surface can badly deteriorate if it gets wet or exposed to too much sunlight. And the frames aren't as sturdy and won't hold up that well if you have a slightly uneven surface.
So if you want to have a table tennis table for your garden, get a proper outdoor table tennis table.
There is a difference in how the ball bounces on an outdoor table compared to an indoor table. With an outdoor table, the metal/wood surface absorbs some of the energy of the ball, so it doesn't bounce quite so well and the ball comes off the table a little slower. But, unless you're playing at a high competitive level, you're probably not going to notice much of a difference. And quiet honestly, I've played league matches on some old and slow indoor tables with some big dead spots – so it's not as though all indoor tables are perfect.
A couple of years ago, I used to go to someone's house to do some coaching. He had an outdoor table, but set it up in his garage. We did a lot of coaching on this table and it was absolutely fine for the standard he was playing at.
Setting up a table tennis table in your garden
Ideally, you need an even surface when setting up your table outside. You could set up on a patio area or a flat grass area. You can adjust the leg heights to even up the table, so even if you surface isn't completely flat, you can still make the table top even.
Some wind protection can help. If you can position the table near a garden fence or the side of the house it will reduce some of the impact of the wind, although on a very windy day, it won't make much difference.
In terms of space – the table length is 2.74 metres and the table width is 1.525 metres. You will also need a minimum of approx 5 steps back from the end of the table and 2 or 3 steps to the side of the table to have enough room to play. You should measure this out in your garden before buying to make sure you have enough space.
It's best to buy an outdoor table which folds (most do), so that you can store it away neatly when you have finished playing.
Cost
An outdoor table tennis table can cost anywhere from £150/ $200 up to £1000 / $1500.
If you have read any of my other equipment articles, you will know that I always recommend that you don't buy the very cheap options.
I'm going to give the same advice for outdoor table tennis tables! The budget price outdoor tables are quite flimsy, more likely to break and the bounce of the ball is terrible.
To get a decent outdoor table tennis table, which will last you many years and has a decent bounce, you'll need to spend in the region of £300-£500 / $400-$600.
Best brands
There's quite a lot of choice available. Kettler and Cornilleau have a good range of outdoor tables. These two brands are what most people buy for their garden. The more well known table tennis brands, such as JOOLA, Butterfly and Stiga, also produce outdoor tables. The quality is good, although they tend to be a little more expensive.
Recommendations
Here's a few recommendations on which tables to buy. If you click through the links below, you'll also be able to read reviews from other people who have purchased these tables.
Recommended tables (UK)
Good quality mid-range price tables…
High quality high-end price tables…
Recommended tables (USA / Rest of world)
Good quality mid-range price tables…
High quality high-end price tables…
Permanent Outdoor Tables
If you have a larger outdoor space and a bigger budget, you might also consider a permanent outdoor table. These tables are designed to be left outside all year and are weatherproof against frost, heat, UV radiation and temperature fluctuations. The quality of these tables are fantastic, but you can't fold and store away, so they will be a permanent feature of your outdoor space.
Recommendations UK
Recommendations USA / Rest of world
If you want to do your own research, take a look at my list of table tennis shops. Most of these will have outdoor table tennis tables for sale too.
BEST-SELLERS: You may also want to take a look at my list of the most popular table tennis tables purchased by readers of my website.
---
Protection
Finally, a word about protecting your table. Even though outdoor table tennis tables are made of materials to survive outdoor weather conditions, they are not indestructible! If you leave the table unprotected all year round, you will experience some deterioration.
Your table which last much longer if you fold it up after use and put a protective cover over it. Some tables come with a cover. If yours doesn't you can buy one fairly cheaply. Here's a decent option you can buy on Amazon UK or Amazon USA.
---