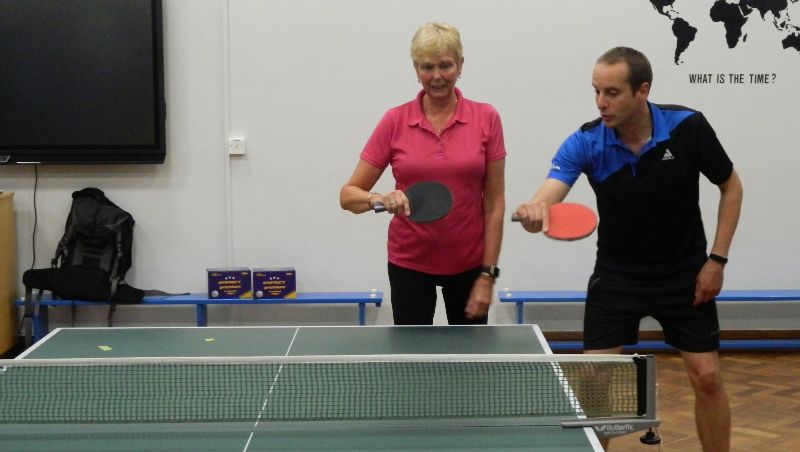 If you want to improve your table tennis skills, then some 1-to-1 coaching can really help.
This is my area of specialism. It's what I enjoy doing most. And it's a great way for you to learn and improve.
I provide private 1-to-1 table tennis coaching and lessons in Cambridge (UK), throughout the year.
I coach players of all standards and all ages.
For example, you may be:
A complete beginner who wants to learn the basic table tennis strokes
An older player, returning to the game after many years, who wants to rediscover his/her skills
An improving player who wants to progress to play for a local club or league
A local league player who wants to win more points and matches
An advanced player who wants to improve technique and match-play to compete at a higher level
I really am happy to coach anyone. The youngest player I coach is 6-years-old. The oldest player I coach is 82-years-old!
Benefits of 1-to-1 coaching
1-to-1 coaching is a great way to improve because the coaching is entirely focused on your game. You get all of my attention.
This is probably the quickest way to improve. I will work with you to identify weaknesses, and strengths, and then we'll do lots of exercises to get you playing better and better.
I very much take part in every session, so you get the benefit of a reliable training partner. I can keep returning the ball (most of the time!), so you get the chance to play lots of shots to perfect your technique, footwork and consistency.
What does a 1-to-1 table tennis coaching session include?
Typically, a 1-to-1 coaching session will last one hour and will involve a combination of exercises working on technique, service, receive, footwork, consistency, tactics and match play.
Most of the session will be spent at the table hitting balls, so you will feel as though you have had a good workout.
The focus of each coaching session will depend upon your own needs and speed of progress. If there is something specific you want to work on, just let me know and I will include it in the coaching session.
You can watch some examples of my coaching sessions here.
Where does 1-to-1 coaching sessions take place?
At the moment all of my 1-to-1 coaching sessions take place at Kelsey Kerridge Sports Centre (CB1 1NA) in central Cambridge.
When does 1-to-1 coaching take place?
I am usually available for coaching during the following times:
Tuesdays – 10am-2pm
Wednesdays – 7pm-10pm
Thursdays – 10am-2pm
Fridays – 3pm-7pm
Sundays – 9am-2pm
I may be available at other times, so it's worth checking if none of the times above are convenient for you.
How much does 1-to-1 coaching cost?
The cost for one hour of coaching is £40 (this includes venue hire).
How to book
If you would like to book a coaching session, please email me at tom@tabletenniscoach.me.uk with your requirements. I'll get back to you as soon as possible.
---
Frequently asked questions…
Can I book a one-off session?
It's absolutely fine to book a single session to try it out and then book more sessions if you find it enjoyable and beneficial.
Can I book multiple hours of coaching?
Yes you can. I often have players visit me from other parts of the UK and overseas. In these situations, we often do 2 or 3 hours of coaching at a time or 5-10 hours of coaching, spread over a few days.
Players often combine coaching with a visit to Cambridge, which is an attractive university city.
Every player's needs are different, so just email me with your requirements and I'll do my best to help. The more notice you give me, the more likely it is that I will have availability for multiple hours of coaching.
Can I share the coaching session?
Yes you can. I often coach two players at the same time. I work with both players individually and set up training exercises both players can do together. The cost for a shared session is £40, the same as an individual coaching session.
Can I attend group coaching sessions?
Once per month I organise a group coaching day. You get five hours of high quality coaching, focused on one main theme. We do lots of exercises on the theme, which gives you a deep understanding and confidence to use and develop your new skills.
Every year I also run training camps. Places are limited, so please book early to avoid disappointment. There are many other table tennis training camps available. Take a look at my list of table tennis training camps in UK and Europe.
Can I receive online coaching?
Unfortunately, I can't offer 1-to-1 online / remote coaching. But you could join my online table tennis academy, where you will get access to exclusive coaching content, including in-depth technique tips and a wide range of training drills. You will also be able participate in live seminars, demonstrations and workouts.
Are there any other table tennis coaches in Cambridge?
Yes. If I'm unable to help, then I recommend contacting Ferenc Horvath, an excellent coach (and player!) with lots of coaching experience. You can find more details on his website: www.paragontabletennis.co.uk. Alternatively, you can find details of Cambridgeshire based coaches on the Cambridge Table Tennis League website and also on the Table Tennis England website.