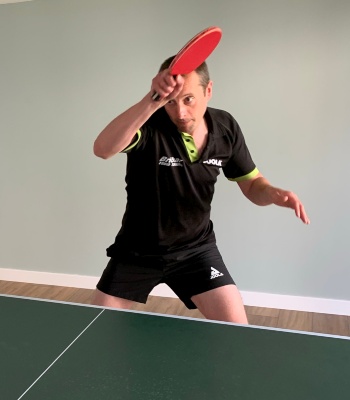 I'm a professional table tennis coach based in Cambridge. I help players of all standards improve through 1-to-1 coaching, group coaching days and multi-day training camps.
I also have a popular YouTube channel with over 30 million views. On my website you can view all my video lessons and coaching articles for free. Read more about my background below and how you can connect with me.
My background
I was a late comer to table tennis. I played on and off during my youth, but it wasn't until I was in my twenties when I started playing regularly.
The seemingly simple challenge of hitting a small ball, with a small bat, over a small net soon turned into a lasting passion. The sport is not as simple as it looks!
To develop the movement, coordination and technique to return balls travelling up to 100 kilometres per hour can take a lifetime to master.
I played for many years in the Central London Table Tennis League for Finsbury Table Tennis Club, before setting up and representing Highbury Table Tennis club.
In 2013, I moved to Cambridge and now coach and play in the city and surrounding areas. I'm currently club chairman and first team captain for Cambridge-Parkside Table Tennis Club. My team won the First Division title in both the 2019 and 2020.
I started coaching part-time in 2011 and became a full-time coach in 2018. I am passionate about coaching table tennis. It's my calling! I get huge satisfaction from sharing my skills, knowledge and experience and helping other players improve.
Over the years, I myself have received coaching from many top players and coaches including Richard Prause (Timo Boll's former coach), Rade Markovic, Desmond Douglas, Matthew Syed, Craig Bryant, Mark Mitchell, Ferenc Horvath and Eli Baraty.
I am sponsored by Bribar, one of the leading table tennis companies in the UK.
Coaching
I offer 1-to-1 coaching to players of all standards – you may be a complete beginner wanting to learn the basics or an elite player preparing for a tournament. With my knowledge and experience of playing table tennis, I can help you achieve your goals. I also organise group coaching days and multi-day training camps, which are great opportunities to get lots of coaching alongside like-minded players.
Video lessons
I have 100+ video lessons which you can watch for free on my website. The videos cover all aspects of table tennis and include tips from myself and many other top coaches. You can also subscribe to my  popular YouTube channel, where I post video lessons, my training progress, competitions and more.
Coaching articles
I have 200+ articles about table tennis – everything from training tips to match tactics, equipment guides to opinion pieces. I also have a book, SPIN: Tips and tactics to win at table tennis, with loads of useful advice to help you improve your table tennis skills, win more points and win more matches.
Ask the coach
If you need help with your table tennis game, you can ask me a question in the 'Discuss' section. I'm happy to answer any questions about technique, tactics, training, service, returning serves or anything else you would like help with.
Newsletter
Sign up to my FREE monthly newsletter and I'll send you table tennis videos and articles to help you improve and win more points.
Connect with me
You can follow me on Facebook, Instagram, subscribe to my Youtube channel or send me an email at tom@tabletenniscoach.me.uk. There's also a few ways you can support my work. Find out how you can help.