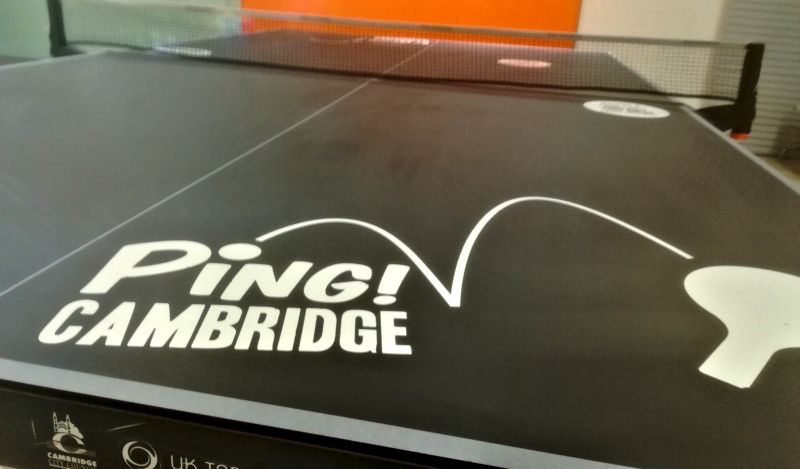 Cambridge has a special place in the history of table tennis. It was Cambridge University student and table tennis fanatic, Ivor Montagu, who first wrote down a uniform set of rules for the game, before going on to set up the International Table Tennis Federation in 1926.
And the good news is there is still plenty of table tennis being played in Cambridge today. On this page I have listed lots of different places you can play table tennis in Cambridge, including sport centres, table tennis clubs and outdoor tables.
Sport Centres
The sport centres below have table tennis tables available to book. The cost of booking a table varies from £3- £10 per hour, depending on the venue. The equipment and facilities are usually pretty good – decent table, springy flooring, good lighting, high ceiling.
At these venues, you can pay as you play. Just contact the Sports Centre and make a booking. Membership is not required, but membership is available for discounted prices.
You can also play table tennis at the tenpin bowling venue at Cambridge Leisure Park. When I last visited it was a table with a metal net on a carpet floor. So not great for serious play, but fine for a bit of social ping pong.
Table Tennis Clubs
The are a number of table tennis clubs in Cambridge and surrounding areas. Most are run by volunteers and will offer opportunities to practice, receive coaching and participate in leagues and competitions.
Table tennis clubs are usually open one or two weekday evenings each week. Some of the bigger clubs may open several evenings each week and weekends too. Most table tennis clubs will be welcoming of new players of any standard, but this isn't guaranteed, so best to check with the club first.
Clubs in Cambridgeshire:
For information on other table tennis clubs in Cambridge and surrounding areas, go to the Cambridge & District Table Tennis League website.
Another very good resource is the 'Table & Club Finder' on the Table Tennis England website. Just enter your postcode and you will find the nearest tables to you.
Ping-Pong Parlour
In the Grafton Centre, on the ground floor, there is a Ping Pong Parlour. There are several tables available to use for free. There's plenty of space, lot's of people come and play and the atmosphere is relaxed and fun. The PingPong Parlour is open during the Grafton Centre shopping hours.
U3A table tennis sessions
The University of the 3rd Age (u3A) runs a number of informal table tennis sessions, usually during the day, for retired and semi-retired people. For more information, please visit the U3A Cambridge website.
Outdoor tables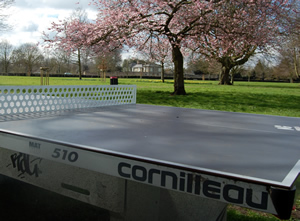 Thanks to the wonderful work of Ping! England there are several permanent outdoor tables in Cambridge. These are located at:
Abbey Leisure Centre
Jesus Green (next to public toilets)
Lammas Land (near to bowling club)
Nightingale Recreation Ground
Parkside Pool (in front of swimming pool)
Romsey Recreation Ground
They are free to use and no booking required. Just turn up with your bats and ball and play. You do need to factor in the weather conditions. Too wet and the ball won't bounce, too windy and the ball will fly all over the place. But just think of these as extra challenges to overcome!
Table tennis coaching in Cambridge
If you are serious about improving your table tennis skills, then you should consider some coaching lessons.
I am a full-time table tennis coach and offer 1-to-1 lessons in central Cambridge throughout the year. I can work with you to improve any aspect of your game – technique, consistency, movement, speed, match-play. Take a look at my 1-to-1 coaching page for more information. I also run group coaching days once per month, where I focus on different aspects of table tennis. These are a great way of developing your skills and meeting like-minded table tennis players.
I am also happy to recommend Ferenc Horvath, who provides 1-to-1 and group coaching in Cambridge. Ferenc is an excellent coach. He has helped me a lot with his technical and tactical expertise. I highly recommend. You can find out more about Ferenc and his services on his website: Paragon Table Tennis
There are a number of other qualified coaches in the Cambridge area. You can find more information on the Cambridge Table Tennis League website.