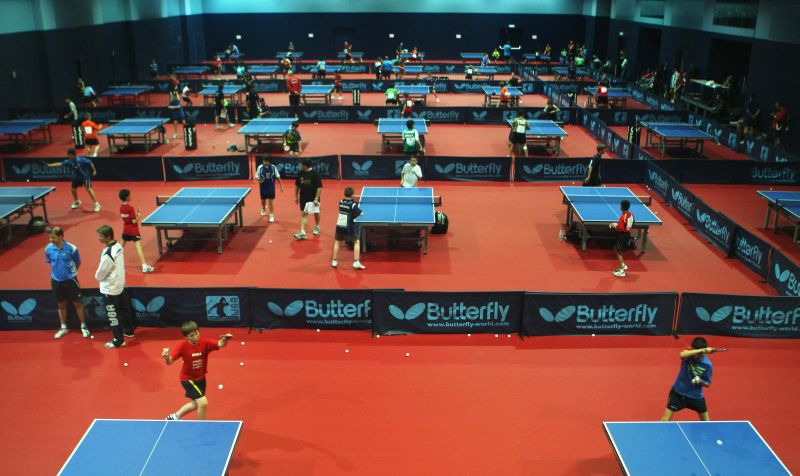 I had great pleasure in attending the Werner Schlager Academy between 14 – 17 May 2015. Based in Vienna, it is a training base for over 50 professional table tennis players. It's one of the main table tennis centre's in Europe, rivaled in size and facilities only by the German national table tennis centre in Düsseldorf.
As well as a training base for professional players, it also runs a table tennis school for non-professionals. I signed-up for a four day course on service and receive. I was eager to improve as a player, but also expand my knowledge as a coach too. I have attended a few table tennis camps in the UK, so was interested to see how the Werner Schlager Academy compared. Here's my review…
Location
The Werner Schlager Academy is based in Schwechat, on the outskirts of Vienna, not far from the international airport. As a traveller from the UK, this was perfect. There was no long and expensive journey from the airport, just a 7 minute train ride (cost €2.20) and I was there. The training centre is then a 2 minute walk from Schwechat train station. Very easy.
Schwechat itself seemed a fairly unremarkable place, but I didn't explore too much. When I did have free time I ventured into central Vienna, which is only a 15 min train journey from Schwechat.
Facilities
The Werner Schlager Academy is based in a multi-puprose sports and entertainment venue. The training hall is huge. There is space for 30+ tables with lots of playing room behind and to the sides of each table. So you're never in danger of bumping into the table next to you.  The hall has red taraflex flooring, high ceiling and excellent lighting. The tables, nets and balls (plastic and celluloid) are all of high quality. Everything about the training hall exudes professionalism.
Outside the training hall, there are changing rooms, lockers and showers. There's even a small table tennis shop (a real novelty for someone from the UK), with table tennis clothing, rubbers, blades, balls and more. And right next door, there's a large Spar supermarket to buy cheap food and refreshments.
Coaching
The focus of my course was service and receive. I was in a group of 8, roughly of the same ability. They try to maintain a maximum coach to player ratio of 1:8 to ensure all players get enough feedback.
But on the first day we were joined by an extra coach, Richard Prause, one of the world's top coaches. He's a specialist in service and receive and quickly identified how I needed to improve my backspin serve (I was doing everything wrong!). He gave lots of tips on a range of serves and service tactics. Sadly, Richard will be leaving the Werner Schlager Academy in the summer and returning to Germany as sports director at the German Table Tennis Federation (DTTB). I asked him, tongue in cheek, if he would consider coming to coach in the UK when he was finished in Germany. He didn't seem that keen.
For the remaining 3 days, we were left in the very capable hands of Fabian Becker, a permanent coach at Werner Schlager Academy.  There were lots of training drills, conditional match-play and discussion of service and receive tactics. Fabian pushed me to improve and if I did something wrong, I was soon corrected, even if he was on the other side of the hall!
By the end of the four days, I had written four pages of notes specific to my game. Note taking at the end of the session is vital. You receive lots of great advice, if you don't write it down, you'll never remember.
Translation
One of my worries about attending a table tennis training camp in Austria was my complete lack of German. I have 'thank you' and 'pleased' sorted, but nothing else. From previous trips to Germany and Austria, I found myself speaking English but with a German accent, much to the amusement / embarrassment of my partner Jodi.
Of course, I had nothing to worry about. Fabian was able to deliver the course in both German and English and other players were happy to speak English too. This made me even more ashamed about my lack of language skills, but I was very grateful for the efforts others made. Fabian, in particular, was very accommodating, making sure I understood what was being discussed.
Note to self: next time, make more effort to learn some basic German!
Atmosphere
One of the biggest highlights was sharing the training hall with professional table tennis players. I had the good fortune to be in the hall whilst Marcos Freitas (world ranking 10) and Joao Monteiro (world ranking 30) were doing some serious training. It was incredible to see how fast they move, how much spin they generate and how accurate they are. At first it felt a little intimidating. Did I really belong here? But you soon focus on your own group training drills and forget the professionals are playing next to you. But being in same environment as these top athletes, certainly inspires you to train hard and improve.
Is it worth it?
Definitely, yes. I had high expectations before travelling to Werner Schlager Academy, but I learnt even more than I thought I would. I have condensed my 4 pages of notes into a list of 10 priorities to work on over the summer. And I have plenty of new training drills to use with the players I coach.
After 4 days of hard training, I thought I'd be need a long rest. But I was amazed by how quickly I was getting restless, eager to practice what I had learned. I did give myself Monday off, but Tuesday evening I was back at the club in Cambridge working on a few of my 10 priorities.  And Wednesday evening I was coaching again, using a few new training drills. My time at Werner Schlager Academy had clearly increased my table tennis obsession!
So, if you're looking to improve your table tennis skills in a serious table tennis training environment, the Werner Schlager Academy is a very good choice. I highly recommend!
—
The Werner Schlager Academy has 2,3, 4 and 5 day courses throughout the year, focusing on different aspects of table tennis. For more information go to the Werner Schlager Academy website.