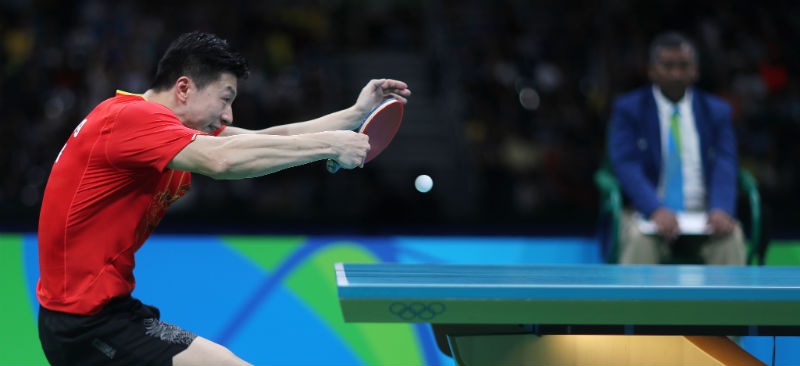 Ma Long wins again! At the Rio Olympics Ma Long once again showed why he is the top ranked player in the world and possibly the greatest player of all time.
He breezed through his opening match, beating Jonathan Groth 4-0.

In the 4th round, Ma Long showed his mental strength, coming back from two games down to beat Jeoung Youngsik of South Korea 4-2.

In the Quarter finals, he crushed Quadri Arunu of Nigeria 4-0.

In the semi-finals, he defeated world number 6, Jun Mizutani 4-2.

He saved his best match for the final, beating his Chinese rival and reigning Olympic champion, Zhang Jike, 4-0. The first game was close (14-12), but the next three games were one-sided contests, Ma Long winning 11-5, 11-4, 11-4.

Gold medal to Ma Long. What a performance!
Dominance of The Dragon
In fact, it has been an incredible 18 months for Ma Long. He reclaimed the number one ranking in March 2015. He became World Champion for the first time in May 2015. He won the Men's World Cup in October 2015 for the second time. And he won the World Tour Grand Finals in December 2015 for the fourth time.
He has won two ITTF tour titles so far in 2016 – 22 in total – which now puts him 2nd on the all time list behind Vladmir Samsonov (26 world tour titles).
Wow! This list of successes is starting to look seriously impressive.
Why is Ma Long so good?
Ma Long's forehand is exceptional. He tries to dominate matches staying close to the table, but is equally comfortable attacking away from the table too. His topspins are fast and powerful and he can place the ball anywhere on the table with phenomenal consistency.
But it's not all about his forehand. He has made big improvements to his backhand over the years. In the past opponents would go after his backhand (because his forehand was just so strong), but this is far less effective now, as Ma Long seems to be equally as strong on both sides.
There is also more variety to Ma Long's play now. It's not all about the power, although this is clearly a major strength. Ma Long is very clever in how he uses pushes and blocks to keep his opponents off balance. And when he's in the mood (usually when he has a comfortable lead), he'll throw in the occasional chop-block to really mess up his opponent.
His physical conditioning is exceptional. It has to be to be able to play such a fast, powerful topspin game. Ma Long, and the other top Chinese players, have taken table tennis athleticism to a new level. Gone are the days when you can be a little soft around the middle and still be a top 10 player.
Finally, Ma Long's mental strength has significantly improved. There has always been a question mark over whether Ma Long has the mind to perform at the very best when it most matters. Between 2009 and 2013, he lost key matches in big tournaments against Timo Boll, Vladimir Samsonov, Wang Hao and Zhang Jike, when he has been favourite to win. But there has been plenty of victories too (as his record demonstrates), so I think this criticism is a little unfair. And when he won the World Championships in 2015, I think he answered the question about his mental strength once and for all. Ma Long is mentally very tough!
Greatest table tennis player of all time?
Now Ma Long has won Olympic gold, I think he has a strong claim to be the greatest player of all time. Of course there are other contenders, e.g. Jan-Ove Waldner, Wang Liqin, Kong Linghui, Liu Guoliang and Jiang Jialiang. And it's very difficult to compare players from different eras. Technique has evolved. Tactics have evolved. Equipment has evolved. The rules have evolved.
Waldner is considered by many to be the greatest of all time. He played with style and intelligence and could do things with the ball which seemed impossible. But I'm not sure Waldner at his best would have been able to live with Ma Long at his best. Ma Long's extra speed, spin and power would have overwhelmed Waldner's slightly slower, more graceful game.
But as I say, it's slightly unfair to compare players from different eras. We will never know, so not much point in hypothesising! What we do know is that Walder won an Olympic singles gold, an Olympic singles silver and two World Championship singles titles. Ma Long has a World Championship singles title, and an Olympic singles gold, so has a little catching up to do. But at age 27, Ma Long still has time to add some more major titles to his collection.
I really enjoy watching Ma Long play. Even though his matches are one-sided I find enjoyment from watching a master at work. He can make other professional players look like mere amateurs.
I'll finish with this tribute video of some of Ma Long's best rallies. Greatest player of all time? I think he may just be….