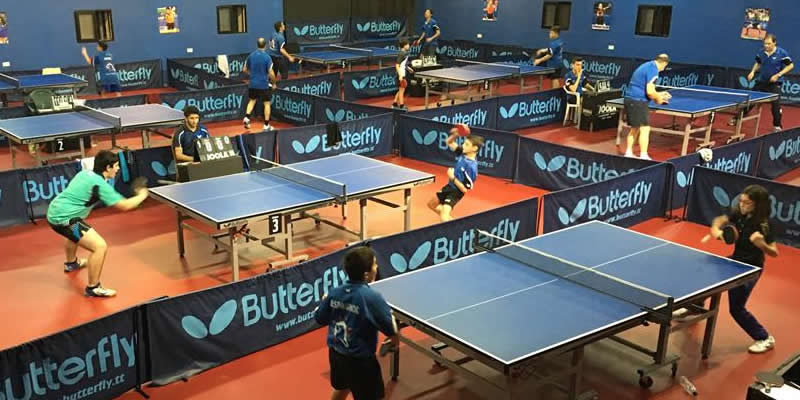 Image: Malta International Table Tennis Centre
A great way to improve your table tennis skills is to attend a table tennis training camp. Training camps are held all across Europe and typically last 2-5 days. During this time you will play a lot of table tennis.
There's usually a lot of group training drills, focusing on technique, movement, service, receive and match-play. Some training camps will also include 1-to-1 coaching, so you can really work on your own specific needs.
You also get access to multiple coaches, most who will have coached or played at a very high level. The coaches are always keen to share their knowledge, so it's ok to ask lots of questions.
A training camp will give you loads of things you can work on over the course of a season. You may not experience a big improvement straight away, but if you keep working on what you've learnt, you will definitely improve over time.
Above all, a training camp is pretty good fun. It's a bit of escapism for a few days. You'll finish with a few aches and pains, but mentally you'll be very refreshed.
Below, is a list of training camps in Europe and the UK. Most training camps will cater for beginner, intermediate and advanced players, but it's probably best to check they are suitable for your playing standard before you book.
Please note: I keep this list up-to-date throughout the year. If you would like a table tennis training camp added to this page, please email details to tom@tabletenniscoach.me.uk
List updated: 14 May 2018
---
UK
Cooke & Deaton Summer Table Tennis School
Top Edge & Gertsen TT – St Neots Training Camp
eBatt / Topspin Sports Table Tennis Camp
Wood Green Table Tennis Summer Camp
Woodfield Junior Development Camp
Swerve Big Summer International Training Camp
Corby Smash Table Tennis Camps
You can also find details of more table tennis training camps in the UK in this Facebook Group.
---
Europe 
Malta International Table Tennis Centre Training Camps
B75 International Table Tennis Camp
Butterfly International Training Camp
Summer Table Tennis Camp with Zoran Primorac
GV. Hennebont Table Tennis Camp
TopSpeed Table Tennis
Andro Table Tennis School
ZUGBRÜCKE Table Tennis School
TTPOR Atema Training Camps
HiTT Academy Summer Camp
International Table Tennis Camp
TT Camps Hungary