Looking for a gift for the table tennis enthusiast in your life? I can help! I have scoured the internet for some great table tennis gift ideas. Actually, half the things on this list have been given to me at some point. As a table tennis obsessive myself, nothing makes me happier than a table tennis gift for my birthday or at Christmas! In addition to my list below, it is also worth checking out the Stocking Fillers page on the Bribar Table Tennis website, which has loads of great ideas.
So on with my list of the best table tennis gifts…
---
Good quality table tennis bat
You can't play table tennis without a bat. But which bat should you buy? There are so many options available, ranging from a few pounds to over £300.
The good news is you don't have to spend a fortune to get a decent bat.
For a really good table tennis bat for a beginner / intermediate, take a look at these…
If you want to buy an extra special table tennis bat for a more advanced player, then I recommend the Bribar Pro Offensive Light.
For more advice please read my recommendations on the best table tennis bats for beginner players, intermediate players and advanced players.
---
Table tennis balls
As well as a bat, every table tennis player needs balls. Of course they do. Even if they have a supply of balls, they always need more. Balls break. They go missing. Table tennis players always need new balls.
You could buy 3 star competition balls or a box of training balls.
For more recommendations, read my guide to the best table tennis balls.
---
Instant table tennis
Play table tennis on any table! The rollnet can attach to almost any table so anywhere you have an empty desk or table, you can play table tennis.
Play in the office, in the sports club, in the pub or even on the train. Anywhere!
---
Table tennis socks
Every man (and woman) needs socks. Every table tennis fanatic needs table tennis socks! You can buy proper table tennis socks which are designed for active play.
Or you can buy fun table tennis socks to wear in everyday life.
There are lots more socks options on Amazon UK and Amazon USA.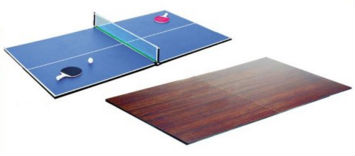 Table tennis top
A table tennis top allows you to convert your living room table, desk or pool table into a fantastic table tennis table in seconds.
A table tennis top can be setup on almost any table large enough. Superb home entertainment.
---
Spin trainer
This neat little contraception is great for perfecting your shots and serves. The two tone ball allows you to see both spin direction and strength. Train with your normal bat without causing damage.
---
Bat cleaning + care set
This bat care set includes a spray, sponge and rubber protectors. It helps to keep off dust and dirt, protects your bat and prolongs the life of your rubbers. Great value for money bat care set.
---

Table tennis mug
What do you get the table tennis player who has everything? Why, a table tennis mug of course. It will be guaranteed to be their favourite mug at home or a badge of honour at work.
---
Fun table tennis t-shirts
Every table tennis player needs a fun table tennis t-shirt (really!). Great to play table tennis in, or just wear into the office!
Take a look at some of my own designs. My best seller is the table tennis word cloud design. But I have many others too. You can view all my designs, and purchase, on the TeeSpring website.
---
Table tennis books
If you're looking for something to stimulate the mind as well as the body, then consider a table tennis book. There isn't a huge range of table tennis books out there, but there are a few very good reads. Take a look at my top recommendations.
If you're looking for something a bit less serious, then consider this tongue-in-cheek manual 'Everything You Know Is Pong: How Mighty Table Tennis Shapes Our World'.
---
Online coaching gift card
If someone you know is serious about improving your table tennis, then they will really love the TableTennisDaily Academy.
It's packed with in-depth video lessons on all aspects of table tennis from technical, tactical and psychological content. The Academy features the latest training philosophies in an easily digestible and accessible format.
Gift cards are available for 3 months, 6 months and a year.
---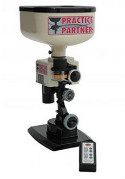 Table tennis robots
Table tennis robots can be very useful practice partners. They're not actually robots, more like ball throwing machines, which can produce different speeds and spins to challenge even the most advanced table tennis player.
They're also great fun for parties – your guests will be lining up to beat the robot!
You can get a basic robot for £200 and a top of the range robot will cost £1500-£2000.
For more recommendations, take a look at my blog post 'Guide to buying a table tennis robot'.
---
Table tennis jewellery
How about a bit of bling? A nice pair of table tennis cuff-links are a bit different and will be a guaranteed talking point if anyone notices! If cuff-links aren't your thing, there are other table tennis jewellery options available, including charms and necklaces.
---
Design your own table tennis bat and table tennis balls
Want something a bit more personalised? You can design your very own table tennis bat or table tennis balls with any graphic or photo you want.
These bats and balls are very cool and make a great gift. Show off the bat or balls whilst playing some social ping pong, or just have it on display in your home or workplace.
---
Table tennis tables
If you have space in your home or garage, then why not get a table tennis table? Great fun for all the family. Tables fold up in half, so they can easily be stored.
You can get a reasonably priced indoor table or outdoor table, which if looked after will last for years and years. If you have limited space, you can buy a ¾ size table or you can just buy a table tennis top to sit on an existing table.
Read my guide to buying a table tennis table.
---
Book a coaching lesson
For the table tennis enthusiast who has everything, you should consider buying them a coaching lesson or lessons.
Table tennis coaches typically charge £15-£30 per hour. A google search should bring up some coaches in your local area. If not, contact local clubs and they will be put you in touch with a coach.
If you're in Cambridge, or are planning to visit, I can provide coaching for individuals or small groups.
And if you really want to splash out, you could book a place at one of the many training camps in Europe and the UK.
---
Balls of Fury
Finally, if all else fails, then just buy Balls of Fury. It's a 'comedy' about a former pro, who goes undercover in the world of extreme table tennis to avenge his father's killer.
This film is seriously rubbish, but a table tennis enthusiast should get a little bit of enjoyment from it. And it is very cheap!
---