Looking for a gift for the table tennis enthusiast in your life? I can help! I have scoured the internet for some great table tennis gift ideas. Actually, half the things on this list have been given to me at some point. As a table tennis obsessive myself, nothing makes me happier than a table tennis gift for my birthday or at Christmas! In addition to my list below, it is also worth checking out the Stocking Fillers page on the Bribar Table Tennis website, which has loads of great ideas.
So on with my list of the best table tennis gifts…
---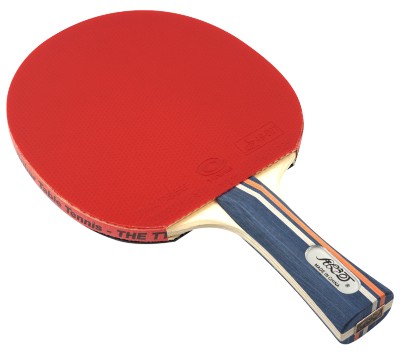 Good quality table tennis bat
You can't play table tennis without a bat. But which bat should you buy? There are so many options available, ranging from a few pounds to over £300.
The good news is you don't have to spend a fortune to get a decent bat.
For a really good table tennis bat for a beginner / intermediate, take a look at these…
If you want to buy an extra special table tennis bat for a more advanced player, then I recommend the Samsonov Force Pro Table Tennis Bat.
For more advice please read my recommendations on the best table tennis bats for beginner players, intermediate players and advanced players.
---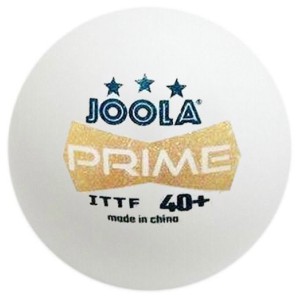 Table tennis balls
As well as a bat, every table tennis player needs balls. Of course they do. Even if they have a supply of balls, they always need more. Balls break. They go missing. Table tennis players always need new balls.
You could buy 3 star competition balls or a box of training balls.
For more recommendations, read my guide to the best table tennis balls.
---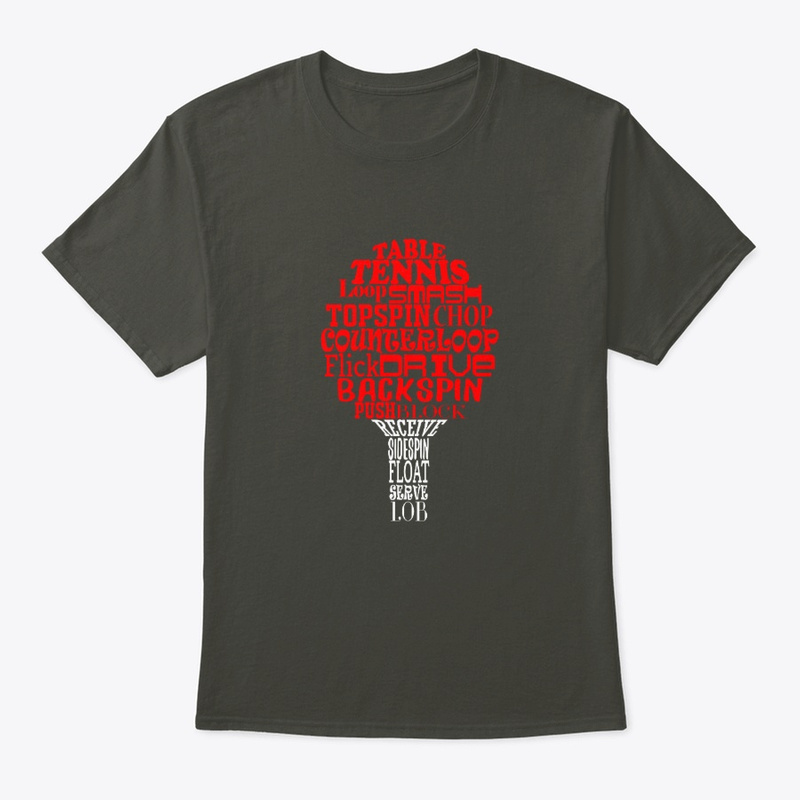 Cool table tennis t-shirts
Every table tennis player needs a few table tennis t-shirts. I have about twenty!
Have a browse through my exclusive collection of designs. You can't buy these t-shirts anywhere, other than through the links on this website.
These are table tennis t-shirts designed for the obsessive table tennis player in mind.
---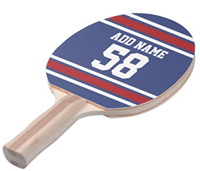 Design your own table tennis bat and table tennis balls
Want something a bit more personalised? You can design your very own table tennis bat or table tennis balls with any graphic or photo you want.
These bats and balls are very cool and make a great gift. Show off the bat or balls whilst playing some social ping pong, or just have it on display in your home or workplace.
---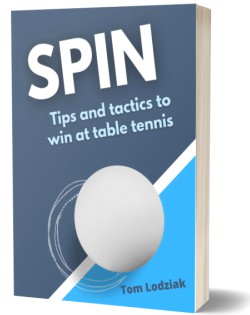 Table tennis books
If you're looking for something to stimulate the mind as well as the body, then consider a table tennis book.
There's quite a few books available, including the ever popular 'Spin: Tips and Tactics to win at Table Tennis', written by a well known coach (me!).
There are many other good books, focusing on technique, tactics or the journey of improving and playing.
Take a look at my top recommendations.
---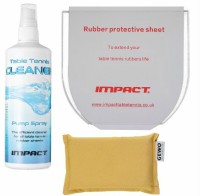 Bat cleaning + care set
Table tennis bats need a bit of tender loving care. Players can look after their table tennis bat with a spray, sponge and rubber protectors.
These will help to keep off dust and dirt, protect a table tennis bat and prolong the life of the rubbers.
Essential kit for any regular table tennis player.
---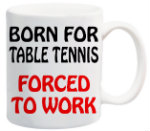 Table tennis mug
What do you get the table tennis player who has everything?
Why, a table tennis mug of course. It will be guaranteed to be their favourite mug at home or a badge of honour at work.
You can buy my exclusive table tennis mug designs in my Everything Ping store.
Or you can buy other mugs on Amazon UK and Amazon USA.
---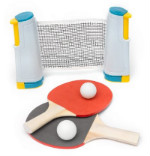 Instant table tennis
Play table tennis on any table! The rollnet can attach to almost any table so anywhere you have an empty desk or table, you can play table tennis.
Play in the office, in the sports club, in the pub or even on the train. Anywhere!
---
Table tennis socks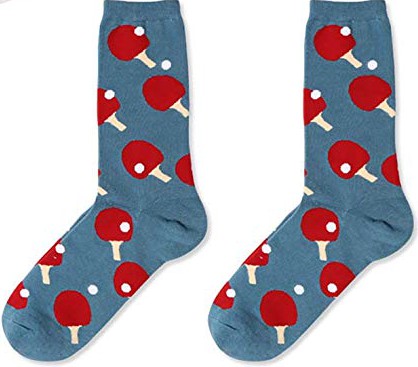 I don't think anyone can ever own enough socks! Table tennis players tend to get through a lot of socks, as we put extra stress through both the front of the feet and the heels.
Socks are the ultimate useful gift. They will always be used. You can buy proper table tennis socks which are designed for active play.
Or you can buy fun table tennis socks to wear in everyday life.
There are lots of socks options on Amazon UK and Amazon USA.
---
---

Water bottle
A simple, but very practical gift, is a water bottle. Personally a prefer a steel water bottle to plastic ones. They don't leak. They keep the water cool. And they last for ages.
The biggest problem I have is that I always lose my water bottles! Hence, it's always useful to have a spare one to use. It's another gift which a table tennis obsessive will definitely use.
You can buy water bottles from dedicated table tennis retailers, such as Bribar (UK).
You can also find cool table tennis water bottle designs on Amazon UK and Amazon USA.
---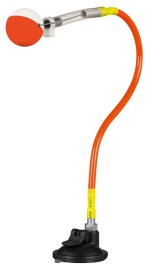 Spin Trainer
This neat little contraption can be used for a table tennis obsessive to perfect shots and serves. The two tone ball allows the player to see both spin direction and strength.
This can be used on any surface – at home, in the office or at a table tennis club.
---
---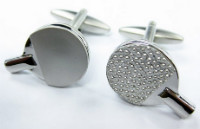 Table tennis jewellery
How about a bit of bling? A nice pair of table tennis cuff-links are a bit different and will be a guaranteed talking point if anyone notices!
If cuff-links aren't your thing, there are other table tennis jewellery options available, including charms and necklaces.
---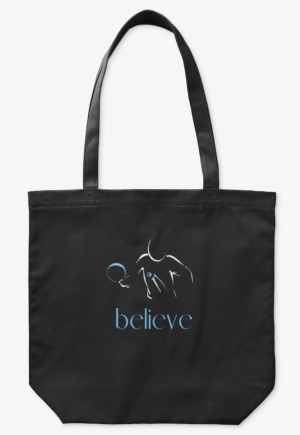 Table tennis bag
Another useful gift for any dedicated table tennis player is a bag to carry all of their equipment – bats, balls, towel, water bottle, shirts, shoes etc.
A backpack or holdall will be big enough to for all the equipment a player needs to carry. You can buy specialist table tennis bags from Bribar (UK) and Megaspin (USA).
Or if you want to buy something a bit more causal, you can buy a tote bag with my exclusive table tennis designs from my Everything Ping store.
---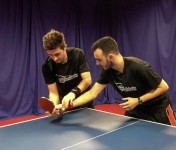 Online coaching gift card
If someone you know is serious about improving your table tennis, then they will really love the TableTennisDaily Academy.
It's packed with in-depth video lessons on all aspects of table tennis from technical, tactical and psychological content. The Academy features the latest training philosophies in an easily digestible and accessible format.
Gift cards are available for 3 months, 6 months and a year.
---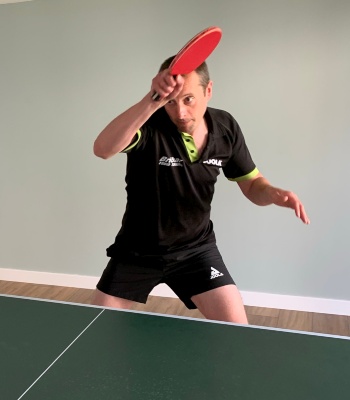 Book a coaching lesson
For the table tennis enthusiast who has everything, you should consider buying them a coaching lesson or lessons.
Table tennis coaches typically charge £25-£40 per hour. A google search should bring up some coaches in your local area. If not, contact local clubs and they will be put you in touch with a coach.
If you're in Cambridge, or are planning to visit, I can provide coaching for individuals or small groups.
And if you really want to splash out, you could book a place at one of the many training camps in Europe and the UK.
---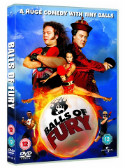 Balls of Fury
Finally, if all else fails, then just buy Balls of Fury. It's a 'comedy' about a former pro, who goes undercover in the world of extreme table tennis to avenge his father's killer.
This film is seriously rubbish, but a table tennis enthusiast should get a little bit of enjoyment from it. And it is very cheap!
---