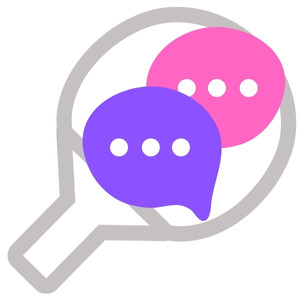 Do you need help with your table tennis game? Ask me a question about technique, tactics, training, service, returning serves or anything else you would like help with.
Tips on wielding hurricane
Several weeks ago I decided to change my FH rubber (xiom vega x) into hurricane 3 neo provincial blue sponge (H3NPBS). The reason is because I want to develop more offense technique with my forehand. I know vega x is actually an outstanding rubber with very good offensive capabilities. But I just got too comfortable playing more blocking and counter playstyle with it, and I lack initiative. I hope H3NPBS will "force" me to play more active forehand strokes in my game.
Many years ago in my early days of playing table tennis, I played with H3N commercial, and at some point I've reached a decent proficiency at using it. However right now I'm quite struggling to control my H3NPBS. There are several possibilities I can think of. Maybe I'm still not used to its high throw and low arc, makes me often overshoot or hit the net. Maybe I haven't develop my touch and feeling, because H3N is suitable for brush- and thin-contact loop.
Currently I focus my practice to develop my feel on the rubber. Am I focusing on the right thing? Do you guys have other ideas on how to tame this beast?
PS: my blade is butterfly viscaria
---
I have not played with Hurricane 3 neo provincial blue sponge. However, I have experimented with similar rubbers which have a very low trajectory over the net. I find these rubbers very difficult to use with my technique. So I faced a dilemma similar to you. Should I change my technique to fit the rubber? Or should I just use a rubber which suits my technique. I opted for the latter option. 
There are so many rubbers available it is possible to find a set up which really works for your playing style. If you played well with Vega X, then is there any need to change? Maybe you should focus on developing your attacking technique using this rubber, rather than playing with a rubber with very different characteristics? 
Of course, you could persevere with Hurricane 3, but it might take a while to change your technique to make the most of this rubber. You will need to be patient.
Hi, 
Have you tried boosting? this will make the H3NPBS slightly faster and softer. I just found boosting to be a real pain. You have to do it every 4-6 weeks depending on the booster used. Strictly speaking we shouldn't be 'home' boosting, but it goes on far more than one would imagine, and it's not restricted to Chinese type rubbers. some people even boost T05, D05 etc
H3N is designed to be boosted as is the blue sponge. the commercial version comes with a layer of glue already on the sponge, I'm not sure if the provincial blue sponge version does ? Players usually confirm that H3N is a much better feeling rubber when boosted and that the hassle of boosting is well worth it.
An advantage of H3N and H3 is it's high spin, is its low arc and  fast dipping kicking low bounce.
Personally I would go for H8-80, this doesn't need boosting, has great spin and is faster than H3N but still retains the characteristics of Hurricane rubbers. 38 degree FH and 37 degree BH
I think that the Viscaria blade means that there is less dwell time, and therefore less spin, (unless your technique is at a high level) having less spin on the ball causes it to overshoot the table. So I feel your technique 'generally' may need improving. I've seen more than one post on other forums where players have moved up to a Viscaria and had issues similar to those you are encountering, all be it not necessarily with H3NPBS. they kept the rubbers and just upgraded the blade. Didn't get the same spin levels and put a lot of balls long off the table. It was their technique that was lacking the ability to bite the ball. 
So it's a double whammy !! rubber that requires good footwork and brushing technique using the legs and body to get the most out of it and a blade needs the same!!!
Perhaps it would be better to just train and learn to attack with the set up you have, either way you will have to improve technique regardless of the set up.
Hi all, thanks for your feedbacks. I guess overall using my current setup is harder than I imagined 🤣 But as a matter of fact, this is exatly why I choose this setup. 
Using euro/jap tensor rubbers is definitely easier and more forgiving. But the flip side is it's also easier to develop suboptimal technique without coaching. I also kinda have some problem with mentality, as I mentioned that with vega x I got too comfortable by mostly blocking with my forehand and lack initiative. Moreover, mastering the H3NPBS is more like a personal achievement to me, because if I can score points and win with it, it means I already have refined technique and precision, not to mention other aspects of my game, respective to my competition level. Mastering table tennis techniques to my utmost possible limit is one of my biggest drive to practice.
I'm not a big fan of boosting my rubbers, and not imaging myself doing it in the future. The regulation says no, so I will comply. Also I'm not an equipment junkie. Generally I will stick with my paddle for months or even years before making another change, whether due to worn-out rubber or other reasons. So yeah, I will stick with it for awhile. 
Several days ago I had a spar. It was a tight match, but I managed to win. Some of my points came from my forehand attacks, so I guess my training starts to pay off. I'll keep practicing and focusing on my technique and feeling, and let's see what will happen next.