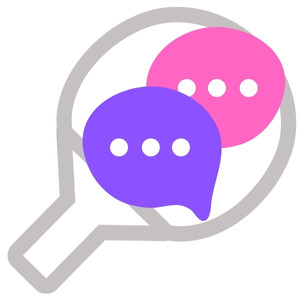 Do you need help with your table tennis game? Post a topic and get advice from Tom Lodziak and other forum members.
Topic starter
03/11/2022 12:48 pm
When I've come up against an opponent who's beaten me easily, I usually feel I've lost many points in the first 4 or 5 shots by getting pushed back onto the defensive. I've failed to gain the initiative, either with serve or in returning. I'd be interested to hear people's tips on gaining the momentum early in a point. Is it down to attacking wherever possible; keeping the opponent tied down with good placement; spin variation? How much risk should you take?
This is something I have been thinking a lot about recently. I actually wrote an article a couple of weeks ago "Give your opponent something to worry about", which explores how you can gain the upper hand at the start of the rally. Definitely have a read of this.
In short, yes you will need to find opportunities to attack. The easiest way to start is to develop some strong serve and 3rd ball attack routines. What's your strongest serve? How does it usually get returned? How can you attack this ball?
For example, I like to serve a side-backspin serve to my opponent's backhand. This often gets returned with a long push to my backhand side. As this is something I an anticipating, I can then pivot in the backhand corner and play a forehand attack. I often win the point with this routine, or at least put my opponent on the back foot and give him something to worry about.
Topic starter
06/11/2022 11:59 am
Hi Tom,
Yes, I like to attack where possible. It's tricky use prediction though when playing opponents whose serve you don't know. I noticed in a recent match that my team-mate beat the good player who beat me with more assertive service returns - mainly backhand chops, as vicious as he could get them, he said. I'm naturally a topspin player, so I've been working on some chops or slices to add to my inclination to flick back. Flicking is still high-risk for me, although more natural. My team-mate showed that well played chops can be positioned deep and wide, and carry good speed to push the server back. And of course he has to be pretty adept to attack them.
My serving comes in all shapes and sizes, but with few real toughies! I've noticed though that many players stick to just a few variations. I think that to be able to predict and manage returns as you suggest I may need to come down to say my 6 most promising variations and work at improving them.
@tim2022 Yes I think that's a good idea in the short term. Reduce your service variations and get really good at understanding how the serves are usually returning and where you need to be positioned to do a strong 3rd ball attack.
With returning serves with a heavy chop - yes this can work, especially for players who like to play with lots of backspin. But don't give up on your flicks too. If you are inclined to attack, then flicks will be more beneficial for you in the long term. It sounds as though you need to drill your flicks more to improve your confidence. I would recommend making this a focus of your training for next few months. A consistent flick, especially a BH flick, will really help you gain the initiative very early in the rally.
Topic starter
07/11/2022 12:36 pm
@tom-lodziak I think you're dead right. I practised at the club last night. First I tried backspin chops, which were ok, but I didn't feel they gained me much initiative. Then I moved onto topspin flicks, and after working to overcome my muscle memory - which sometimes forgets I need to lift them - I started playing better, more confidently and more enjoyably. I think I'm naturally a topspin attacking player who needs confidence in my topspin shots to play them well. I have been working on my forehand flick, which since my wrists are pretty flexible, I can play with not much backswing. Interestingly I watched your video with Ferenc Horvath, and his forehand flick was all elbow and no wrist. I guess we each have to find our own way!
@tim2022 Great to hear. An interesting challenge you can give yourself in training is to not push at all. No pushes for the entire evening. It's kind of liberating. If you play practice matches, you can tell your partner that you will concede the point if you push. So you have to topspin everything! Of course, you will make errors, but it is a quick way to develop your flicks and topspins.