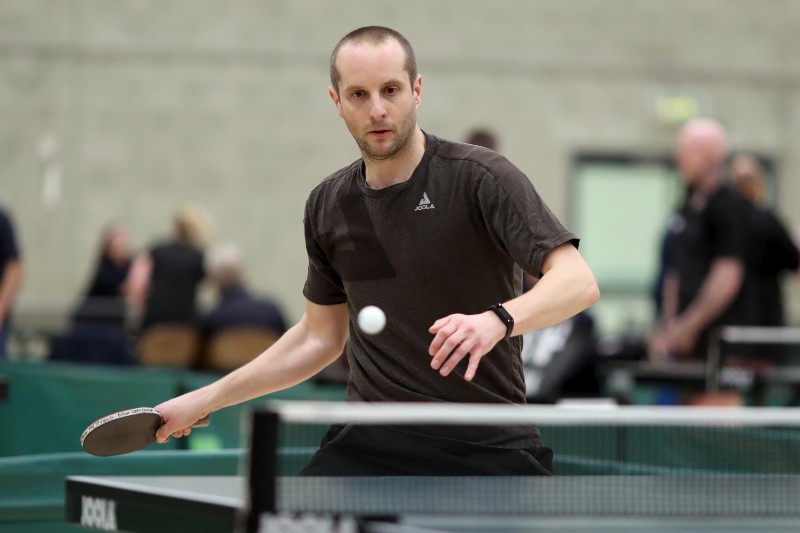 On 5-6 February, I took part in my first veteran's tournament – the VETTS Southern Masters in Crawley. This was an event for players aged 40 and over.
As a player just in his forties (41 at time of writing), I am considered a baby-veteran. I entered the 40+ singles, the 40+ male doubles and the 40+ mixed doubles. How did I get on? Did I take the tournament by storm or did I get a good thrashing?
Tournament newbie
This was my first big tournament for nearly 20 years. Over 200 players from around the UK – and many of the best ranked veteran players – took part in the tournament. The last time I took part in such a big tournament, I was a student in Southampton and I got completely thrashed in all my matches.
I wish I could say I did better in this tournament, but in reality, it was another tough experience which exposed all of my weaknesses. We started with the 40+ singles. I was in a group of 4, where we all played each other. The top two qualified for the main draw the next day, the bottom two went into the consolation event.
My first match was against Phil Cox, a very good player with lots of experience and ranked number 9 for this event. I was far more nervous than I was expecting. I used to suffer from nerves quite a lot when I first started to play in local league matches 15 years ago. But for the past few years it hasn't been an issue. Maybe it was the different venue or the hall filled with experienced players or my unfamiliarity with the tournament format or a little bit of everything. Whatever it was, I was nervous.
With my nerves causing some tension and stiffness, I missed my first couple of attacks and then went into my shell. I reverted to my blocking mode. This can be effective at local league level, but against a player of Phi's quality it was useless. My blocks didn't put him under any pressure and he could attack with ease. I was also very tentative when returning serves and made many silly errors, usually pushing the ball into the net. Before I knew it, I was 2-0 down having lost 11-7, 11-5. In the third game the same pattern continued – weak return of serves and safe blocking. I soon found myself losing 7-1. At this stage, with the match just about lost, I actually relaxed a bit and started to attack more, hitting 3 or 4 good forehand winners. I managed to claw back a few points, but lost the final game 11-9. It was a disappointing start, having not really performed for 2 ½ games. But my opponent was very strong, so I wasn't too hard on myself.
Despair!
My second match was against Stephen Smith, an unranked player. Stephen had lost his first match relatively easily. In my head, I already assumed I would win this match.. No problem. Plus, I really needed to win this one, as my final group game was likely to be a tough one.
What happened next I can only describe as one of my worst table tennis experiences for a very long time. I got my mindset completely wrong. I played with extreme caution, hoping that my opponent would make all the mistakes. Initially this strategy worked. I won the first game 11-8. A little closer than I would have liked, but fine, I won.
I was winning the second game 6-4 using the same strategy, but then the momentum started to shift. Stephen got more confident and stopped making errors. He would topspin heavy with his forehand, I would softly block the ball back and then he would drive the next shot past me. My passive play was putting him under very little pressure. Stephen won the second game 11-7.
Losing this game should have been a wake-up call and been the signal for me to play more positively. But it didn't happen. I actually got more nervous. I was getting so afraid of losing I played even softer. Another loop, soft block, smash. And again. And again. What was I doing? I lost this game 11-9.
In the 4th game, I found myself 5-1 down and I said to myself "I've gone". My backhand was twitching. My head was in panic mode. I've not experienced this feeling for a very, very long time. I took a deep breath and tried to regroup. I had to start playing more positively. With some decent attacks, I managed to regain the lead, winning 6-5. But then I got really tight again. I was so fearful of losing, my game went to pieces and ended up losing 11-7. Ouch. This was a tough defeat.
Fair play to Stephen. He completely took advantage of my passive play and fully deserved the victory. But I was mortified with this defeat and my poor level of play. Two matches and two defeats. What a start to my veteran's career!
Mental reset
Before I started my final group match, Phil (my first opponent), gave me some wise words and encouragement. He could see how nervous I was and told me to play my game and try to use my strengths.
He was right. I had to play more positively. I had to stop pushing and blocking and start attacking. Who cares if I made errors? I may as well try and play some good attacking shots. My final group match was against Jose Perpetua, another first time tournament player. He had an open topspin style of play, so I had to be really careful not to revert to safe blocking.
This match was better. I did attack. Yes, I made plenty of attacking mistakes, but also hit lots of winners too. I certainly wasn't playing fluently, but it was much better than my first two matches. I was trying to counter-attack, rather than block. My wide forehand attacks were causing problems and my feet were starting to move a little bit.
I managed to win 3-0, but the games were close. My first victory. A big relief. But I did feel sorry for Jose. Having seen my first two matches, he probably thought he was going to have an easy match against a safe blocker. But I attacked much more and took the frustration of my poor performances out on him.
Unfortunate qualification
Despite my poor performances, I somehow managed to finish 2nd in the group and qualify for the main draw the next day. In some ways, I would have preferred to play in the consolation event, where I may have faced players more at my level. But I was actually quite pleased to have qualified. An achievement of sorts! That evening I gave myself a good talking to and vowed to attack, attack, attack in the matches the following day.
On the Sunday morning, the main draw matches began. I was in a group of three. The top player would make it through to the last 16. The other two players would go out. I was drawn with Mark Wicker and Paul Martindill. I lost both of these matches 3-1, but I did play with much more attacking intent. My forehand was working pretty well and I was able to hit winners against both. But my backhand was a bit of a disaster. I made a lot of backhand errors. It was like giving my opponents a 4 or 5 point head start every match. But at least I was trying to attack and learning something useful from my errors. I was eliminated from the tournament, but happier with how I played. I lost to better players, but managed to take a game off both.
Doubles delight
After the stress of the singles matches, doubles was a more relaxed affair, and I actually played pretty well. For the men's doubles, I was drawn with Andy Eagles. We had never played together before. We managed to win one match and lose one match, which meant we were eliminated. But we played pretty well together.
The highlight of the entire tournament was the mixed doubles, where I was drawn with Lynne Trussell. Again we had never played together, but it didn't take too long to get used to each other's playing style. In our first match, we were losing 2-1 and 10-6 and somehow managed to come back and win 3-2 (with the aid of a couple of edges!). In the quarter-final we were winning 2-0, but couldn't finish off the match, losing 3-2. We were very close to making the semi-finals, which would have been a great achievement having never played together before.
I was happy with my doubles play. Sharing the burden with a partner meant I played with much more freedom and hit lots of good attacking shots, mostly with my forehand.
Overall I played 9 matches, winning 3 and losing 6. You can see all the scores on this link.
Lessons learnt
So what did I learn from my first veteran's tournament?
There are no easy opponents. The standard is very good. The 'average' players are the equivalent to the top players in my local league in Cambridge. The top 20 players in the tournament were really good, much better than me. I need to improve a lot if I want to compete with them.
My forehand is good and was able to win points off all opponents I faced. In particular they all struggled with my wide forehand attack. But my backhand needs massive improvement. When I tried to attack, I made far too many errors.
It was interesting to observe the top veterans play. Unlike younger players, there weren't any all out forehand attackers. The sort of player who will try and play forehands from every part of the table. I guess as we get older, it gets harder and less effective to make big movements to hit forehands from the backhand corner and then recover to play a forehand attack from the forehand corner. Instead these players are very confident using strong backhand attacks. This means they don't have to make such large movements. This again reinforced to me how important it is that I develop my backhand attack.
Safe blocking is suicidal. This is the sort of block I do for hours each week, when I'm feeding beginner and intermediate players I coach. The ball lands ¾ on the table and is slow enough to give a beginner player the chance to hit the ball. When I use the same safe block in a match against a higher level player, it gets punished. It doesn't exert enough pressure. I need to do more. An aggressive block could work, but looking at the better players in the tournament, they try to counter-topspin. This is what I need to do. I have to develop a strong forehand and backhand counter-topspin.
And finally, I have to change my mindset. If I want to improve my standard and have any hope of competing with stronger players, I need to take my game more seriously. I suppose I have coasted these past 3-4 years. I've reached a decent local league standard, but I've got comfortable. I haven't pushed on and developed my game. My training has been limited and unstructured. I have over-relied on blocking. My attacking game has stalled. This needs to change.
Table tennis mojo
Even though I didn't have much success, it was one of the most motivating table tennis experiences I have ever had. The tournament was organised really well. The hall was filled with 200+ players who were passionate about table tennis and took it seriously. Off the table everyone I met was very friendly and happy to share experiences and tips. But on the table, you could see how much they wanted to win and how much it mattered to them.
I feel truly inspired. I have my table tennis mojo back. I want to improve and in the past week I have already started to develop my new fast attacking style of play. It will take me some time to really make this style work consistently, but I am very motivated to develop my attacking strokes. My passive blocking playing style has been put into retirement. If you ever see me doing my safe blocks in a match, you have full permission to yell at me!
I have already entered my next tournament – the Cippenham 5 x 2 Open *1 on 28 May. Can't wait to unleash the attacks!