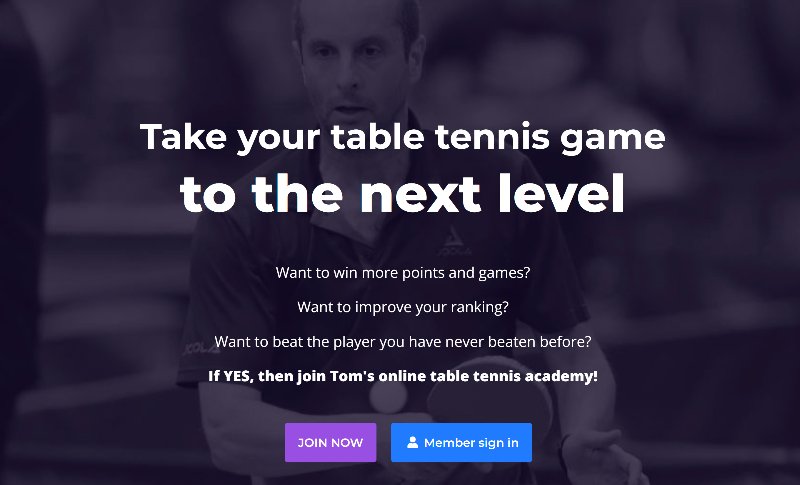 I am delighted to announce that my new online academy – Tom's TT Academy – is now live!
In Tom's TT Academy you will get access to exclusive coaching content, including the following…
Training drill library – There is a mixture of drills focusing on different aspects of table tennis. Each drill includes and video demonstration with key coaching points.
In-depth courses – 30-60 min courses, filmed from my real group coaching sessions
Coaching clinic – get feedback from Tom on anything you need help with in your table tennis game
Member groups – Connect with other members, share your own tips, comment on posts and create discussions.
Top 10 challenge – Follow Tom's attempt to rise to the top of the veterans rankings
Plus fitness tips, analysis of pro matches, honest rubber reviews, bonus technique videos from training camps, leaderboard contests and more!
To join, simply go to www.tomsttacademy.com
Take a look inside
Here's a video where I explain more and show you inside the website…
Tom's TT Academy is a paid for service, but I have kept the price low. You have a choice of memberships…
MONTHLY – £7/ Month – Ideal if you are on a limited budget or you just want to try the academy for a month or two.
YEARLY – £49/ Year – Ideal for dedicated academy members. It works out as less than £1 per week. Great value.
LIFETIME – £299/ Lifetime – Ideal if you don't like recurring subscriptions. Pay once and get access to the academy forever!
I would love you to join me in Tom's TT Academy. If you want more information, please watch the video above or go directly to tomsttacademy.com.