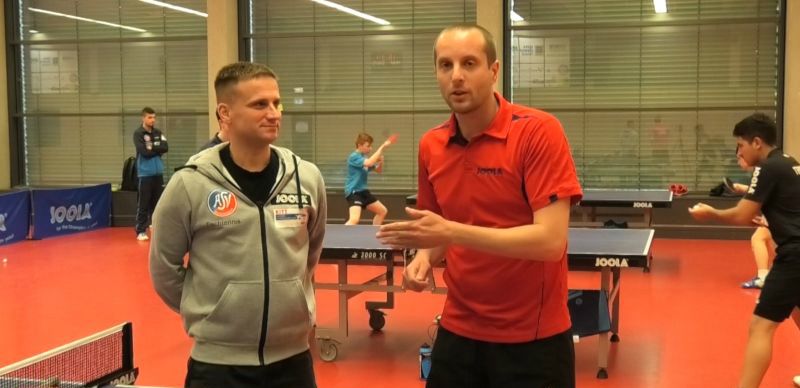 Last week I visited German Bundesliga club, ASV Grünwettersbach.
A professional table tennis club. Whoah!
This was a new experience for me. I'm used to playing in a rickety school hall, with partially damaged tables, nets which barely clamp to the table and limited playing space where you are in constant danger of smashing into the player on the next table.
So in this blog, I'm going to share some insights from my visit – the facilities, training methods, coaching style and equipment. What lessons did I learn? And did I manage to win any matches? Let's find out…
Why ASV Grünwettersbach?
ASV Grünwettersbach is sponsored by table tennis manufacturer JOOLA. Bribar Table Tennis (my sponsor) is the main UK supplier for JOOLA products. So a plan emerged to send me to Germany, to make some videos at the club about training methods and equipment.
ASV Grünwettersbach is relatively new professional club. The centre has only been open for three years. The facilities were previously a swimming pool. So a lot of money has been spent to transform the building into a table tennis centre.
The club has attracted a number of top 100 players to play for the club, including Masataka Morizono, Alvaro Robles, Samuel Walker, Ricardo Walther, Bojan Tokic and Sathiyan Gnanasekaran. Some of these players will also train at the club at certain times throughout the year, alongside a range of other players who are ranked 400-500 in the world.
The club finished this season 7th place in the German Bundesliga, with ambitions of challenging the top teams in future years.
It seems to be a club on the rise.
Facilities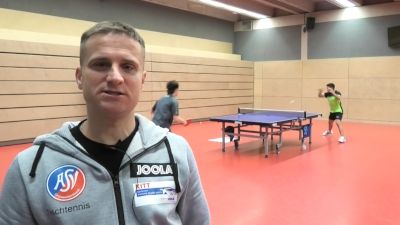 I was looked after (very well!) during my visit by head coach Rade Markovic, a former top-100 international player who has been playing and coaching in Germany for over 10 years.
When I arrived, he showed me around the centre. The main hall has space for 9 tables (for professional training), although you could fit in many more for amateur players who do not require so much space.
The main hall can also be transformed into a 650 seater arena for Bundesliga matches.
Below the hall is a hospitality area, gym and some modest accommodation for players who need somewhere to stay whilst training at the club.
The table tennis centre is used by pro players, aspiring juniors, amateur players – anyone who wants to play table tennis. And it seems to be open all the time.
All of this gave me a lot of table tennis envy. How I wish we had facilities like this in the UK. They even had a separate changing room for match umpires. Can you imagine that? In the UK, the umpire is lucky to get a chair to sit on!
If I ever win the lottery, I will build a training centre in Cambridge. Or if there any very wealthy individuals reading this blog post, who love table tennis and want to share their wealth, contact me and we'll come up with a plan!
Training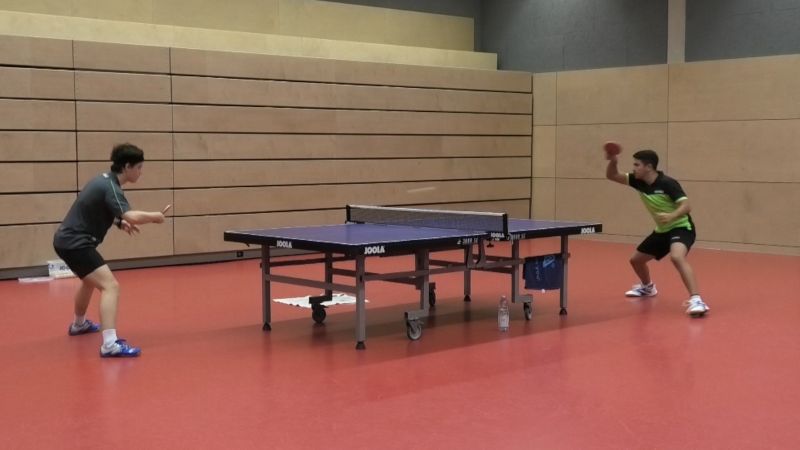 In the morning I filmed some of the training exercises involving two very good junior players. Guilherme Teodoro (green shirt), 17 from Brazil, has been ranked as high as 8 in the world for juniors and has high hopes of making it as professional player.
Juan Perez (dark shirt), 16 from Spain, has only just started playing international tournaments. He hopes to break into the junior world top 100. This next year will be a critical stage of development to see if he has potential to make it as a professional player.
All the drills combined both regular and irregular elements. This was a revelation to me. Guilherme and Juan would start a drill, e.g. forehand topspin from 3 positions, but on the 8th ball the rally would become open and both players tried to beat each other.
Or they would play open to the backhand, but after 5 or 6 balls, the blocker would switch to counter attack and the rally would become open again.
Rade explained to me if a drill becomes too repetitive, players start to switch off mentally. By adding an irregular component to each drill, the players stay focused and they experience "real table tennis", rather than just a dance routine.
This is definitely something I'm going to start doing more of in my coaching sessions in Cambridge.
Let's get physical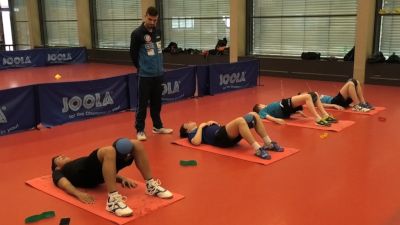 The centre has a full-time coach, Bene Gonzalez, who specialises in physical conditioning. All the players – even the younger kids – were doing flexibility, dynamic movement and muscle strengthening exercises. All these were specific to the muscles and movements required to play table tennis.
Bene was keen to emphasize how important these exercises are to improve table tennis performance and stay injury free. The club has a very good record when it comes to injuries. Long term injuries are very few. If players stay fit and healthy, they can continuously practice and play and improve faster.
At an amateur level, we rarely look after our bodies as we should. As a result, injuries are fairly frequent. I recorded the exercises at the club and will publish on my YouTube channel. These will give you LOADS of exercise ideas to stay table tennis fit.
Table tennis tips
I also persuaded Rade to share some of his top tips, whilst I shoved a video camera in his face.
He frequently apologised about the quality of his English, which was unnecessary. He understands 10 languages and fluent in several. His English is very good!
I speak only one language. Although I did try speaking French to a 9-year-old friend of my daughter recently, "Je voudrais un sandwich au jambon s'il vous plait". She looked at me confused and replied "tell me what you are trying to say, in English". I was crushed.
I digress. Back to table tennis.
I got loads of great tips from Rade. I won't go into detail now, as I'll be making lots of videos. But some of the areas Rade talked about are…
A simple method for returning serves
Staying relaxed when playing
How to generate power with less physical effort
How to move better
Timing of forehand strokes
How to generate more spin when serving
I will start releasing these videos on my YouTube channel in the next couple of months.
Equipment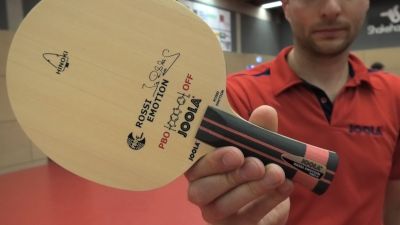 All of the equipment at the club – the tables, nets, balls, surrounds – are provided by JOOLA. When I signed my sponsorship deal with Bribar last year, I hadn't really used much JOOLA equipment before.
But the more I use the rubbers, blades, balls and tables, the more I like it. It's very high quality and as good as (in many cases better), than other table tennis manufacturers.
I'm slowly turning into a JOOLA brand advocate!
Whilst I was at the club, I tested out a new JOOLA Rhyzer 45 rubber and a new JOOLA Rossi Emotion blade, with PBO-c technology. I'll be honest, I have no idea what PBO-c technology is and how it works. But the blade did feel really nice to play with.
Again, I'm going to make videos about the rubber and blade, so you'll have to wait for my full review.
Tom vs the kids
I finished my visit by taking part in a group coaching session. This included 5 kids (I'm guessing aged 12-16), myself and another amateur adult.
This was more my level!
Once again the drills started as regular, but after a set number of balls turned into open rallies.
The kids had good technique, were generating lots of spin, but didn't quite have the level of consistency which Guilherme and Juan had shown in the morning.
At the end of the session I played matches against two of the better kids in the group. I managed to sneak victories in both, relying on my greater consistency and blocking skills. But I suspect the next time I visit, they will have progressed much more and will give me a good thrashing.
I was happy to win for now. I left the ASV Grünwettersbach undefeated (oh yeah!).
But after a day of playing table tennis, I could barely walk. So I certainly didn't feel like a winner. I didn't film these matches, so you'll just have to take my word for it!
I flew back to England the next day inspired by everything I had seen and learnt from Rade and Bene, eager to get back to coaching and playing. I'm sure I will return to ASV Grünwettersbach in the future.