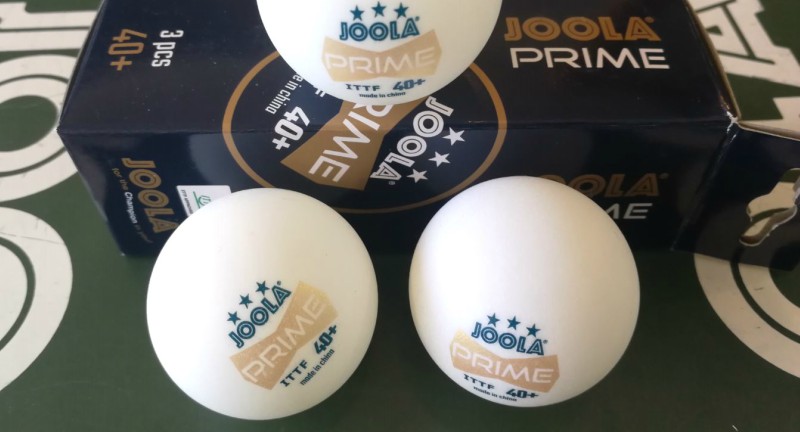 Over the past few weeks I have been trying out three different JOOLA table tennis balls – JOOLA Flash, JOOLA Prime and JOOLA Magic.
In this blog post I compare all three balls, examining hardness, bounce, speed, spin, durability and cost. I'll let you know which ball is my favourite and where you can buy.
From the outset, I must stress that all three balls are very good. When comparing I will highlight differences, but really these differences are quite small. I am happy to recommend all three. But one ball shines above the rest.
JOOLA FLASH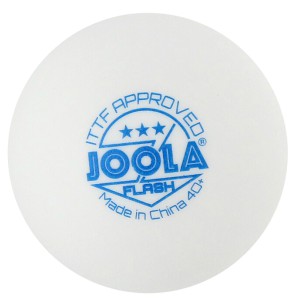 I'll start with the JOOLA Flash ball, as it has been around the longest.
The JOOLA Flash ball is a 3 star competition ball, made from Plastic Polystyrene (poly for short). This is the non-flammable material used to replace the old celluloid balls.
It has decent hardness, but feels a little bit lighter than the JOOLA Prime and JOOLA Magic balls, which is consistent with most of the other balls using poly material.
The bounce is consistent, although I have experienced the occasional ball jumping up a bit more than expected. But this really has been very occasionally, so difficult to know if it's the ball, table or shot quality of the other player.
You can generate good speed and spin. It feels a little less spinny and not quite as fast as JOOLA Prime and JOOLA Magic, presumably because of the poly material. But it's decent and as good as other top end poly balls.
I've not had any issues yet with durability. I'd expect to crack a few Flash balls – as the poly material can be a bit susceptible to this – but nothing yet. Maybe I don't hit the ball hard enough! I've trod on a few. But no ball can survive my clumsy stamping.
So in summary – JOOLA Flash is a good quality competition standard poly ball, with decent levels of spin, speed and durability.
JOOLA Prime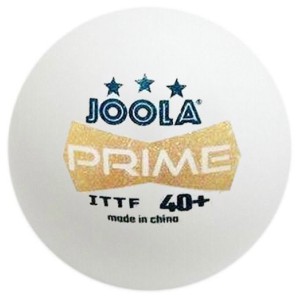 JOOLA Prime is a 3 star competition ball, used in many major tournaments around the world.
JOOLA Prime uses acrylonitrile butadiene styrene (ABS for short). This is a new type of plastic for table tennis balls (introduced in 2017), which offers offers improved roundness and durability over poly balls.
I really, really like this ball. It is a joy to play with. I have been using Nittaku Premium for the past 3 years, but JOOLA Prime may have the edge. It's hard, fast and you can generate a lot of spin.
I was surprised by how much spin you could generate. I think we have got used to the new balls being slower and less spinny, but when playing topspin attacks with JOOLA Prime, the ball really does kick off the table. Spin is back in town!
The speed is also very impressive. When you flatten your attacks, the ball flies. And because the ball feels hard, especially compared to poly balls, you can really feel the impact on your table tennis bat.
Again, no issues with durability yet. I would suspect that JOOLA Prime ball will be more durable than JOOLA Flash, because of the ABS material used. So it should be harder to break and maintain it's spin and speed quality for longer.
In summary, JOOLA Prime is a fantastic ball. It's quite possibly my favourite table tennis ball right now. I highly recommend.
JOOLA Magic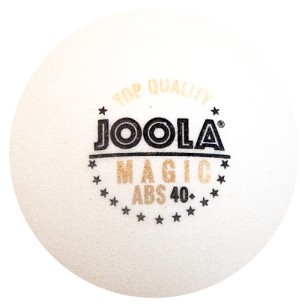 JOOLA Magic is a training ball, which also uses the same ABS material as JOOLA Prime.
JOOLA Magic is like a slightly junior version of the JOOLA Prime ball. It has decent hardness, speed, spin and durability, but just not as good as JOOLA Prime.
But it's more affordable. So this makes it a very good training ball. I have used lots of different training balls in my coaching sessions over the past few years. Some decent. Some terrible.
What I most like about JOOLA Magic is that it's just very consistent. Consistent bounce, consistent speed, consistent spin. This is exactly what I want from a training ball. I don't want the player I'm coaching to get distracted by the quality of the ball (too cheap). I want them to focus on the things which matter – technique, footwork, tactics. JOOLA Magic is certainly up there with the best training balls available.
Durability is good. Other than treading on a few, I have not experience any issues with balls cracking (yet). I would expect the JOOLA Magic ball to be durable because of the ABS material used.
In summary, JOOLA Magic is a very consistent, good quality training ball. It could easily be mistaken for a competition level ball. It's my preferred training ball for the time being and the ball I use in my coaching sessions.
Cost
Here is the good news! JOOLA Prime – the best ball – is actually cheaper to purchase than JOOLA Flash.
JOOLA Prime costs £6.30 / $8.95 for 6 balls.
JOOLA Flash costs £8.99 / $12.95 for 6 balls.
If you want to buy a big box of balls, then JOOLA Magic is the most affordable option, costing £37.99 / $49.95 for a box of 72 balls. By comparison, JOOLA Prime costs £62.99 / $99.99 for 72 balls and JOOLA Flash costs £99.99 / $129.95 for 72 balls.
Which balls should you buy?
The JOOLA Prime ball is a beautiful ball. With the extra speed and spin, I would consider it better than Nittaku Premium. This is my number one favourite ball right now. It's also a decent price for a competition quality ball. This ball is a great choice for league matches, competitions or high level training.
JOOLA Flash is also very good for a poly ball, but slightly overshadowed by the brilliance of JOOLA Prime. It's also a bit more expensive, which is a drawback. But JOOLA Flash is perfectly decent and comparable to other very good poly balls available. So if you like the poly balls, then this is a good choice.
Finally, if you want a high quality training ball which is consistent and durable, than JOOLA Magic is a great choice. It's ideal for training drills, multi-ball or any other type of training method. It has a premium feel to it. This is my preferred ball now for my coaching sessions.
Where to buy
If you're in the UK, you can buy JOOLA table tennis balls from Bribar Table Tennis…
If you're in the USA, you can buy JOOLA balls from Megaspin…
For the rest of the world, I recommend looking at the JOOLA website, which has links to suppliers all over the world.