If you aspire to play competitively or just want the best quality balls to train with, then you need to use competition standard table tennis balls.
In this short guide, I will explain the benefits of competition balls, how they compare to training balls and which are the best balls to buy.
Why are competition table tennis balls so good?
Competition balls are undoubtedly the best table tennis balls to play with. They have to meet the requirements of the governing body, but more importantly they need to satisfy the demanding standards of professional players.
This means that competitions balls are perfectly round, with a very consistent bounce and very durable. They are also have good friction, meaning that you can generate lots of spin.
If you are playing table tennis and don't even notice the quality of the ball – this is a good sign. It usually means the ball is very good. You only really notice the quality of ball when it's very poor. A high quality competition ball should enhance the experience of playing table tennis.
Competition ball vs training ball
Is a competition ball really so much better than a training ball? Well actually, training balls can be very high quality too. So your average social ping pong player probably won't tell the difference. But for those who compete regularly – amateur or professional – a competition ball will always be preferable.
Compared to a training ball, a competition ball will be that little bit harder, faster, durable and easier to spin. The difference may not be that great, but you really do notice that little extra performance quality.
Recommendations
There are a lot of very good quality 3-star competition table tennis balls available to buy. But which is the best ball?
Here is my top 10 list.
There is no scientific testing behind this list. It is entirely subjective, based upon my personal experience of using these balls and feedback from other players at my club. So whilst there is no science behind this list, it is based upon hours and hours and hours of play.
I start the list with my top three balls (in order), followed by the remaining seven balls (in no particular order).
Which balls should you buy? Well the top three are my personal favourite, so you should start with these. But honestly, all of the balls on the list are good quality. You could buy a few different brands, try them out and then make your own decision.
You may also want to look at my list of popular table tennis balls purchased by readers of this website.
On with my list…
---
1st place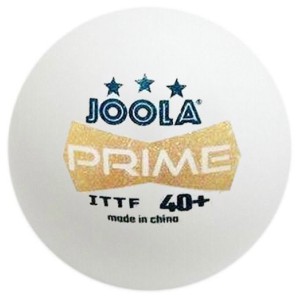 JOOLA Prime 40+
This is currently my favourite competition table tennis ball. JOOLA Prime uses ABS material, which offers offers improved roundness and durability. You can generate loads of spin. I think we have got used to the new balls being slower and less spinny, but when playing topspin attacks with JOOLA Prime, the ball really does kick off the table. Spin is back in town! JOOLA Prime is hard, fast, spinny and durable. A quality ball.
---
2nd place
Nittaku Premium 40+
For me, the Nittaku Premium 40+ is the best table tennis ball available. When it first became available in 2014/2015 it was by far the best of the new 40+ plastic/poly balls.
It has very good durability, roundness, and consistency. For those of us who were used to the old celluloid balls, the Nittaku Premium 40+ really didn't seem that different.
I have been using this ball since 2016 and I really can't recall many occasions when the ball has cracked. The balls really do seem to last a long time.
The other thing I really like about the ball is the consistency of the trajectory and bounce. The ball behaves in a way you would expect, which allows you to concentrate on the game / your strokes. It's always a pleasure to play with this ball.
It has been used in many major tournaments around the world, including the 2017 World Table Tennis Championships.
---
3rd place
Double Fish V40+
You may not have heard about or seen this ball yet. It's quite new and only been available to buy for a few months.
This ball was used for the 2018 Team World Cup in London. I managed to get a few of the balls and I have been impressed.
It's a really good ball, similar to Nittaku Premium 40+. Good durability (so far) and consistency. If anything, the surface seems to be a little rougher than the Nittaku ball and maybe a tiny bit less spinny, but there really isn't much difference.
I expect this ball will become more popular over the next year.
---
7 other good balls to consider
DHS D40+ (buy in UK | buy in USA)
Stiga Perform 40+ (buy in UK)
Butterfly G40+ 3-Star (buy in UK | buy in USA)
Xiom 3-star 40+ (buy in UK | buy in USA)
Tibhar 40+ SL (buy in UK)
Donic 40+ (buy in UK | buy in USA)
JOOLA Flash 40+ (buy in UK | buy in USA)
---
I have provided links above to where you can buy balls (mainly Amazon), but you can also buy table tennis balls from any dedicated table tennis shop. Take a look at my list of table tennis shops to find a shop near you…
---
Author: Tom Lodziak | Article updated: 03 January 2019
---