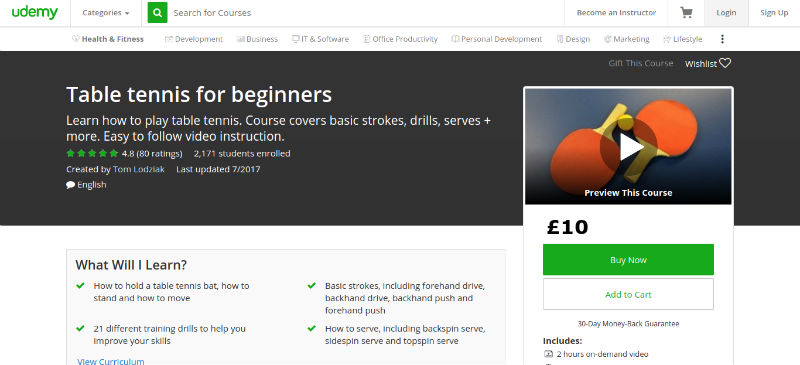 Want to learn how to play table tennis?
Let me teach you..
In my popular online course Table Tennis for Beginners, I will show you all the basics skills you need to play and improve at table tennis.
Over 2200 people have already signed-up for the course. It has a very positive review rating of 4.7 stars out of 5.
What will you learn?
I coach a lot of beginners. It's one of the things I enjoy doing most. There is something very rewarding about helping someone with limited experience improve their table tennis skills.
I've put all my knowledge and experience of coaching beginners in this online course.
Here's what you will learn in Table Tennis for Beginners:
How to hold a table tennis bat
How to stand and move when playing table tennis
How to play a forehand drive
How to play a backhand drive
How to play a forehand push
How to play a backhand push
How to serve legally
How to do a backspin serve
How to do a sidespin serve
How to do a topspin serve
The online course also includes lots of different training drills which you can do in your own time. These drills help you put into practice what I teach in the course.
Who is the course for?
Table Tennis for Beginners is for anyone who wants to learn table tennis.
In particular, it is very beneficial for:
Beginner players and improvers
Experienced players who want to refresh their knowledge
Parents who want to coach their children
School teachers who deliver table tennis classes
Other coaches who want ideas on how to teach basic table tennis skills
How long is the course?
Table Tennis for Beginners includes over 90 minutes of tuition. But you don't have to watch all at once. When you sign up you get lifetime access to the course, so you can learn at your own pace, on your own time, and on any device.
How much does the course cost?
The cost of the online course is £29.99, although Udemy regularly offer discounts, so you should be able to purchase it for less.
I have kept the cost low on purpose. I want it to be affordable to as many people as possible. It's great value for the amount of content in the course.
It's a one-off payment (no recurring fees) and you can access the course as many times as you want.
How do you sign up?
Table Tennis for Beginners is hosted on Udemy.com, which is a leading online learning platform.
You just need to enter a few personal details and your payment information and you're done. It's very quick and simple.
Not sure? Take a look at some reviews…
"Great intro into the basics of table tennis the coach is thorough and explains everything in detail. There is a practice part as well which I find very useful. Each video has quite a lot of resources that delve deeper." Mark, December 2017
"Great job and best training ever. Helped my little son a lot!!!" Delwar, November 2017
"Very interesting and useful tips. I learned a lot of new techniques. I definitely recommend this good course." Jean-Luc, June 2017
"I found his explanations very clear and practical. Thanks a lot." – Bilal Tektin, January 2017
"Great breakdown of the fundamentals and drills to help build a solid foundation. Clear video demonstration of each technique coordinates well with the narrative which is also clear and to the point." – Chris Braker, December 2016
"Because the lessons so far have been an excellent introduction to playing Table Tennis and I feel like I have learned a lot about proper grip and proper stance before starting to hit the ball." – Nazir Kazi, August 2016
"I learnt loads in this course and now know how to do the basics shots. I've noticed an improvement when I play, but now got to practice loads. Lessons are very easy to understand and Tom shows some useful training drills to do." – Sarah Evans, September 2015
Can I watch a preview?
Yes! The video below features on the course and will give you an idea of what to expect.
Contact
If you have any other questions before signing up, please email tom@tabletenniscoach.me.uk