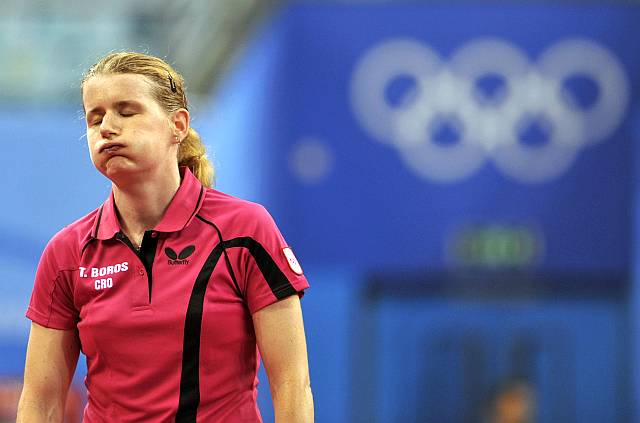 We all have bad games. There could be any number of reasons for a poor performance. Too nervous. Mind unfocused. Unfamiliar environment. Injured body part. Awkward playing style. Opponent too good.
Whatever the reason, you're not playing well and you're losing. This often leads to frustration and poor decision making. You make more errors. You get more disheartened. You start playing wild shots in a desperate attempt to get back in the match. The wild shots go into the net. More despondence. Your head goes down. You give up. The match is over. You've been defeated by both your opponent and your brain. Thank you brain!
This is the worst kind of defeat. No one feels good about losing control of their emotions and giving up. You learn very little from the defeat. There are no positives to take away.
Ideally you want to eliminate this type of loss from your game completely. How can you do this? Here are a few tips on maintaining a positive attitude when you're losing…
Change tactics
If you keep losing points in the same way, try something different. It's very frustrating watching a player keep making the same mistakes and then give up halfway through the match without even trying to change tactics.
For example, if you keep losing pushing rallies, stop getting involved in pushing rallies. Play positively. Topspin the ball rather than push. When you're serving (which accounts for 50% of points), serve topspin or sidespin – this will help you avoid getting into pushing rallies in the first place.
Another example – if you're making lots of unforced attacking errors, just keep the ball on the table for a few points. See if your opponent will make mistakes instead of you. In a league match last season, one of my team-mates was playing poorly against a weaker opponent. He kept smashing the ball into the net. His opponent didn't have to do anything to win the points.
At the end of the set I told my team-mate to stop smashing, just get the ball on the table and place it in awkward positions. I knew if he did this, his opponent was likely to make a mistake first. What happened in the next set? He won 11-0! A simple change in tactics quickly turned a losing position into a winning one.
Identify a player's weakness
We all have weaknesses, don't we? I have plenty (more on my biggest weakness in a moment). Even the very best are always working on eradicating imperfections from their game. If you're really struggling in a match, try to identify your opponent's weakness and target it.
In a recent match, I was playing some lovely topspin attacks cross-court. But the ball kept coming back quickly, forcing me to miss the next shot. My opponent's forehand block was very good. I was one set behind and struggling. I then realised his backhand block was much weaker. So what did I do? I just kept attacking his backhand. Almost every time I did this I won the point. If I had kept attacking his forehand, I'm sure I would have lost the match. But by targeting his weakness, I ended up winning quite easily.
In another recent match, I was winning comfortably and playing very well. I was two sets up and winning 8-4 in the third. In this situation a lot of players have already given up. But not this opponent. He kept trying different things and eventually worked out that I really struggle with fast sidespin serves to my backhand. So what did he do? He kept using this serve and kept winning points. His confidence grew. I became nervous. What should have been a comfortable victory, turned into a close match. I was lucky to eventually win the match 12-10 in the 4th set, but it was a struggle. If my opponent had identified my weakness earlier in the match, I'm sure he would have won.
Go slow between points
When you're not playing well and losing, you may feel like you want to finish the match as quickly as possible. You speed up between points, serve without thinking, make stupid mistakes and then rush on to the next point. Avoid doing this.
Instead, go slow between points. This will give you some extra thinking time. Use the time to think about tactics or targeting a weakness. If it's your serve, spend a moment to think about which serve has been most successful against your opponent. Visualise what shot you want to play if your opponent returns your serve. If it's their serve, take a little longer getting back to the table. Use the time to think about how you want to return their serve and where you want to place the ball.
If you're always rushing to get on with the next point, you are much more likely to repeat the same mistakes. If you go a bit slower between points, you give yourself an opportunity to identify what isn't working and what tactics might work instead.
Ask for advice
It seems obvious, but if you're losing and not sure what to do, ask a coach or team-mate for advice. They may be able to spot something obvious you're doing wrong or give you suggestions on alternative tactics to try.
You may not always feel like seeking advice when matches are going badly. You may feel frustrated, annoyed or embarrassed and just want to be left alone. Again, avoid doing this. There's nothing wrong with admitting you need help.
You should actively seek advice, rather than relying on a team-mate to beckon you over. If your body language says "leave me alone", they probably will leave you alone. But if you approach a team-mate or coach and ask for suggestions, they will be very happy to help.
Advice from team-mates or coaches won't always have the desired effect. But if you're losing a match and not sure what to do, what have you got to lose?
Never give up on a set
In a recent coaching session a player asked me what they should do if they are losing heavily in a set. Should they just give up and concentrate on the next set?
My response? No, no, no!
Never give up on a set. Even if you're losing 10-2, you should still keep trying. Some players switch off when they have a big lead. Some players get tense when they have a set point. Either way, there is often an opportunity to win a few points.
And this should be your aim. If you can win, 2, 3 or 4 points at the end of a set in which you're losing heavily, this can really help swing momentum. You still may lose the set, but you'll be more confident for the beginning of the next set and you'll be the player in form.
Occasionally, you will make a miraculous comeback. And what a feeling that is! Your opponent is 10-4 in front. They ease off, thinking the set is won. You win a couple of points. 10-6. Now there's a little bit of pressure and your opponent starts to get a little tense. You win two more points. 10-8. Now the pressure on your opponent is unbearable and the tension causes them to make silly mistakes. Before you know it, you have saved six set points, won the next two points and taken the set 12-10. It all started by not giving up when 10-4 behind.
Summary
There's absolutely nothing wrong with losing a game of table tennis. It is only table tennis after all! But I think it's much better to lose a match having tried to alter the outcome, rather than just giving up when things aren't going well.
Sometimes you have to accept that an opponent is simply a lot better than you. The chances of winning are unlikely, no matter what you try. But even in these situations, if you focus on tactics, exploiting weaknesses and staying positive, you'll often be surprised by how many points you do win.
And it's a brilliant feeling when you do turn a match around. You're staring at defeat, but you don't want to give up without a fight. You get advice from a teammate. You change tactics. You start winning points. The momentum changes. Your opponent crumbles. You win the match! And it all happened because of your positive mindset. Thank you brain!