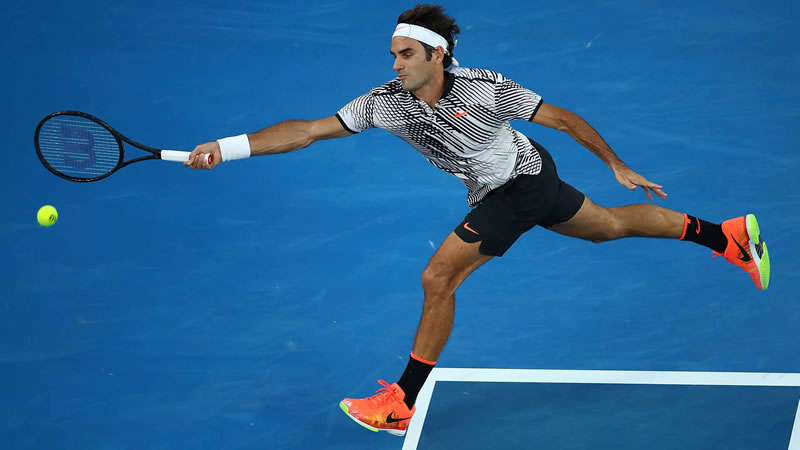 One of my many sporting obsessions is watching Roger Federer play tennis. This has been going on over a decade. Whenever Federer plays, I'll be following the score, willing him to win.
I don't care who he plays (even if it's a British player), I am in Federer's corner. If Federer wins, my mood lifts. Everything is well in the world. If he loses, my mood slumps.
I'm a proper fan-boy.
There was something magical about his 18th Grand Slam win at the Australian Open. At the age of 35, he was deemed by most commentators to be past-it. He hadn't won a Grand Slam since 2012. And he had just taken 6 months off to recover from a knee injury. But he wasn't past-it. In fact he was playing brilliantly.
As he was only ranked 17 for the tournament, he had to beat three top 10 players to reach the final. And in the final faced his old rival Rafael Nadal. He won 3-2. It was a classic.
Part of me thought he should retire after the Australian Open. The story was complete. After four years without a Grand Slam win, and at the age of 35, he had managed to get back to his best and win yet another title, beating his greatest rival in the final.
But Federer didn't retire. He just kept on going. He then won the Indian Wells Masters, the Miami Open and Halle Open (for the ninth time) and then waltzed his way through Wimbledon, winning the tournament for an 8th time without dropping a set. This man is the greatest tennis player of all time.
As I watched Federer's masterclass at Wimbledon, I started thinking about what we table tennis players can learn from the great man. Is there anything he does on the tennis court, which we can transfer to the table tennis table?
Actually, I think there is plenty. Here's a few things I think Federer does particularly well, which are very relevant to table tennis players also.
Dominate with your serves
Federer has a very strong service game. His serves aren't as fast as other players. In fact, on the list of the all time fastest serves, Roger Federer is nowhere. He doesn't beat opponents with sheer speed. Instead he causes havoc with placement, varying spin and disguising his serves. His opponent's just don't know what is coming. The placement is particularly impressive. His serves so often seem to be close to the lines – down the middle or out wide. He makes use of the full service box area to stretch his opponents.
Lesson for table tennis players: If you develop a strong service game, it will give you a big advantage. But it's not all about developing the spinniest possible serves. You also need to work on service placement and disguising your serves, so your opponent doesn't know what to expect. Service placement is vital. When you serve long, really try to get close to the end of the table. When you serve wide, try to get close to the edge of the table. If you serve half-long, try to get the second bounce as close to the end of the table as you can. Use the full area of the table. Stretch your opponent.
Vary your shots
Federer can do everything. He can topspin. He can flat hit. He can volley. He can slice. He can block serves. He can do drop shots. He can slow the game down. He can speed the game up. He has different ways of playing. He keeps opponents off-balance by mixing things up. He varies his shots and his style of play. Sometimes he'll play baseline rallies. Sometimes serve and volley. It must be a nightmare to play Federer as you're never quite sure what he's going to do next. He is the master of variation.
Lesson for table tennis players: If you add more variation to your game, you can really unsettle your opponents. This means don't always do the same thing all the time. Sometimes attack, sometimes defend. Sometimes play fast flatter topspins, sometimes slow and spinny topspins. Sometimes push deep, sometimes touch short. Sometimes block, sometimes counter-topspin. Sometimes speed the game up, sometimes slow the play down. Keep your opponents guessing and make them worry about what you're going to do next.
Move your feet
One of the remarkable things about Federer is how well he is still moving at the age of 35. He moves with the ease of someone 10 years younger. Federer's shot quality is consistently very good because he gets his body in the right position. This is all down to his efficient footwork. He almost skips across the court, never expending too much energy. But he always seems to get his feet in the right place. This makes it much easier for him to hit high quality shots.
Lesson for table tennis players: Move your damn feet! In a table tennis match, the ball rarely gets played to exactly the same position two balls in a row. So you need to get into the habit of moving (or being ready to move) for every ball. If you focus on moving your feet, you can get your body into a good position and then it is easier to play high quality shots.
Play your 'A' game in the big points
Federer is the master at playing his best at critical stages in a match. This is often towards the end of a set, when Federer turns up the heat to break his opponent's serve or to win a tie-break. It seems to me that Federer is always analysing his opponent, working out where his weak points are. In the big points, Federer really targets these weakness. He brings out his 'A' game and unleashes it on any weakness he has identified. He's ruthless. But this is why he has won 19 Grand Slams.
Lesson for table tennis players: Analyse your opponent as you play. Work out what his/her strengths and weaknesses are. At a critical stage in a game, e.g. if the score is 8-8, now is the time to bring your 'A' game to the table and unleash it on your opponent's weakness. But you can only do this if you are paying attention to your opponent. Identify weaknesses and exploit them.
Never stop learning
Perhaps the most remarkable thing about Roger Federer is that he is always trying to improve. Even though he has won all those titles, broken all those records, he still wants to get better. Where he gets his motivation from, I'll never know. But it works. At Wimbledon this year, he was playing some of his best tennis ever. He didn't lose a set. This is incredible. Nadal, Djokovic and Murray have all moved ahead of Federer at some point over the past few years. Federer has responded. He has improved his backhand. He has improved his volleying. He has tried new tactics. He is always trying to improve different aspects of his game, even though he is one of the oldest players on the world tour.
Lesson for table tennis players: Never stop trying. The great thing about table tennis is that you can play all your life. There are players in my local leagues in their 70s. There is always something new to learn, something to improve. You age really is just a number. Keep on practising. Keep on improving. You're never 'past-it'. Try to evolve, do something different, improve a weakness or make a strength even stronger.
---
So thank you Roger Federer. You play is so great, you transcend tennis. Even us paddle-twitchers can learn from your greatness.
And to finish my Roger Federer love-in, here is a tribute video of Federer's greatest points from the 2017 Australian Open. Watch it and be inspired…