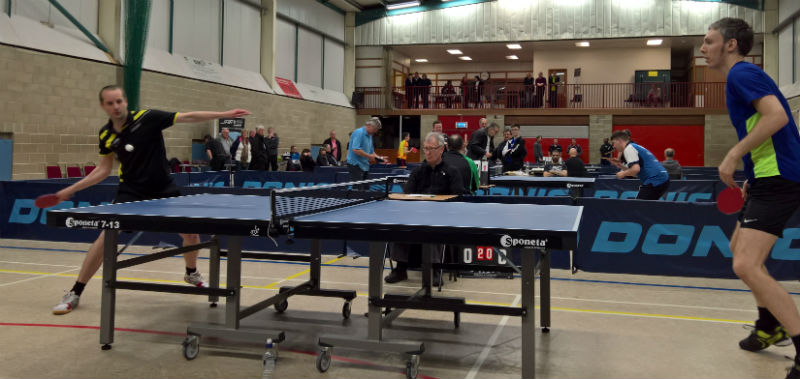 My league season is over. I finished on a high, helping our team win the league handicap competition. But, in general, it has been a season of mixed fortunes.
Our team remained unbeaten all season in the league, yet we only finished in second place. I achieved a respectable win percentage (84%), but this was lower than the previous two seasons.
We won the handicap competition, but crashed out of another cup competition in the quarter final due to a shocking performance by myself. We could have won all three competitions we entered, but only managed to win one.
What went wrong?
Ok, it wasn't a terrible season but it did fall short of expectations. I started the season strongly, playing my usual attacking style. I won my first 16 matches. But then I started experimenting with my playing style. This was the beginning of my downfall.
I got it in my head I should be playing with more sophistication, trying to beat players with my brain rather than raw power. Maybe I had been watching too much Waldner! He makes just makes the game look so easy. Why use more physical effort than you need to? I started pushing and blocking more and counter-attacking only when needed. If I could force players to make the errors, then I would be able to win without breaking a sweat.
I had some success early on against weaker players. But on reflection I think these victories gave me misguided belief. When I played stronger players, my new 'clever' playing style wasn't proving to be very clever. I was being way too passive and allowing my opponents to get into an attacking rhythm. I would push, they would topspin, I would block a couple of times but eventually lose the point. I lost matches to players I had previously beaten quite easily.
My lowest point came in a Divisional Cup match. We only had two players for the match (rather than the usual three), so we started with a 3-0 deficit in a 'first to 5' match. This was a tough task, especially as we faced the strongest player in the division.
But against the odds, we managed to get ourselves into a winning position. My team-mate, Yordan, played his best ever match by beating their strongest player. A great performance! All I had to do was beat their weakest player and we would win the match.
I had played this player on three previous occasions and never dropped a game. I thought all I had to do was keep the ball on the table and let him make the mistakes. I would use clever pushes and blocks and frustrate him. Easy.
What happened? He didn't make many mistakes! The longer the match went on, the more relaxed he became and he was able to attack at will. I was putting him under no pressure. When the match was slipping away from me, I tried to change tactics and be more attacking. But it was far too late in the match for me to find my attacking flow. When I tried to attack, I missed. I lost the match 3-1. We lost the overall tie 5-4. Without doubt, it was my worst performance of the season. Not very 'clever' at all!
Lessons learnt
This loss was a real eye-opener. Thinking I could play even a tiny bit like a genius such as Waldner was proving to be a mistake. In the final four matches of the season (two league, two handicap), I went back to my usual attacking style. I won 9 and lost 1. I was winning again and feeling much happier about how I was playing.
The big lesson I learnt was that changing my playing style mid-season was not a good idea. I needed much more time to perfect this 'clever' all-round playing style. It was unrealistic, even arrogant, to think I could just switch styles mid-season and keep on winning. And to make matters worse, since I was attacking less, my attacking game was deteriorating too. When I got out of my attacking zone, I found it quite hard to get back into it.
So I've made a decision. I'm an attacker and going to stick with this playing style. Of course, I may need to adapt my playing style from time to time. And there is still plenty of space in my game for a clever push or quick block. But attacking is what I like to do and how I achieve most success. Having a clear idea of how I want to play is quite liberating. It means I can really focus on the areas which I need to improve. My hunger for training has returned!
Areas of improvement
So, what will I be working on over the summer?
Topspin rallies – I need to get much better at topspin rallies. I have no trouble opening up an attack, but often struggle to play 2, 3, 4, 5 consecutive topspin attacks.
Backhand attack – My backhand is definitely improving, but I lack confidence. If I'm completely relaxed or have a big lead, then I will attack with my backhand. If a match is close or I'm feeling under pressure, then my backhand attack goes into hiding. This has to change.
Playing distance from the table – I often find myself too close to the table, which makes it quite hard to execute my topspin strokes with my long, spindly arms. I need to work on playing with a bit more distance from the table.
Getting into the zone – Occasionally I manage to get myself into the elusive 'zone'. It's a great place to be. It feels like I can attack every ball and win every point. The problem is I don't seem to get in the zone very often. So I need to work out how to do it more frequently. I have no answers yet. When I work it out, I'll write a blog post about it!
Next season I'm likely to be playing Division 1. This will be a step up in standard, but I feel ready for the challenge. If I play at my attacking best, I should do ok. If I play too passively, I will get destroyed. Let's see what I say this time next year.