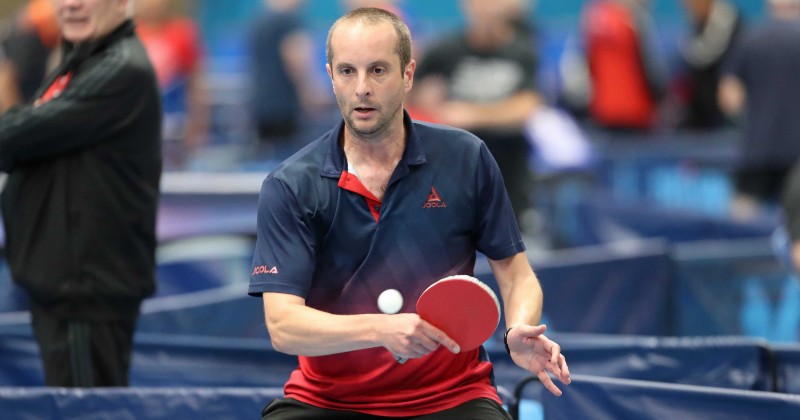 Another league season is finished. It feels like I have played a lot of matches over the past few months. Not only league matches, but also county matches and tournaments. I don't mind admitting that I'm going to enjoy a brief break from competitive play!
But how did I do in my latest league season? Am I making any progress or going backwards? Here's a review of the past few months…
Terrible start
Once again I was competing in the top division of the Cambridge league. This is my sixth year playing in the top division and I began the season confident that I was going to do well. I had played a few tournaments in the first half of 2022 and felt my game was in good shape.
This confidence was very misplaced. I had a terrible start. I lost my first 8 matches. What went wrong? Well, I was facing some strong opponents, but also lost three matches against players I would expect to beat.
I think I was simply trying too hard. I was trying to be very aggressive in my matches – trying to attack all the time – and I found this quite stressful. I was playing outside my comfort zone. As a result, I tightened up, rushed my shots, hit too flat and made a lot of unforced errors. This is deeply unsatisfying for me. I hate unforced errors. And I was making a lot of them.
I apologised to my team-mates and promised I would start winning matches soon. But my confidence had taken a big hit, so I didn't quite believe this myself.
Change of strategy
I wasn't enjoying playing so aggressively. I didn't feel myself at the table. And it wasn't working.
So I stopped trying so hard. Instead of trying to attack as often as possible, I adopted a more controlled approach. I was happy to mix up my play – sometimes push, sometimes block, sometimes flick, sometimes topspin. And I gave a big focus to tactics and strategy.
This approach worked much better for me. I won 9 of my next 12 matches. This included wins against three players ranked in the top 10 in our league.
Why does a more controlled approach work for me? I guess I have always been a more cautious type of player. I don't like taking big risks at the table. And I get a huge amount of satisfaction from making an opponent miss. My attacking game is at its best when I play at 70% power and focus on ball placement.
This league season has helped me understand my preferred playing style much more. I don't think I will ever be an all-out attacker. And I am quite happy with that now. I get most enjoyment – and my best results – when I play a more varied controlled game. This approach does have limitations – it is hard to beat a really aggressive opponent with high consistency – but it seems to be the best approach for me.
Hitting my win percentage target
I had a little mid-season dip, with some below-par performances. It's hard to keep a strong focus the entire season and some winter illness didn't help either.
Going into the last league fixture of the season, I needed to win all three of my matches to reach a 50% win percentage. This was my minimum goal before the season started. But after my disastrous start – losing my first 8 matches – this seemed quite unlikely.
I was super focused for the final fixture. I was facing opponents I had beaten before, but never underestimate my ability to mess things up!
Fortunately my controlled playing style held up well. I mixed up the play – pushing, blocking, attacking. I implemented good tactics to exploit weaknesses and won my matches 3-0, 3-1, 3-0. I finished on 51.11%, a good improvement on the previous season when I only managed 30%.
In many ways it was my best ever league season. I have achieved higher win percentages before, but mainly by being selective on which teams to play (i.e. the weaker teams!). In this season I didn't dodge any matches against the top teams and got several wins against players higher ranked than me.
I also had a good record against players I faced for the first time. I won 9 out of 11 of these matches. And I managed to beat four players I have never beaten in the league before. A few reasons to be cheerful!
You can view all my results on the Cambridge Table Tennis league website.
The epic trilogy
One major disappointment was losing three very close matches to the same player. His name is Aland (Hei Yeung Chan), and he plays for our first team. I know Aland well – a really nice guy. We have a similar style, but he's 20 years younger than me. He's faster, stronger, fitter and mentally tough too.
In the first match, I lost 11-9 in the fifth.
In the second match, I lost 11-9 in the fifth.
In the third match, I lost 15-13 in the fifth, having missed three match points.
Ouch!
If you add all the points together in all three matches, I won 140 points and Aland won 144. It really was very close, but no wins for me. In the second and third matches, I was winning 2 games to 1. And in both deciding games I had a good point lead too.
This has happened a few times over the past year. I have been leading in a deciding game against good players and then blown the lead. On each occasion I think I have become too passive, hoping the other player will mess up. This is something I have to improve upon. When I have these deciding game leads, I need to keep asserting the pressure – not stop playing.
But Aland is a top guy and deserved all three wins. And I will have to find something extra the next time we play.
Cup final disappointment
And finally, we made it through to our league handicap cup final. Hooray!
Our opponents were from the same club, but a division lower. In fact, it was the same team we played in the final last year (and lost).
And this year … we lost again!
I won my two matches, but it wasn't enough to get the victory for the team.
Handicap matches are tough. Players start on different scores, depending on their ranking. I was playing on -8 and throughout the tournament faced players on scores starting between 5 and 21. All matches are up to 31 points, so you can't make too many mistakes and have to stay very focused.
My controlled playing style is suited to handicap matches, as I don't make too many unforced errors and can usually find weaknesses to exploit. In the various rounds of the competition, I won 7 out of 8 matches. I'm pretty happy with that, but disappointed we didn't get a winners trophy.
Preparing for Norway
I will now have a break from competitive play for a few weeks. My next tournament will be the European Veterans Championships, at the end of June. I will let you know how I got on later in the year.