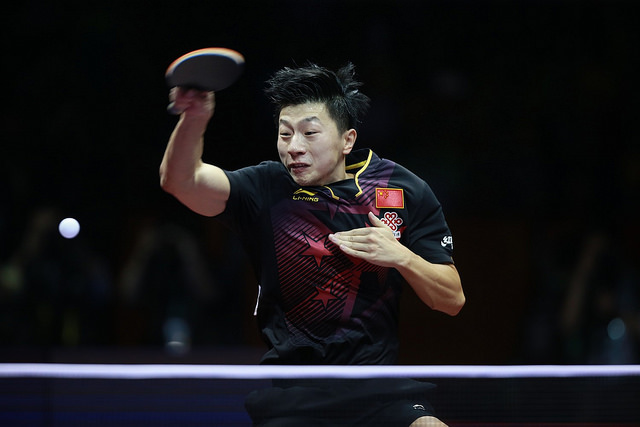 At the recent 2015 World Table Tennis Championships in Suzhou, Chinese players were unstoppable. Ma Long won the men's singles. Ding Ning won the women's singles. Both finals were all-Chinese contests. Both semi-finals (men's and women's) were all-Chinese contests. And for good measure, Chinese players won the men's doubles and the women's doubles. Total Chinese dominance.
This isn't an isolated success. Chinese men have won the last 6 world singles championships, the last 7 world team championships and 4 out of 7 Olympic gold medals. Chinese women have been even more dominant. They have won the last 10 world singles championships, 18 out of 20 of the last world team championships, and all 7 Olympic gold medals. Near total Chinese dominance for the past 20 years.
So, is Chinese dominance a problem for table tennis?
Yes and no.
It would, undoubtedly, add more interest to major world tournaments if players from other countries posed more of a challenge to Chinese players. It was no surprise that all four semi-finalists in men's and women's singles in Suzhou were Chinese. And it seems fairly certain that China will get another clean sweep of gold medals at the Rio Olympics next year. It's all a bit too predictable.
And Chinese dominance can stifle the growth of table tennis in other countries. In the UK for example, sport funding is is partly linked to whether athletes have a credible chance of winning Olympic medals. In table tennis, unless you're Chinese, you're prospects of winning a medal aren't great! It's a chicken and egg situation. The elite table tennis players need the extra funding to be able to compete with the Chinese, but they can't get the extra funding unless they can show they can compete with the Chinese.
But China is also great for the sport of table tennis. Chinese players have elevated the game to a new level. They can be absolutely spectacular to watch. Even though it is fairly predictable that Chinese players will dominant major tournaments, it's not predictable which of those Chinese players will be victorious.
There is fierce competition between the top Chinese players. They all have their own particular styles and strengths and weaknesses. And no one player seems to dominate for very long. It was exciting watching the all-Chinese semi-finals in Suzhou, as the very best players in the world were playing each other, some of the rallies were absolutely incredible and the outcome of matches unpredictable. What more could a true table tennis fan want?
Personally, I'm not overly bothered about Chinese dominance, but there is disquiet amongst many involved in table tennis, even those in China.
So, how can other countries catch-up?
This is a very tough question. China is just so far ahead of any other country in terms of number of players, infrastructure and financial resources. But, even if other countries can't match China in all these areas, they can make improvements to their infrastructure by providing more opportunities for young people to play, investing in dedicated table tennis facilities, improving coaching standards, and creating clear pathways for the most talented to play locally, regionally, nationally and internationally.
Germany also has a very good infrastructure and a high level of professionalism seldom seen elsewhere. In recent years they have been second strongest table tennis nation. It's no surprise that there were two German players in the quarter-finals in Suzhou. If it's unrealistic for other countries to match China's vast resources, then Germany may be a more attainable model to follow.
Centres of excellence or expert hubs could also provide an opportunity. Part of Sweden's table tennis success in the late 1980s and 1990s was due to a tight group of elite players working together and pushing each other to ever higher standards.
We have seen this in other sports too. Britain have dominated track cycling over the past decade and this is partly a result of bringing all of the best talent together in one place, the Manchester Velodrome. Not only do they raise each other's standards but they also inspire the younger riders hoping to break into the national team. There is no sentimentality in team selection. It's based on merit. If you're performing better than the rest, you're in the team.
The Werner Schlager Academy (WSA) in Austria is an example of this kind of centre of excellence. 24 players who train at WSA participated in the World Championships. It's still early days for WSA (it was only set up in 2011), but it is starting to have some success in raising standards of the players who train there.
The future?
There are no easy answers on how to challenge China's dominance of table tennis. I certainly don't have the answers, just suggestions on how other countries can close the gap a bit. But nothing lasts forever. In other sports, one country has dominated for long periods (USA and sprinting, Kenya and long distance running, Netherlands and speed skating, Hungary and water polo). But other countries innovate. They improve their training methods. They work harder. They eventually catch-up and surpass the dominant country.
The tough thing about being so dominant in one sport is how do you stay ahead? How do you maintain the collective hunger of players, coaches and support staff? How do you keep on innovating? This is the challenge China faces. So far they have met this challenge very well, but will they continue to do so? They have been second best before (notably to Sweden), and it will happen again. It just might take quite a while!
But even if China continues to dominate for the foreseeable future, we shouldn't get too disillusioned. We should just enjoy watching their phenomenal skills and take pleasure in their spectacular rallies. The video below is from the final of the men's singles in Suzhou between Ma Long and Fang Bo. If this is what Chinese dominance brings to world of table tennis, then I'm all for Chinese dominance. What a rally!