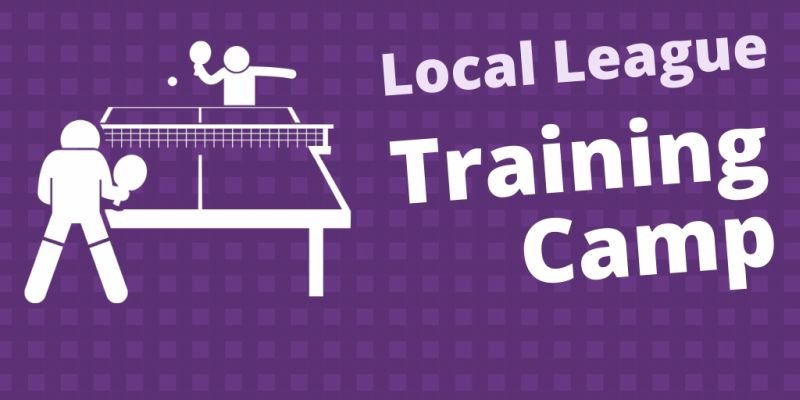 During 2020, I will be running two or three training camps.  These will be aimed specifically at local league table tennis players. And I will focus on the skills, technique and tactics needed to win extra points when paying local league matches.
The camps will be smaller in size (10-12 players per day). This allows me to get to know each player's game and give player-specific feedback to help you improve and win those extra points. I will be supported by at least one other coach, so there will be a very good player-to-coach ratio.
The training camps will be suitable for players who are already playing local league table tennis (intermediate to advanced standard).
---
What will you learn?
Here's a overview of the topics we will cover…
Footwork … Learn how to move quicker side to side and in and out. Lots of footwork drills. Be prepared to work your legs hard!
Rallying skills … Learn how to switch efficiently between backhand and forehand strokes and play that one extra shot to outplay your
Ball placement … Learn how to improve the placement of your shots to put your opponents under more pressure.
Defensive skills … Learn how to use pushes, blocks, chops and lobs more effectively to make your opponent miss or play weak shots.
Service strategy … Learn how to make your existing serves even stronger with more spin, better placement and clever variations.
Returning serves … Learn how to return serves the easy way and apply pressure on your opponent straight away.
Topspin vs backspin … Learn how to attack pushes and chops with fast, spinny and consistent topspin shots.
Flicking … Learn how to attack short serves with backhand and forehand flicks. No pushing allowed!
Match tactics … Learn how to assess strengths and weaknesses and use tactical thinking to outwit your opponents.
3rd ball attacks … Learn how to follow up your serve with a strong 3rd ball attack.
---
How to book
I will announce dates in early 2020.
If you would like me to notify you when bookings are open, please complete this expression of interest form.
---