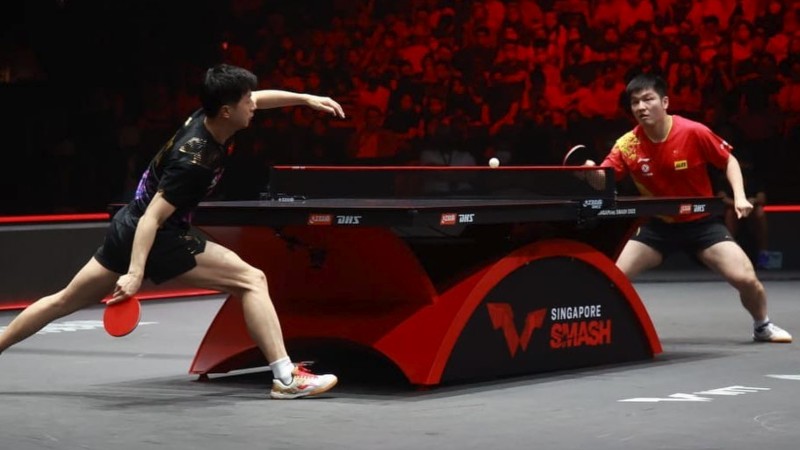 I've spent most of the past two weeks in bed with the dreaded covid lurgy. Or as my daughter calls it, 'Manvid'. No one else in the house tested positive. Just me. So I retreated to my bedroom, laid down for a few days, feeling very sorry for myself.
With lots of spare time, I decided to tune in to the live stream of the inaugural Singapore Smash, which was held 7-20 March 2022 at the Singapore Sports Hub. This is table tennis's equivalent of a tennis Grand Slam. A high profile tournament with big prize money, lots of ranking points and all the best players in attendance. It's the latest attempt to give professional table tennis a make-over to make it more appealing to fans and spectators. Was it any good? Or did it fail to live up to the hype?
Visual delights
Let's start with a positive. The decor looked really good! The tournament used a stylish red and black colour theme, which gave the entire event a futuristic and somewhat 'dangerous' feel. The players were doing battle on dark grey tables, with stark red lines and red net cord. Players were introduced to the spectators, like heavyweight boxers fighting for championship belts. It looked like an exciting environment for the best players to compete. A million miles away from playing table tennis in a crusty school canteen!
But a big disappointment was the lack of spectators. The 2000 seat arena was mostly empty the entire tournament. Only on the final day, when the singles finals were taking place, was the arena full. Maybe there are still issues with quarantining when travelling to Singapore and this is why there were hardly any spectators. Or maybe there isn't enough interest? I hope it's the former, as the lack of atmosphere was a big disappointment. You need spectators watching live to create that buzz and tension.
Camera angle controversy
The live stream was very good for me. I was able to follow all the action on the World Table Tennis website from my laptop. And it worked all the time. No buffering. Just a good solid stream.
The camera angle used on the main table has caused much controversy among table tennis fans. The camera was side-on to the table, rather than behind the table. Side-on! Many fans are furious with this. A common complaint is that you can't see the spin trajectory from a side-on angle. Everything looks flat and two-dimensional.
I have to admit that I also found the side-on angle uncomfortable at first. I felt like I was having to work quite hard to follow the rallies – my eyes constantly darting left and right. I did get used to the side-on camera angle as the tournament proceeded – and it bothered me less than others – but my preference would still be for the camera angle to be behind the table in the corner.
The commentary was provided by Adam Bobrow and a co-commentator, whose name I can't remember. Adam is hugely enthusiastic. He's not to everyone's taste, but I actually think he does a remarkable job at bringing some excitement and humour to the commentary. Maybe it would be nice to have a mix of commentators, much like you would do in a tennis Grand Slam. Sometimes Adam Bobrow, but also some other voices to give a different expert perspective.
Shorter game format
A big change for the Singapore Smash was using a best of 5 game format, rather than the best of 7 game format, which you usually get for professional tournaments.
The logic behind this, I guess, is to create more shock results and to make it harder for one nation (i.e. China) to dominate. If the game is shorter, there is more chance a lower ranked player can cause an upset. All the rounds were best of 5, except the semi-final and final, which were best of 7.
Did this work? Were there more upsets? Was China's dominance disrupted? No, no and no. There were hardly any upsets, with the exception of Kanak Jha beating Tomokazu Harimoto and Patrick Franziska beating Xu Xin (more on this later).
Chinese players won everything. Fan Zhendong (China) won the men's singles, beating Ma Long (China) in the final. Chen Meng (China) won the women's singles, beating Wang Manyu (China). These finals were fantastic, both ending 4-3. But there were no surprise finalists. Chinese pairs also won the men's doubles, the women's doubles and the mixed doubles.
I think we need to give the shorter game format more time. Maybe in future events there will be more shock results and Chinese players won't be quite so dominant. Or maybe not. Maybe the Chinese team will simply adapt better to the shorter game format and keep on winning. It's a tricky one. I love watching the top Chinese players in action, but it does make big tournaments a bit boring. I'm not sure what the solution is here.
As an online spectator, I found the short game formats pretty good. Each match was 20-40 minutes. So I was able to watch many different games and players in each session. I did feel a bit sorry for some players who lost 3-0. They travelled all the way to Singapore, played for 15 minutes and that was that. Tournament over. I feel short changed if I play a local league match and the other team is a player short! Imagine what it must be like to fly across the world and play one match, lose 3-0 without getting a sweat on, and then have to fly back home again? I hope they got paid well.
Tournament highlight
The highlight of the tournament for me was Patrick Franziska's victory over Xu Xin. Going into the match Franziska had never beaten Xu Xin. In fact, he had lost all 10 of their previous matches. This match had all the ingredients of a compelling story. Xu Xin – the brilliant left-handed penholder, former number 1, but probably past his best. Patrick Franziska – tall, powerful, playing very well, but the definite underdog.
Not only would Franziska need to overcome the physical challenge of beating one of the world's greatest players, he also needed to overcome the mental challenge of beating a player he has never beaten before. Shakehand vs Penhold. Power vs spin. Europe vs China.
Here's the highlight video for you to enjoy…
Verdict …Smash hit? Or big flop?
I don't watch much of the pro circuit these days. I'm so busy with coaching and playing, and spending time with my family. So it was unusual for me to spend so much time watching a tournament via a live stream.
I would give the Singapore Smash a solid 7 out of 10. A really good start for this new era of Smash tournaments. The marketing was good. The technology worked great for me. All the best players were in attendance. The standard of table tennis was very high.
I'd like to see more spectators to create a better atmosphere. For those of us watching from home, I'd like a different camera angle and more variation on the commentary.
The shorter game format is worth persevering with. We'd all like to see some different faces in the latter stages of tournaments – some real drama and compelling stories to spark the fan's imaginations. Hopefully the best of 5 format will achieve this.
I'm looking forward to the next one!