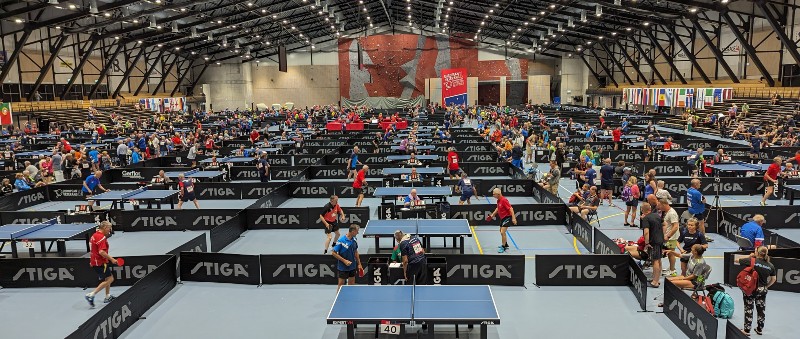 I'm 35,000ft in the air. It's a clear day, so I get some great views of the Norwegian landscape from my window seat on the plane. As we get closer to our destination, a slight panic starts to form. What the heck am I doing? This tournament sounded great fun when I signed up a year ago. Now I'm really not so sure. Maybe it would have been better to stay at home. Stick to local league matches. Stay in my comfort zone.
I'm about to take part in the 2023 European Veterans Championships in Sandefjord, Norway. Nearly 2000 players from across Europe will take part. There is a big German contingent. And Swedish. And French. These nations are super good at table tennis. There might be a few weak players – some foolhardy types who are attending more for novelty, rather than any expectation of winning any matches. But the basic minimum standard will be decent top division local league players. The top players will be ex-professional players – players who have competed in European leagues and maybe even represented their country in some form.
Then there's me. Tom Lodziak. A player with uncoordinated footwork, awkward technique and a mind full of self-doubt. I'll be competing at a level higher than I have experienced before. What am I letting myself in for?
The warm-up
Despite my panicky wobble on the flight, I had been feeling pretty happy about my game in recent weeks. My backhand topspin was slowly improving. My service game was in decent shape. My rallying skills were getting better. I had a decent club tournament win, beating one of the best players in the Cambridge area in the final. I was definitely on an upward curve. But the standard at this tournament was going to be at a different level altogether.
I needed to hit some balls to settle my nerves. Normally I get between 5 – 10 minutes of warm-up time before a league match or tournament. In Norway, it was a little better. I had two days! I arrived on Saturday and my first match wasn't until Monday afternoon. As soon as I was checked-in, I made my way to the tournament hall. 100+ STIGA tables set up, ready for the matches. Plus another training hall with another 40 tables ready to use. Normally at tournaments it can be a real struggle to find an unused table to warm-up. In Norway, it was table tennis training heaven. Choose any table you want!
Over the next two days I got around 8 hours of practice time. This is more than I have practised in a very long time. I mostly played with Pawel Meryvn and Jarek Chrzanowski. Two players of Polish origin, now representing England. We wanted to get our match sharpness, so the practice focused mostly on match-play. Lots and lots of games.
I know Jarek well. He plays in the same local league. In our last league match, I narrowly lost 3-2. Today in the training hall I win our first match. It's the first time I have ever beaten him. A positive sign? He looks annoyed. He re-focuses and beats me in the next game. Back to reality! It's exhausting to play Jarek as he goes back from the table and fishes and lobs. You have to hit a lot of shots to get through him. But it's good to hit lots of balls, even if my knees, hips and back start to complain a little.
Pawel has a different playing style. He has a big backhand attack, a heavy backspin push, a loopy forehand and some strong long serves. It's the first time I have played with Pawel. Every time I take a lead, he motivates himself by calling out loud "come on, catch-up". And he always seems to win a few points in a row and make the match close. But I usually find a way of winning each match. It's close between us. And good training to get my match skills a little sharper.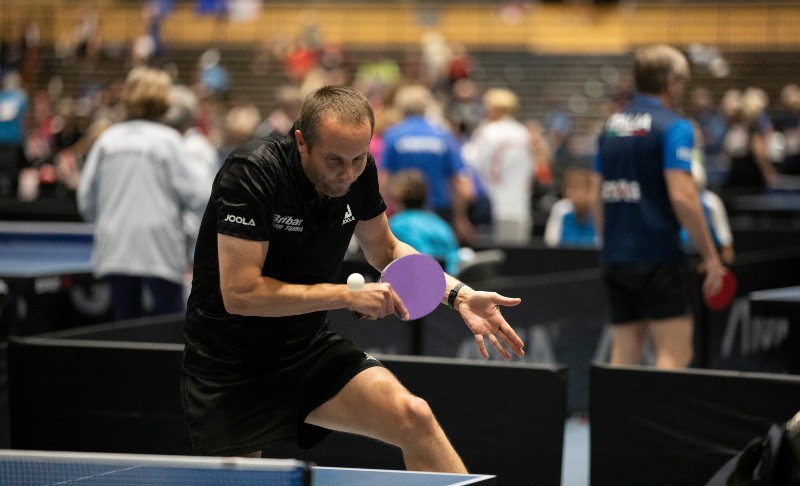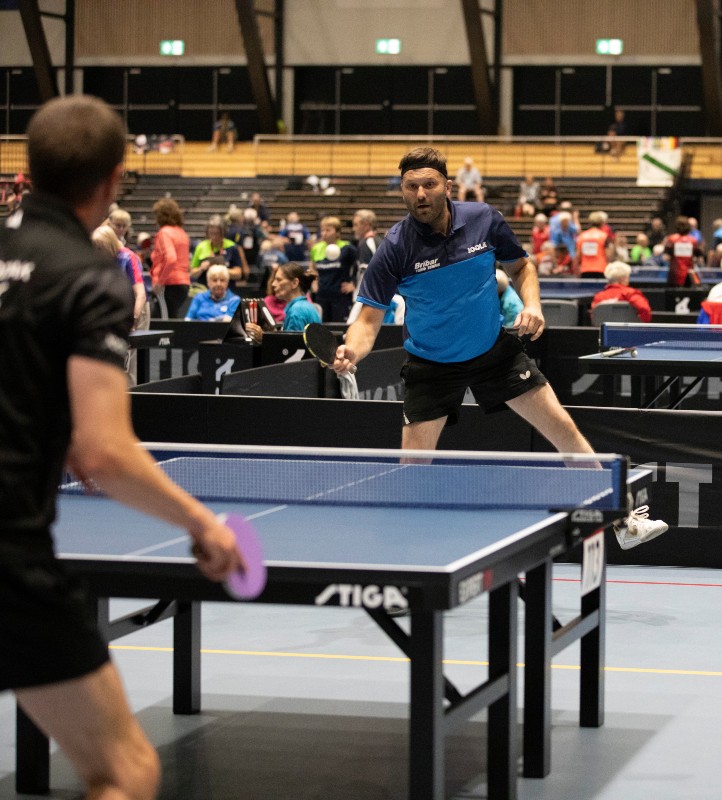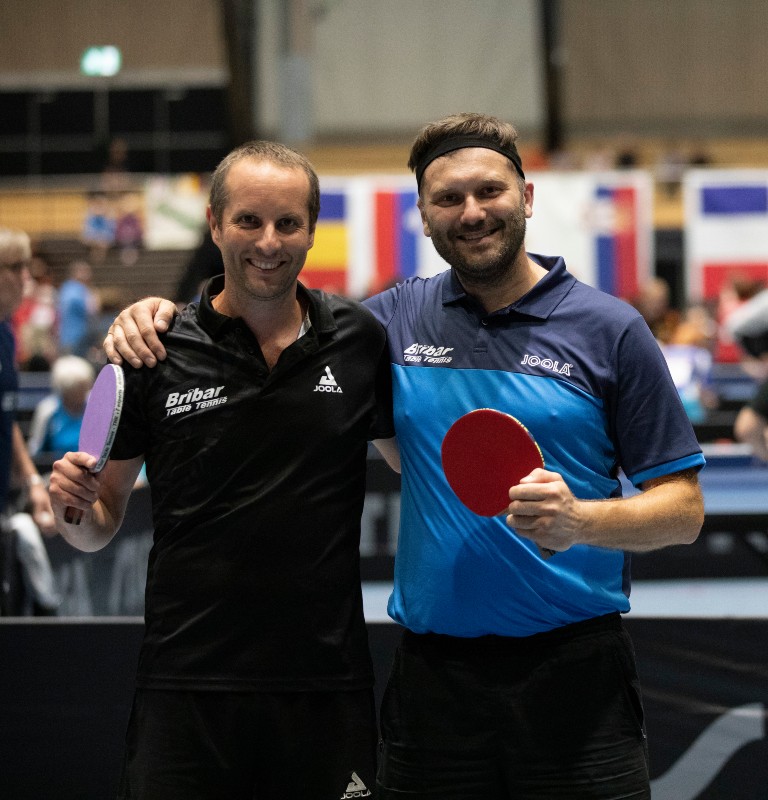 The singles competition
After two days of practice, it's time for the group stage of the singles competition. I am entered in the men's 40s category. This is for players aged 40-44. There are not as many entrants in this category compared to the others. But the standard should be high. The previous day there had been a general sense of excitement in the training hall. Players were relaxed and enjoying themselves.
Today – competition day – there is a lot more tension everywhere. Some players are quietly focused. Others are visibly nervous. I belong more to the nervous group.
I have another practice session with Pawel. I feel distracted. I keep checking the time. 4 hours to go. 3 ½ hours to go. 3 hours to go. I am careful not to train too hard. I want to keep some energy for the group matches. Time for a break. I get some food. Sit. Eat. Breathe. I hate all the waiting. I want it over and done with. I don't care what the results are. I just want to stop feeling anxious.
Back home in England I had tried to research my opponents. For two of them I could find no information. The top seed in the group – Joachim Sorensen – seems to have played at a decent level as a junior – maybe even national level. He will be good. But what about the other two? Am I going to lose all three? Will I get thrashed 3-0, 3-0, 3-0. I have no idea. This could be brutal.
More waiting. 1 hour to go. Check my watch. 30 minutes to go. Heart rate rising. Legs feel heavy. Check my watch. 15 minutes to go. Time for action. I slowly walk to my group table. The competition hall is busy. All 100 tables are being used. Good players. Awesome attacking shots. Everyone can play. They don't seem nervous. Why do I feel so nervous?
I bump into Andy Eagles – my doubles partner. He is playing on the table next to me. He seems like a man on a mission. I tell him I'm nervous. He tells me with a big smile on his face, "shit or bust, just go for it". Shit or bust. This is a term you often hear in the UK, which broadly translates as "all or nothing". The message from Andy is clear. Be fearless. Go for your shots. Take some risks. Shit or bust.
Group Match 1 – Tom Lodziak vs Per-Ola Jonsson
My first match is against Per-Ola Jonsson from Sweden. A left-hander. Inverted rubbers. He seems a little nervous too. Our warm-up is a little jerky. Time to start.
Per-Ola likes to attack. In fact, he tries to attack every ball. But his timing isn't quite right. Maybe he has too much tension. Even more than me. I try to vary the pace and placement to disrupt his rhythm and the tactic works. I manage a couple of decent attacks, but most of my points come from his errors. I win the first game 11-2.
The next game follows a similar pattern. Per-Ola tries to attack. I try to disrupt his rhythm. He makes a few more winning shots, but it's not enough. I win 11-6.
In the third game, Per-Ola starts to relax a little more. His shots have more fluidity. He has good spin. I find myself playing too passive, hoping he will miss rather than forcing him to miss. But my serves are still causing problems and I stay in front. I lead 10-7. I have three match points. A tournament win beckons. It's moments away. Just one win is all I want. I can go home saying I managed a win at the European Veterans Championships.
One final hurdle to overcome. In many ways the hardest hurdle. Converting the match-point. Should I risk an attack? Or hope Per-Ola messes up? I suddenly feel more tense. I snatch at the ball with my backhand and put it into the net. 10-8. A tentative return of serve which is punished. 10-9. A stiff forehand block. It goes long. 10-10. I've blown it. Three match points missed.
Come on, Tom. Refous. A good serve, 11-10 to me. Another match-point. My anxiety levels are rising. I just want this over with. I make another weak service return. Punished. Then, one tight shot in the net and one desperate attack which goes wide. I lose 13-11. I slam my bat down into the table. Inside my head I scream. Aaaarrrggghhh. Fucking hell. Four match points missed.
I have a minute to compose myself. I have to start mixing-up the play again – disrupt the rhythm. My opponent is gaining confidence. I get my game back together and take a 7-3 lead. Better. But my opponent is not giving up. He attacks harder. He is really finding his attacking rhythm now. He stings me with excellent topspin shots right in the corner of the table. I become more passive. He catches up. The score is 8-8. And then 9-9. The tie is very much in the balance now.
Per-Ola makes another strong topspin attack, which I block long. Game point to him. Bugger. I really don't want this to go to a 5th.
I feel a little desperate. He is starting to dominate the rallies. But I am still having some success with my serve, especially my long side-topspin serve to his forehand. I use the same serve again. He mis-times his attack, edging the ball. Game point saved.
Now Per-Ola looks a little tense. He dumps a backhand into the net. He's definitely tight. 11-10 to me. Another match-point. My fifth match-point. JUST FINISH THIS!
I take a moment to consider my next serve. Do I try the same long, side-topspin serve to his forehand again? It has worked several times already, but maybe this will be the time he adjusts? Maybe I should serve short backspin? Take the safe option.
I momentarily think of Andy. Shit or bust. This is definitely shit or bust time. I prepare to do the long fast side-topspin serve, but I tell myself to expect the ball back and get ready to attack. I serve. It's a good length. Fast and spinny. I recover quickly and keep my bat high, ready for the ball to come back. But it doesn't come back. The ball goes long. The serve tactic worked. I win the game 12-10.
A huge sense of relief. A victory! It's all I wanted. I can play table tennis! It's a stupid, bloody game, but I can play. It wasn't the performance I wanted, but who cares. I found a way of winning. My first win in an international tournament. I feel a little bad for Per-Ola. I get the impression he can play much better. But he was nervous too. In another environment, on another day, the score could have been very different.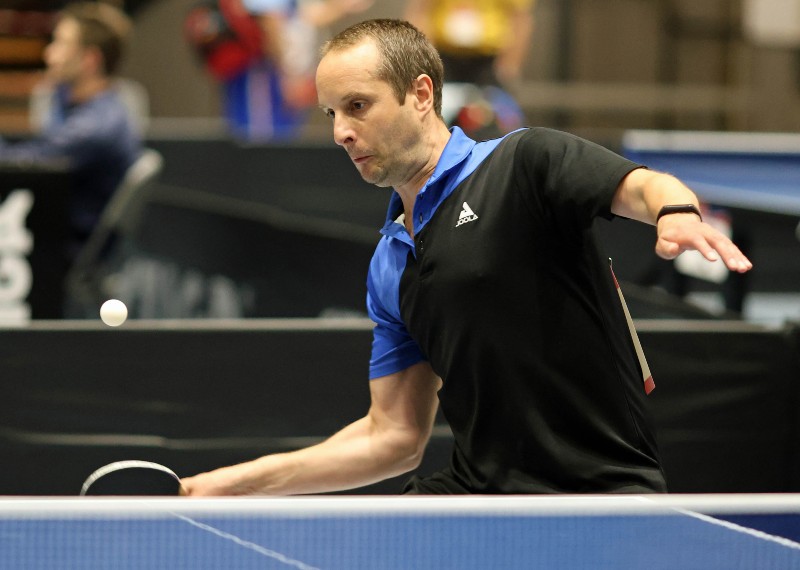 Group Match 2 – Tom Lodziak vs Miklos Palfi
If the conclusion of the first match felt like mental torment, my next group match is a little more straight forward. My opponent is Miklos Palfi, originally from Hungary, but now representing Germany. Miklos is very tall and slim with a big smile on his face. He seems very relaxed and just happy to be here. He tells me he has only been playing for a few years. Like me, this is his first international tournament.
In the first two points it becomes clear that Miklos's standard is quite a bit lower than Per-Ola. I win the first 7 points and completely relax into my familiar style of controlled play. I move Miklos around the table, mix up spins and increasingly feel confident to play many attacking shots. I cruise through the entire match winning 11-2, 11-3, 11-0.
I have much sympathy for Miklos. He can play, but he's out of his depth. I have been there. I know what it feels like. But he still has a big smile on his face. He's a really nice guy and if he keeps playing and practising, his level will get higher.
Two matches. Two wins! I was now guaranteed to make it through to the main draw. This wasn't in the plan. I had been expecting to battle it out into the consolation event. I am beaming inside. Yes! This has been worth it.
Group Match 3 – Tom Lodziak vs Joachim Sorensen
My final group match is against Joachim Sorensen, the top ranked player in the group. He has also won both of his matches, although Per-Ola had pushed him to a deciding game.
At this stage I don't really care about the outcome of the match. I have qualified! But I still want to play well.
Joachim is clearly a better quality player. Tricky serves and a very nice wide forehand attack with plenty of topspin and sidespin. I soon find myself losing 5-0 in the first game. He is a very good player, but not so good that I can't win a few points. I dig in. I try to spin my serves harder. I try to vary my play. I try to attack. I manage to win a few points, but he is always ahead. I lose the first game 11-8. A spirited fightback. A respectable score.
The second game is more even. I hit some good attacks. He hits some better attacks. He catches me out with a serve. I catch him out with a serve. At one stage I am leading 6-5. This could be possible. But Joachim has another gear. Another level he hasn't shown until now. The speed increases. The spin increases. The placement is brutal. I'm on the backfoot, hoping to stay in each rally. But he is too good. He wins 11-7.
Shit or bust time again. I am 2-0 down. I have already qualified. I have nothing to lose. I may as well go swinging and see if I can put Joachim on the back foot.
The intention is good. The execution is poor. I can't land many meaningful attacks. Joachim continues to be the aggressor and finishes with a flourish of excellent forehand attacks. I lose 11-4.
I don't feel too much disappointment in the loss. Joachim is a stronger player who played better on the day. I was competitive in the first couple of games and played some decent table tennis. And I forced Joachim to raise his game. I made him beat me. Fine.
At the conclusion of the group matches, I skip around the tournament hall, looking for Pawel and Jarek to tell them my news. I got through! I qualified. I am in the round of 32. This is more than I was hoping for. Even if I don't win any other games – singles or doubles – it doesn't matter. This is enough.
Or is it? Winning feels good. I suddenly want more. What if I can win the next match and make it to the round of 16? And what if I win that? I'd be in the quarter finals. What a success that would be!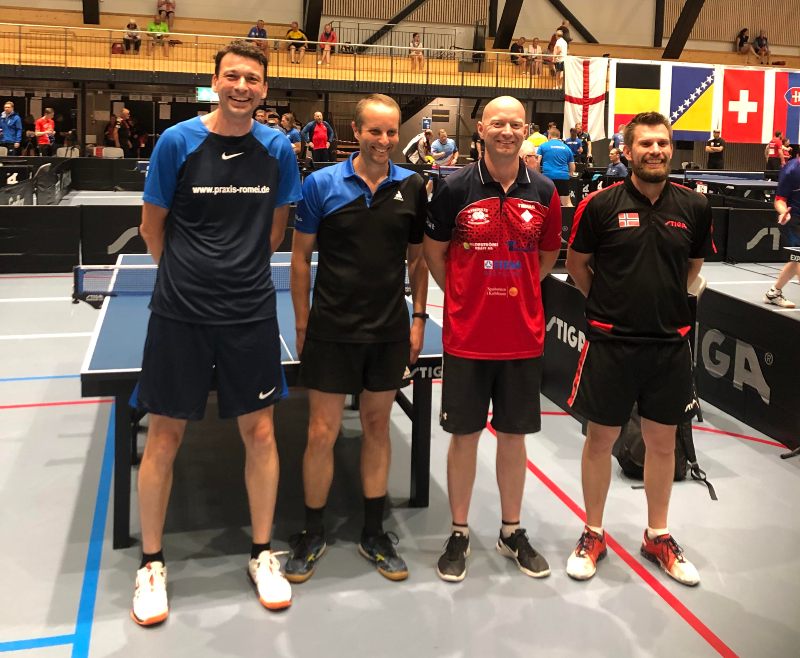 The long wait
I have to wait a couple of days for the next singles match. It's a long wait, but allows more time for practice. I play very well against Pawel – the best I have played so far. When focused, my attacking game is really flowing. I'm feeling relaxed and happy. But Pawel is stubborn. Whenever I feel like I am getting on top, he always finds a way of fighting back and making it hard. I enjoy the matches as I can't ease off. If I ease off, Pawel punishes me. I have to keep dictating the play. I'm in good form and win most of the matches.
I also have the doubles competition to take part in. After the relative success of singles, I'm feeling very relaxed for doubles. A bit too relaxed. I'm not as focused as I should be. I am playing with Andy Eagles. We have played together before, but we're not at the stage of having a really solid partnership. We're still finding the best way to play together.
Our group is quite tough. We lose our first match 3-1, but it was winnable. We lose our second match 3-2 and this was definitely winnable. I have a complete mental malfunction in one game against a player with long pimples. I'm so used to playing against long pimples in singles, but in doubles I rarely play against long pimples. I keep misjudging what spin is on the ball and make many errors. It's an embarrassing game for me and I apologise to Andy.
In our final doubles group game, we play two exceptionally good players – Julien Pietropaoli (France) and Lucian Filimon (Romania). I try to attack more. So does Andy. We want to finish with a better performance. But every time we play strong attacks, the ball keeps coming back with interest. We are facing high level table tennis players and we have no answer to the quality facing us. We lose the first game 11-2.
We clearly have no chance. I suggest to Lucian that they give us a 8-0 headstart for the next game. He considers this for a moment and replies "we will still win". Of course, it's against the rules to give your opponents an 8-0 head start, but unofficially this is the game we play. I win one point from my serve. I try to hack the hell out of the ball – as much backspin as I can get – and Lucian dumps the ball in the net. I celebrate loudly, as though we had won the game. Andy wins another point with a sublime drop shot which bounces twice on the table. Again, we celebrate loudly. We win a third point through a missed attack by Julien. We did it! We managed 3 points! In our unofficial challenge with an 8-0 headstart, we win 11-8! Of course, if you take away our 8-0 head start, we actually lost the game 11-3.
So we're losing 11-2, 11-3, but Lucian is still up for the challenge. He thinks they can win by a bigger margin than 11-3. We're up for the challenge too. We play some very good attacking shots. We really go for it. But everything we give them comes back. These players are phenomenal. They hammer us 11-1!
We leave the table, shaking our heads. Either we are seriously crap at table tennis (no comments please) or we just played a couple of ex-professional players. Later in the evening we bumped into Lucian and had a chat at the bar. It turns out he used to play in the same team as top English pro player Paul Drinkhall. Andy and I instantly feel better about our thrashing. We wish Lucian good luck for the rest of the tournament. He walks away with an aura of confidence. He has a swagger of a champion-in-waiting.
There will be more doubles for Andy and I later in the week. We finished bottom of the group, so will play in the consolations event. I don't think either of us are happy with how we played in doubles, but at least we can try and redeem ourselves in the consolation knock-out round.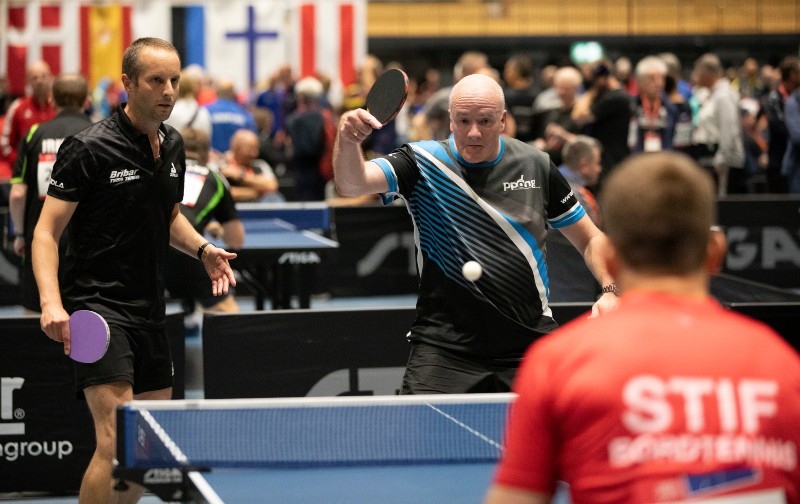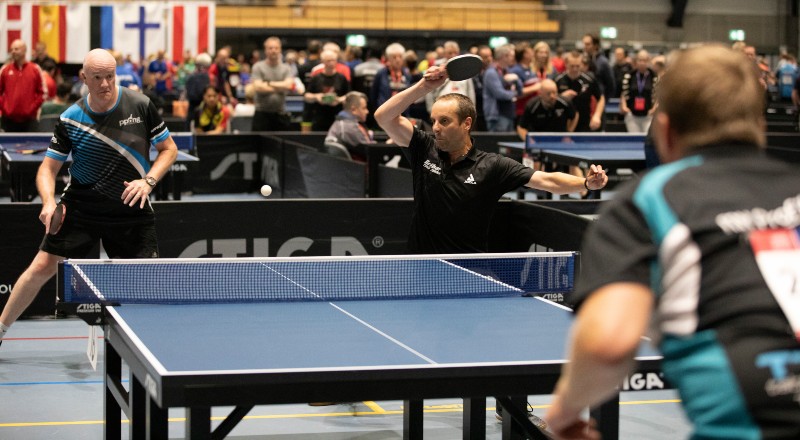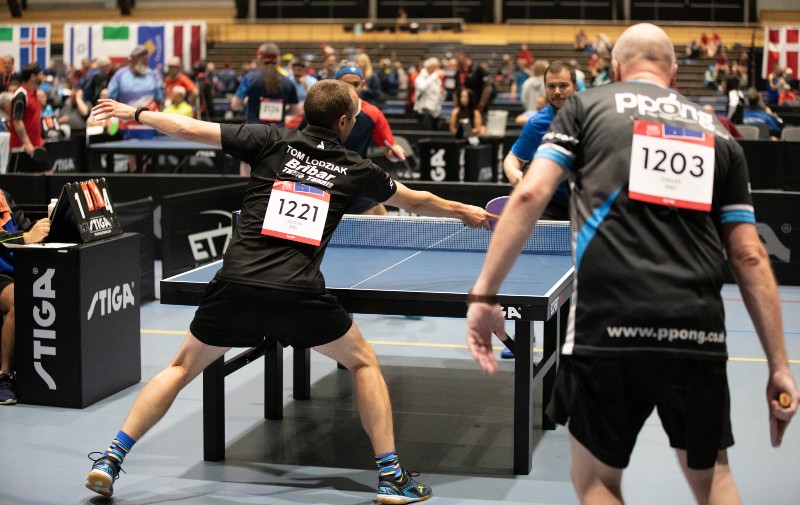 Round of 32 – Tom Lodziak vs João Tenente
Back to singles. Still waiting. I have time to do some research on my opponent. His name is João Tenente from Portugal. I find a couple of his matches on YouTube. He's a good player. A big forehand attack. A fighter. He plays with passion. But maybe his backhand is a bit weaker. He doesn't seem to attack strongly on his backhand – just roll the ball on. And sometimes he's a bit wild. He makes unforced errors. He goes too big. A tactical plan forms in my mind. I have to target the backhand. Vary the speed. Get him missing. Get in his head. I have beaten these sorts of players before. They look stronger. Better shots. Better footwork. But I can disrupt them. Make them miss. Get in their head.
The day of the big match arrives. The biggest match I have ever played. I'm focused, but I feel stressed. Too stressed. I am playing on one of the 10 show courts in the main arena. There will be a small audience watching. This makes me even more stressed. I try to breathe and calm my mind. But it has no effect. The executioner's block awaits. There is nothing I can do to halt my impending doom.
I arrange to meet Pawel for a warm-up. I can't really focus. I'm tight. My shots are jerky. My movement is slow. No flow. No rhythm. Pawel beats me twice. Not a good sign. I check my watch. Time to go. I walk slowly from the training hall to the show court arena. It's a five minute walk, which I stretch out to 10 minutes. Breathe. Focus. Game plan.
I enter the arena and walk to my table. I'm a few minutes early. I check my watch. I nervously scan the room for my opponent. I can't see him. The umpire arrives and checks my name and number. Still no opponent. I check my watch again. It's 13:58. The match starts at 14:00. Where is my opponent? Maybe he won't show up and then I won't have to play. This is a surprisingly nice feeling! But as soon as the thought enters my head, João Tenente turns up. The match is on. Shit.
João looks focused. Energetic. Strong. I feel like a bag of nerves. Come on Tom, pull yourself together. Concentrate on your game plan. Target the backhand. Vary the pace. Vary the spin. Variation, variation, variation. AND TARGET THAT BACKHAND.
We have a two minute warm-up. Forehand drive to forehand drive. I topspin, he blocks. He topspins, I block. He has good topspin, but nothing more than I have experienced before. This might be OK.
Now backhand drive to backhand drive. My drive goes into the net. Hmm, what happened there? I must be tense. More backhand to backhand. I miss again. What's going on?
João shows me his bat and says "pimples". Fuck.
"Short pimples or long pimples?" I ask.
"Medium pimples." João replies.
Medium pimples! How the heck am I supposed to play this? Double fuck. My well-prepared game plan has unravelled. I'm not used to playing against medium pimples. Short pimples, yes. Long pimples, yes. But a player using medium pimples for controlled attacks? Nope, I've not faced this before. I feel an extra level of stress and can't think clearly about a new game plan.
The match begins. I win the first two points. Maybe I have a chance. But then João settles down and starts to dominate. He wins the next 5 points. I struggle to get to grips with his pimples. I play tentatively, but that allows João to start using his big forehand.
My service strategy isn't working, as he is covering the table with his pimples. My spin is not taking effect. I'm not quite sure what to do with the ball as it floats back off the pimples. The limitations of my backhand are being exposed. I can't block against medium pimples. I don't have the power to take on his floaty pimples attacks. My head can't think. More tentative play. More punishment. I lose first game 11-7.
Another English player Simon Parker – a player I coach – is in my corner. Today the roles are reversed. He is coaching me. He tells me to be more positive. Move my feet. Go for my shots.
I try to be more positive. I make a good forehand attack. João can't return it. I can play! Next point – a good rally and I hit a very wide forehand attack, which makes the slightest of contact with the edge of the table. I see it. The umpire sees it. I am awarded the point. But one of João Tenente's supporters is furious. He stands up and gestures to the umpire – "no point, no point". João is unsure, "did it hit?" I say yes. He accepts and play continues. Good sportsmanship.
A couple of points later, I foul serve – still too much tension. I hear a loud cheer from the spectator who felt aggrieved from the edge ball. Tough crowd! My mind fogs over again. João raises his game and starts attacking more aggressively with both his forehand and his medium pimples. I become more passive. I have no game plan. I'm just reacting. My backhand is impotent. I'm being outplayed. As João builds up a big point lead, I try a couple of desperate attacks but miss. I lose 11-4.
I can feel the match has already slipped away. I really wanted to play well, but this isn't playing well. I can imagine the disappointed looks on the faces of Pawel and Jarek who have come to watch me play.
Simon in the corner tells me to start attacking and show some fight. He's right, but I feel beaten already.
The third game doesn't start well. João plays a weaker shot, which clips the top of the net and dribbles over on my side. I can't reach it. I hit an attack which clips the top of the net and bounces long. Nothing seems to be going my way.
I lose the first 6 points. This is getting embarrassing. João misses an attack – 6-1. At least I have a point and won't lose 11-0! My mind is still too focused on the outcome of the match – not on actually playing the match.
The score is 9-2. The match is all but over. Only now when the match is all but done, do I begin to feel a little more relaxed – a little more myself. My brain fog begins to lift. A strategy on how to play against his medium pimples becomes clearer. I start using my forehand more. I win the next three points. Maybe he has a little tension too? Could a comeback be on? No! I miss an attack and João plays a great final point with a big forehand attack. The match is over.
I feel a sense of relief that the match is finished, but also great disappointment that I didn't play better. Usually, I would go and hide away somewhere and sulk in the trauma of defeat. But today there is no time. Pawel is playing his match soon, so I need to help him prepare.
Back to the training hall. It's probably a good thing. More table tennis! And of course, with the tension gone, I play much better. I focus on playing stronger backhand attacks. I miss plenty, but get lots on too. I know this is the area of the game I must develop
Many of the top players at this tournament have excellent backhand attacks. It's an area I have been working on and my backhand has improved over the past couple of years. But I lack power. I can't finish a point. I need to take my backhand to the next level. I need more power. I need a weapon to be able to punish floaty balls from medium pimples!
More practice games with Pawel. I miss some backhand attacks and make some good backhand attacks. I try to work out why I miss and why I succeed. I try to visualise that very fluid wave-like backhand technique many players have, but can't quite get it. I keep the elbow a little higher and it seems to help. I rotate a little more from the hips. "Nice shot", says Pawel. I can do it!
Barely an hour has passed since my crushing defeat and already I am working on a plan for my improvement. This feels good. I'm not too despondent.
Later in the evening I have more time to reflect on my defeat. I lost to a good player. João is better than me. Even if I had a good game plan, even if I was relaxed, João still would have won. Maybe I would have got a few more points. But he was too good for me.
And looking at the positives, I did manage to win a couple of matches. I made it to the last 32 of the European Veterans Championships. OK, I was a bit fortunate that the entry for my age category wasn't too large. I only had to qualify from the group to reach the last 32. But, hey, it's on my record now. I made it to the last 32. Not bad for a player with uncoordinated footwork, awkward technique and a mind full of self-doubt!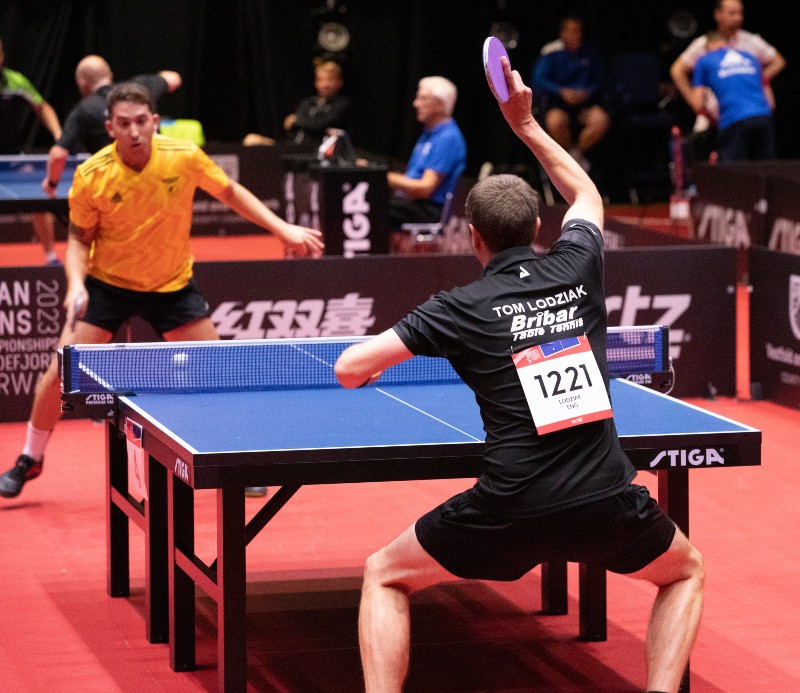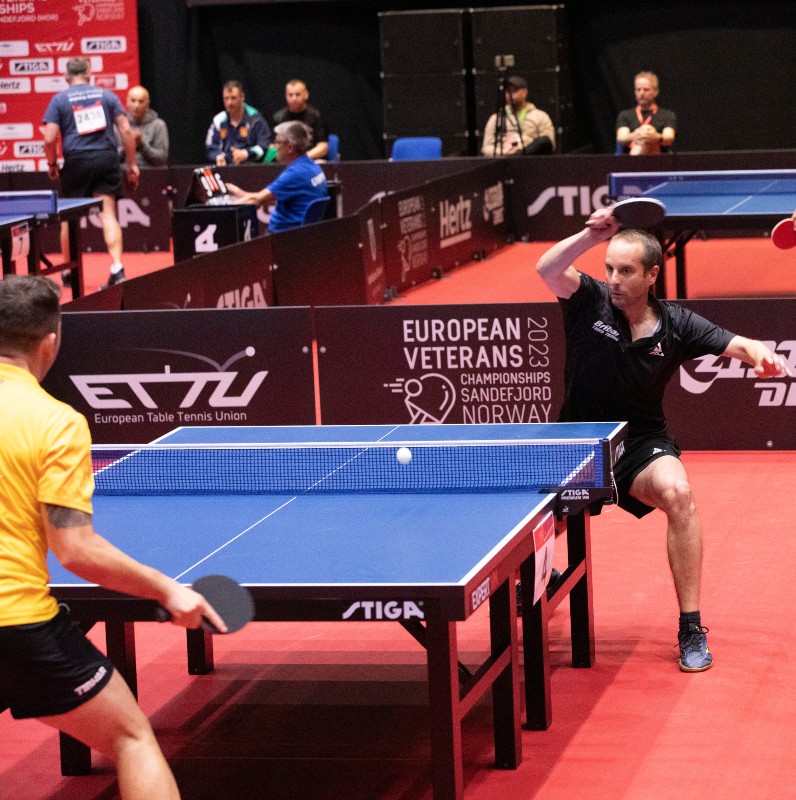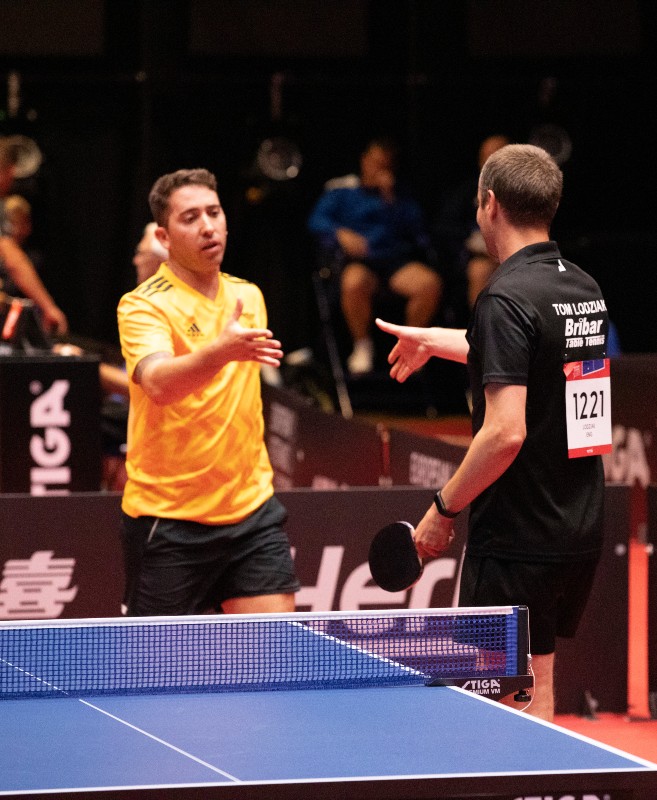 ---
What happened next?
João Tenente's next opponent won fewer points than me. Small comfort! João made it to the quarter final, but was defeated 3-1 by Daniel Schildhauer from Germany.


Pawel made it to the round of 16 in the consolation event. Along with Jarek, they qualified for the round of 32 in the men's doubles, but lost, agonisingly, 14-12 in the fifth leg.
Andy Eagles and I managed to win two doubles matches and made it to the semi-finals of the consolation event. Andy also made it to the last 32 of the over-45s category. He got the loudest cheer of the day by winning a point with an incredible display of lobbing from the back of court. The point was great and the celebration was even better! You can watch it here.
Joachim Sorensen made it to the round of 16 in the singles, losing to the eventual winner. But Joachim achieved some success, winning the men's doubles consolation event.
Per-Ola Jonsson, my first opponent, did overcome his initial nerves, winning five matches in a row and claiming the men's 40s consolation title.
Lucian Filimon lived up to his swagger and won the men's title, becoming men's European Veteran Champion for 2023. Lucian and Julien also won the men's doubles. In the final they won 3-0 and the score in the third game? 11-1. Great players. But Lucian still can't return my heavy backspin serve.