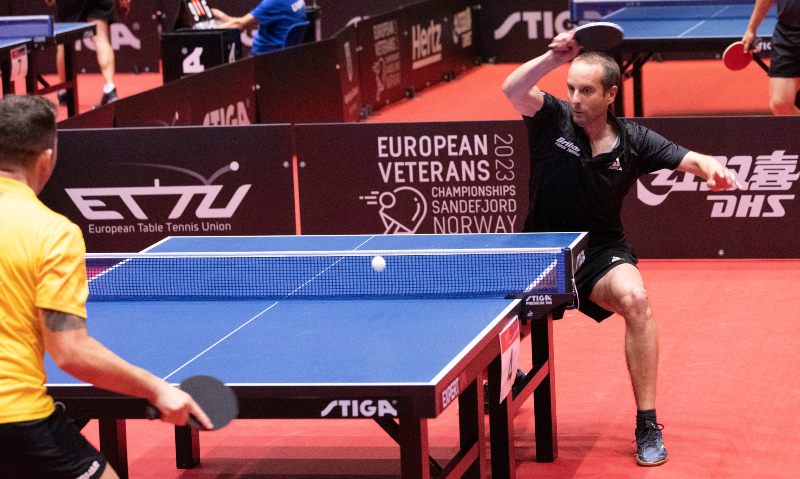 I have set myself a new challenge. It's a tough one. Maybe it's beyond my ability level. But I am motivated to give it a shot.
My new challenge is to break into the top 10 of the English veterans ranking list. I'll just give you a moment to stop laughing before I explain more…
Ok, sniggering over? Veterans tournaments are for players aged 40+. The standard is very high. The number 1 veteran – Lorestas Trumpauskas – is still ranked top 20 in the senior rankings list. Many of the top 50 veterans will also have had very high senior rankings at some stage. Even now, as they move into their 40s, 50s or 60s, they will still dominate their local leagues. These players are good. Very good.
And then there's me. My current veterans ranking is 297. My technique is often awkward. My legs often refuse to move. In two years of playing veterans tournaments I have not beaten any player ranked in the top 100.
Some would say I am deluded. They may be right. But, it's a great goal to aim for in the next chapter of my table tennis life.
Aiming high
Why have I set myself this challenge? Earlier in the summer I participated in the European Veterans Championships in Norway. I got knocked out in the round of 32. But this tournament really inspired me. I saw players 20 years older than me playing with more energy and athleticism, more drive and commitment. If they can play in this way, why can't I? Comparatively, I'm still young – only 43. I'm a "veterans baby". My peak may not even be for another 10 years. I still have time to improve a lot.
In Norway, I also got to practise with a few of the English veterans players. Players who are much higher ranked than me. And you know what, I held my own. I even won a few practice matches. Of course, winning a practice match is not the same as winning a competitive match. But it made me reconsider my ambitions. Maybe I can mix it with the big boys a bit more. Maybe I should stop being fearful of higher ranked players. Maybe I should try and give them something to worry about with my attacking shots, rather than try to contain them with safety play and hope they miss.
Norway changed me. Norway made me hungry to improve my skills and reach a higher level of play.
The plan
How am I going to achieve reaching the top 10? Firstly, I have to change my playing style. "Controlled Tom" is out. This is a style of play which works very well against players of a lower ability. I use a mixture of pushes, blocks and controlled topspin. I keep the ball on the table. I make the other player miss. The problem is that it doesn't work against stronger players. I don't put them under enough pressure. They pick me off with ease. Bye bye "controlled Tom". It was nice knowing you.
Replacing "controlled Tom" is "topspin Tom". This is a playing style which is much more active and positive, using flicks, faster topspins and counter-topspins. It's the sort of playing style which will challenge stronger players.
I have been practising the "Topspin Tom" playing style over the summer. I have mixed results so far, but I'm learning a lot. By going for my attacking shots – playing more positively – I am making more unforced errors. I find myself ball watching my own attacks. I often hit flat with my backhand, rather than spinning. And my footwork is clumsy when trying to attack, especially balls to my middle. That's the bad stuff.
But there has been plenty of good stuff too. My flicks and loops are becoming more consistent. I can sometimes go through matches without pushing or blocking at all. When I get into my attacking groove – and force my attacking style onto my opponent – I can blitz through a game. My opponent looks helpless under the topspin barrage. Overall, the "topspin Tom" playing style is moving in the right direction.
I can coach myself to some extent, but I will also need some help. I will do some sessions with coach Ferenc Horvath – who is based in Cambridge and has featured in many of my videos. Ferenc is super hot on technique. I can't guarantee I will be able to change all of my awkward technique issues, but by working with Ferenc I am certain my technique will become smoother, faster, stronger.
I'll also be doing some sessions with Charlotte Bardsley who has represented England in international competitions. Charlotte is currently studying in Cambridge, so I have a great opportunity to learn from someone who has played at such a high level. There are some similarities between the way both Charlotte and I approach the game – she's just much better! – so I am hopeful Charlotte can help me out with my game play.
I also have a few good quality practice partners lined up and I'll be using my Power Pong Omega robot for extra practice. I may even be able to persuade a top male English international player to spend some time with me. Nothing confirmed yet, but I am hopeful.
And the final part of the plan is to improve my physical conditioning. Playing a more active style is going to test my body more. I have a long history of right knee problems. At times it feels like I am in constant pain. But I have lived with this all my adult life, so it's something I just have to manage. I am doing my strengthening exercises and stretching every day to build up my stability and flexibility. I'm never going to be the best mover. But there is always room to improve.
Timeline
I'm not going to give myself a strict deadline when I have to achieve a top 10 ranking. But realistically it needs to happen over the next few years.
My first challenge will be to reach the top 100. This is achievable I believe within the next 2-3 years. Then I'll be aiming for top 50, which may take 3-5 years. This is a tougher challenge, but still possible. The top 10 is a very hard challenge. Maybe too hard. Even if I fall short I will still have improved a lot – and reached a much higher standard than I am now. 
Over the next few months, I plan to play the following tournaments…
14-15 October – Midlands Masters
30 December – Veterans 2* in Nottingham
3-4 February – Southern Masters
11-12 May – Veterans Nationals
There will also be some veteran county matches where I can earn some ranking points.
I'll be posting occasional updates on this website about my progress (or lack of it!). But I'll be posting much more frequently on my new online academy site. Launching in October my new online academy will include a wide range of training drills, in-depth demonstrations and loads of great coaching tips. I'll also be sharing updates of my challenge – results, match videos and coaching videos. I hope it will inspire other players to set their own big table tennis challenges. You can read more about my online academy here. If you sign up before the end of September you get a 25% discount.
So that's it. I've put it out there. I've made a statement. It's a tough challenge. Very tough. Wish me luck. I think I'll need it!