What are the best table tennis rubbers and blades for advanced players? This is a tough question. I've been putting off writing this blog-post for a while, as it's such a minefield!
The amount of choice is ridiculous. There are literally hundreds of rubbers and blades you could potentially buy, and a lot of them are very good.
I'm often asked to give my opinion on this rubber or that rubber. Or how this rubber will work with that blade.
To be honest, most of the time I simply don't know. I have only ever tried a small fraction of the rubbers and blades available.
But the ones I have used, I know pretty well, so feel happy talking about them and recommending to other players.
So in this blog post I will give my recommendations on really good table tennis rubbers and blades you can buy. I'll also give advice on how to do your own research and testing.
This blog post is really aimed at those players who have moved beyond the intermediate level and are now becoming advanced table tennis players. It is biased towards attacking players. I apologise to the defenders – but I will write stuff for you in the future (I promise!).
If you are a beginner or intermediate player, you should read these blog posts first:
My recommendations
So I will get straight on with my recommendations. I am going to restrict myself to just a few rubbers and blades.
I'm not saying there are only a few good rubbers and blades. This is clearly nonsense. There are many more really great rubbers and blades available than the few I mention below. But for many players, this is part of the problem. There is just too much choice. When you have too many very similar items to choose from, it can very hard to make a decision.
So by highlighting only a few very good rubbers and blades, I hope I can make your life easier.
If the rubber or blade you're using, or thinking of buying, is not on my list, it does not mean it's a poor rubber or blade. It may be equally as good (or better) than the rubbers / blades mentioned below, but I simply have never used it.
In the lists below I give the name of the rubber / blade, a short description, link to reviews and links to where you can buy.
Best table tennis rubbers
Let's start with table tennis rubbers. Here's a few of my favourites…
---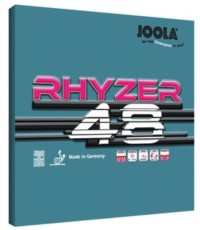 Joola Rhyzer 48
This is a new(ish) rubber from JOOLA. It has a thick sponge and a thin topsheet and it is a dream to topspin with. The rubber is fast, but not uncontrollably fast. It has a nice balance between strong spin generation, speed and control in the short game. I have been using this rubber on my forehand for the past few months and I really like it.
Buy from a table tennis shop near you
---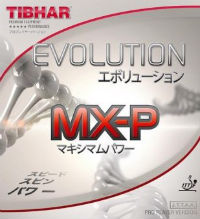 Tibhar Evolution MX-P
This is an increasingly popular rubber used by many professional players, including Paul Drinkhall. It is fast and spinny. It has a slightly lower throw compared to a rubber like Tenergy 05 (see below), which makes it a little easier to keep the ball on the table in my opinion. I used this rubber last season and got on with it very well. It is best suited to all-out attacking players, particularly those who like to do power-loops.
Buy from a table tennis shop near you
---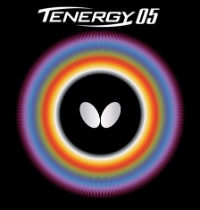 Butterfly Tenergy 05
Tenergy 05 has been available for many years now, but it's still one of the most popular rubbers. It has a tensioned topsheet with allows you to generate a lot of spin. It is used by players who like to attack with lots of topspin. I used this rubber for my forehand many years.
Buy from a table tennis shop near you
---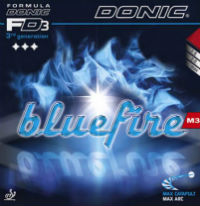 Donic Bluefire M3
Another very good rubber for playing topspin shots, but with a bit more control compared to a rubber like Tenergy 05. This rubber is often used by all rounders – players who do a bit of everything – topspin, push, block.
Buy from a table tennis shop near you
---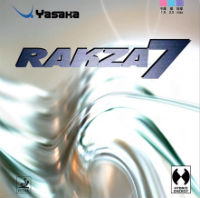 Yasaka Rakza 7
A good all-round rubber. It does everything pretty well – you can topspin the ball easily, keep your pushes low, block heavy topspin. I used this rubber for my backhand for two seasons. I liked the control it gave me but it still had a few gears to move through if I wanted to attack with speed and spin.
Buy from a table tennis shop near you
---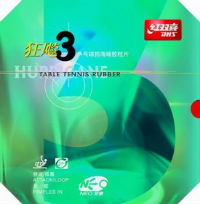 DHS NEO Hurricane 3
A classic Chinese rubber. The surface is hard and tacky, which makes it feel very different to Tenergy style rubbers. To get the most out of it, you need to attack with plenty of speed and good technique. If you can do this, you can play some fantastic attacking shots.
Buy from a table tennis shop near you
---
Xiom Vega Pro
This is another good all-round rubber which does things most things well. You can play great spin shots but also play a more controlled game if you want to. It's not as fast as other rubbers on this list, but it is very easy to play with.
Buy from a table tennis shop near you
---
Best table tennis blades
And now let's look at a few of the best blades available to buy…
---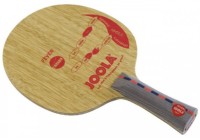 JOOLA Fever
A very controllable blade – not too fast, but certainly not slow either. I have been using this blade for the past few months. It suits my style of play – controlled topspin attacks, blocks, quick rallying play. It does have huge amounts of control (which I like), but no issue in playing fast attacks when I want to.
Buy from a table tennis shop near you
---
Butterfly Timo Boll ALC
A very good carbon blade with a medium-hard feel. It is suited for an attacking player who likes to combine heavy spin and speed. This is the blade Timo Boll uses now.
Buy from a table tennis shop near you
---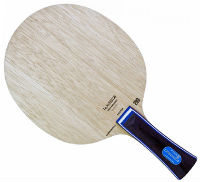 Stiga Carbonado 290
This is a fast blade, perhaps better suited to power-loop attackers, rather than controlled spin players. It also performs well for blocks, hits and flicks.
Buy from a table tennis shop near you
---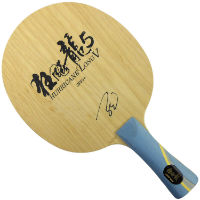 DHS Hurricane Long 5
This is the blade used by Ma Long, arguably the greatest player ever. It is a fast blade, so you really do need good technique to be able to balance the speed with good control. It seems to work well with most rubbers.
Buy from a table tennis shop near you
---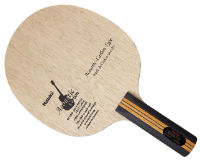 Nittaku Acoustic
Surprisingly fast wooden blade. Great for attacking strokes and quick blocks. I found it a little tricky at first to keep the ball low in the short game, but soon adjusted. Good blade for mixing spin attacks with controlled rallying, blocks and a few pushes.
Buy from a table tennis shop near you
---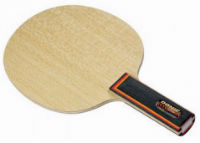 Donic Ovtcharov True Carbon
A good choice for more direct attackers who like to play topspin-drives, flatter attacks, flicks and smashes. You can still play good loops shots with this blade, but there are probably better choices for this style of play. If you are a more direct attacker like Dima Ovtcharov, this could work for you.
Buy from a table tennis shop near you
---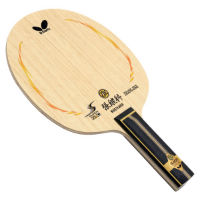 Butterfly Zhang Jike Super ZLC
Possibly the best table tennis blade available (if you believe all the reviews!). It seems to good at everything. A fast blade with fantastic touch. Spinning the ball is a dream. But it comes with a hefty price tag!
Buy from a table tennis shop near you
---
Do your own research
You shouldn't just take my word for the rubbers and blades above. I am just one voice in the vast global table tennis community. I fully recommend you do your own research too.
Here's five things you could do:
1. Read reviews by other players
The best two review sites are Table Tennis Database and Table Tennis Daily. These sites have a lot of reviews on almost all rubbers and blades. Pay particular attention to reviews from players who describe a similar playing style and ability level to your own.
2. Post a topic on the Table Tennis Daily website
There is a huge community of players who love to discuss equipment on the Table Tennis Daily website. If you post a topic explaining your ability level, your playing style, your existing equipment and what you're looking for (e.g. more spin, more speed, more control), you will get plenty of recommendations from other players.
3. Try someone else's bat
A great way of trying out different rubbers is to practice with someone else's bat. Try out different strokes – topspins, pushes, blocks, smashes, flicks, serves. You should quickly discover if you like the feel of the rubbers / blade or if it's not the right thing for you.
4. Contact a table tennis shop
Most table tennis shops will offer some sort of bat advice by telephone or email. Simply make contact and explain your requirements and they should give you some good advice about which rubbers and blade will suit your game.
5. Bat testing
Some table tennis shops also allow you to test equipment before purchase. Some have physical shops. Others will come along to tournaments or clubs with a range of equipment to try out. It's worth asking a shop if they offer such a service. They may be willing to come to your club if you can get enough players to turn up to make it worth their while.
Final thoughts
You do need to put some effort into finding the right rubber and blade combination. Don't just settle for what you have always used or what someone recommended 10 years ago.
Do your research. Try out different equipment. Hopefully my lists and tips above will help you get started.
There is plenty of trial and error involved when choosing rubbers and blades. You'll make mistakes along the way and change your mind (several times).
But the effort can be worth it.
If you have rubbers and a blade which suits your style of play, you will be able to execute all of your shots better, compared to a bat which doesn't suit your style of play. If you can execute your shots better, you're more likely to win more points. If you can win more points, you're more likely to win more matches.