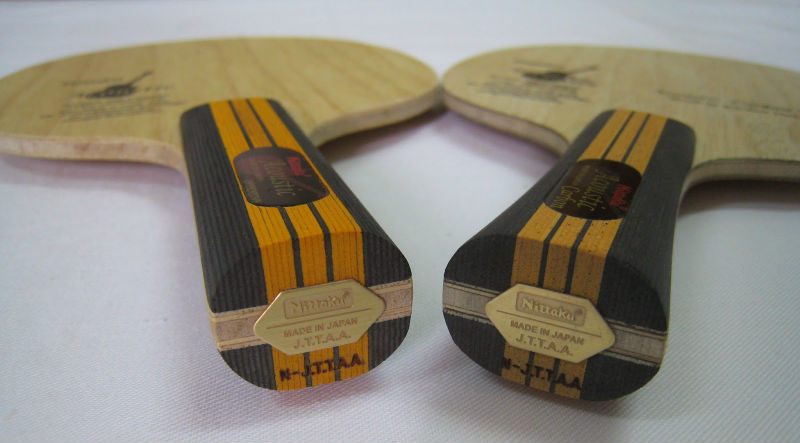 One of the challenges every table tennis player faces is choosing which rubbers and blade to use.
And it is a tough challenge.
There are over 75 brands (according to the list on the RevSpin website) who sell table tennis rubbers. Each of these brands will have numerous different types of rubbers. Then you have all the different blades. When you multiple all of the possible rubber and blade combinations, the total is unfathomably. One researcher worked out there are over 262 million possible combinations!
And each year, new rubbers and blades are produced which claim to be faster, spinner and have more control than anything which has ever gone before. With this much choice it is understandable why many table tennis players continually meddle with their equipment.
It's the belief that there could be the perfect rubber or blade combination available, which will transform a player's game from good to great. But actually, too much time spent worrying and meddling with your equipment can really mess up your game.
My recent meddling experiment
I'm certainly not immune from this. I have been playing with the same blade (Timo Boll Spirit) and rubber (Tenergy 05, Rakza 7) combination for the past couple of years. But a few weeks ago, I got an itch. I wanted to try something new, something different. Maybe there was something out there which would improve my game, without me doing hard work. I simply buy a better rubber or blade and all of a sudden all those shots I had been missing, will go on the table.
So I convinced myself I needed a new blade.
I did some research on the RevSpin website. I read lots of reviews. I even tried out the blade I wanted to buy, as a player I coach had the blade. I liked it. I placed an order. A week later it arrived: my new Nittaku Acoustic all-wood table tennis blade.
This blade was going to solve all my problems. A fast blade with good control. And check out this marketing blurb too…
"The gluing technology employed was originally used in the production of string instruments. Nittaku were successful in applying this particular wood technology in the manufacture table tennis blades. This method retains the wood's natural elasticity giving the player a feeling that the blade is an extension of their hand."
I was excited. "Natural elasticity", "wood technology", "extension of their hand".
Yes, I'm a sucker for some good marketing blurb.
At first the blade was great. But all I was doing was hitting backhand and forehand topspins. When I came to use it in a match situation, I soon realised that this blade was way too fast for me. I really struggled to control the ball. Balls were popping up, flying off the end of the table. During matches I was completely distracted by how my blade was performing and so played pretty badly.
This left with a dilemma. I had just spent £135 on a blade. I could:
Persevere with it and adjust my technique
Find alternative rubbers which work better with the blade
Go back to my old blade
It didn't take me long to make my decision. I didn't want to change my technique, just because I had a new blade. I didn't want to spend time researching rubbers which would compliment my new blade. I decided not to waste any more time or money meddling with my bat. So I just went back to my old blade.
The thing is, I didn't need a new blade. I just got tempted by this idea there could be an even better rubber / blade combination for me. Something which will make me play a lot better without having to put any hard training in. But I just ended up disappointed and £135 less in my bank account.
Loss of focus
During this period of meddling with my equipment, I made no improvement at all. If anything I got worse and lost some confidence in my game. I was so preoccupied with what the blade / rubbers were doing, I lost sight of what really matters: footwork, technique, tactics and training in the right way.
So I went back to my Timo Boll Spirit blade. And there was something quite liberating about this. I like the blade. I'm familiar with the blade. I know how to use the blade.
Sure, there may be something out there which is even more suited to my game. But with the amount of choice available, it could take me years of testing to find it. And I'm pretty sure, I'd make no improvement at all when testing out so many different blade and rubber combinations.
I am happy to restrict my choice. I don't want to meddle with my equipment. I like what I have and I'm sticking with it. I will be ignoring the marketing efforts of all the big table tennis brands. To improve, I have to train better, not get new equipment.
---