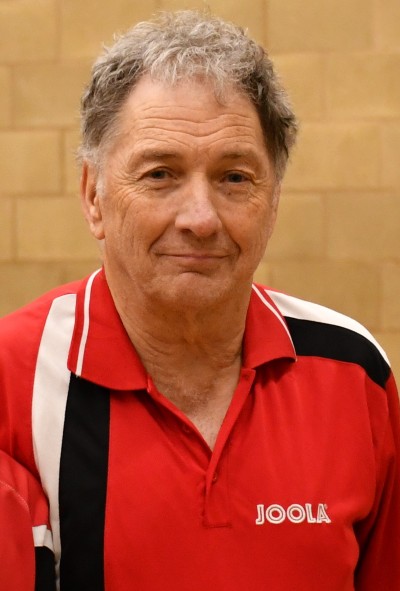 Dave Harvey is a well known name on the veteran table tennis scene in the UK. He has won 7 national veteran titles, in different age categories – 40s, 50s and 60s. He is currently aiming to add another national title in the 70s age category.
Dave is a close to the table attacker / blocker. He plays with a Butterfly Kenny blade and Butterfly Sriver rubbers.
As I have now reached the veteran age (yes, I know, I don't look old enough), I thought I'd ask Dave a few questions about how I might try and replicate some of his achievements.
How do you keep physically fit to keep playing at a high standard?
I play often each week including tournaments at weekends. I played in 8 leagues a few seasons ago but now I'm only signed on in 6.
What is your most memorable match?
The first time I beat John Hilton. My record against him was far more losses than wins. I played him probably a dozen times and only won on 3 occasions. I found his variety of shots very difficult to play against as he could defend and attack so well.
Who is the toughest opponent you have faced?
Chen Zen Wei in last 16 in Wiltshire 5 star Grand Prix. A very strong defender who played with very spinny loops and incredible behind the arm services (which completely bamboozled me).
You have experienced many rule and equipment changes during your playing career. Are there any changes you have really liked or disliked?
I liked the rule when behind the arm services were made illegal. I also liked the change in colour of rubbers from FH to BH.
Who would win between 20-year-old Dave and 70-year-old Dave?
Definitely the 70-year-old, as at 20 I was very inexperienced and only played locally.
What advice do you have for juniors starting out?
Get coaching as soon as you start playing (if possible on a 1 to 1 basis as improvement is more rapid) and with your coach set targets/goals and update them frequently. Play in as high a league as possible and enter as many tournaments as you can. Study good players and learn from them. Attend training/coaching camps whenever possible. Improve your consistency by playing against a robot.
I'm 41 and will start playing in veteran tournaments this year. What advice do you have for me to try and emulate some of your achievements?
Become a member of the Vets Association if you want to enter their tournaments. Being a top coach, you have a great advantage already over most players, regarding tactics to employ in tight situations. Enter as many Grand Prixs as possible. Vets own tournaments are best as you are guaranteed more games. Unfortunately they are over two days, which given you are very busy with your coaching commitments, make it difficult for you. Veteran tournaments are only played over one day. You will do very well.
What advice do you have for older players to compete with and beat younger opponents?
Play often in the week against the best players available and practice often. For players that have weekends free play in County matches, British League and as many tournaments as possible. Expand the range of serves in your armoury and spend time on this very important aspect of the game. Learn from the best (Craig Bryant being an excellent example of killer serves) and try and keep your weight down as extra pounds are a real disadvantage to maintaining standard.
How long do you intend to keep playing?
As long as I can compete at a good standard nationally. I had intended to retire from all competition at age 33 and did so until 38 when my old friend Kevin Satchell talked me into coming out of retirement to play in his National League side in the Prem and have been playing since then. I coached regularly until a few years ago. Although I am an old player, I practice/play more than most people and am still learning.