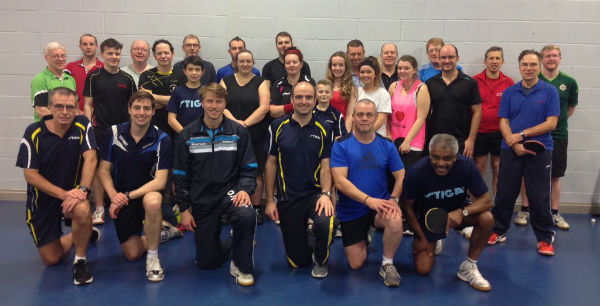 I've written before about the benefits of attending table tennis training camps. In May 2015, I travelled to Vienna to attend a service and receive course at Werner Schlager Academy. Keen to continue my training, I signed up for the winter Westfield table tennis camp in Northamptonshire, which is a little closer to home.
This three day camp is based at Westfield table tennis club, a premier club with 5 star status which has produced many high ranking UK players. This was my second visit to the Westfield table tennis camp. The first time, back in 2014, I attended all three days. This time I only attended one day. I would have liked to have done all three days, but with a 3-month-old baby back at home, it would have been a bit unfair on my partner!
Here's my review, including lessons I learned from table tennis legend, Desmond Douglas…
Location
The Westfield table tennis camp is held in Wellingborough, Northamptonshire. This makes it accessible to players from East of England, East Midlands, West Midlands and London. But on both occasions I've attended there has been players from all over the UK.
It's easy to get to if travelling by car and there's plenty of free car parking available outside the sports centre. If travelling by train (which I did the first time), the sports centre is about two miles from the train station.
And what about Wellingborough? Well let's just say it's not the most exciting of towns, but this really doesn't matter as you're there to play table tennis rather than sightseeing.
Facilities
The training camp is held in a purpose built table tennis hall. The hall has space for 15 tables with plenty of room between tables. The tables, nets, flooring and lighting are decent. You have access to all the things you'd expect in a sports centre – changing rooms, showers, vending machines. Overall, a good setting.
Coaches
One of the things I really like about Westfield is the coach-to-player ratio. On both occasions I've been, there has been one coach for every five players. This means you get plenty of individual feedback. Coaches are of a very high standard, including Tim Yarnell (former England international), Greg Yarnell (level 4 table tennis coach), Desmond Douglas (former world number 7 and 11 times English table tennis champion), plus 3 or 4 other coaches with significant playing or coaching experience. 
Camp format
The coaching day starts at 10am and finishes at 3.30pm with 45 minutes for lunch. There's no specific theme to the camp – you get to work on a range of different strokes, footwork, service, receive and match-play. During the day I attended we covered footwork exercises, forehand topspin vs backspin, pushing, returning half-long serves, blocking and more.
As there is such a good player to coach ratio, you do group training, a 20 minute 1-to-1 session with one of the coaches and a 20 minute multi-ball session. This is a really good feature of Westfield, as you can use the individual coaching sessions to focus on your specific needs. I got the opportunity to have a 1-to-1 session with Desmond Douglas (more on this later).
The atmosphere is relaxed and encouraging. All the coaches mix with the players. Feedback is always constructive. Training drills are interspersed with some fun match-play exercises.
Standard of participants
There's a mixture of standards who attend. Most people play local league with many years experience, but there were a few beginners too. The coaches are good at organising players, so you usually do training drills with players of a similar standard.
Learning from Desmond Douglas
A big highlight of the training camp is watching Desmond Douglas give demonstrations. Desmond is now 60-years-old, but this is pretty hard to believe when you watch him do the demonstrations. He still moves really well and is just so fast.
Desmond is a master at playing close to the table. This is the style he has played all his life. What you notice when watching Desmond play is how short his strokes are. He doesn't use massive backswings. He works with the speed on the ball and uses short waist, forearm and wrist movements to play quick topspin shots over and over again. His footwork is also exceptional. He is always making small adjustments but moves no more than he needs to. He makes table tennis look so easy to play.
I got the chance to have a 1-to-1 session with Desmond. To begin with we had a quick knock-up. I thought I'd unleash a few big topspins, but Desmond was completely unfazed. He blocked each topspin back easily, moving me all over the table. Eventually I ran out of position and had to chop one back. Amazingly Desmond put his next shot in the net. Point to me! Although I think the error was more because Desmond was in fits of giggles having forced me to play ever more unorthodox shots to keep the rally going!
During the 1-to-1 session I worked on playing fast rallies close to the table. In particular, Desmond help me with contacting the ball earlier, moving for balls rather than reaching, relaxing me waist and shoulders and using my forearm and wrist more to play quick topspins.
Below is a three minute clip of our coaching session.
Is it worth it?
Absolutely. The cost is reasonable (around £50 per day). The coaching is very good. You get to do lots of training drills, practice different strokes and serves, and play a few fun games too.  
Above all you get to watch the best English player there has been in the past 40 years. If he played competitively now, even at the age of 60, I reckon Desmond Douglas would still be high up the rankings.
The Westfield table table camp takes place in August and December each year, and sometimes at Easter too. I'll be attending again in the future and hopefully will see some of you there.