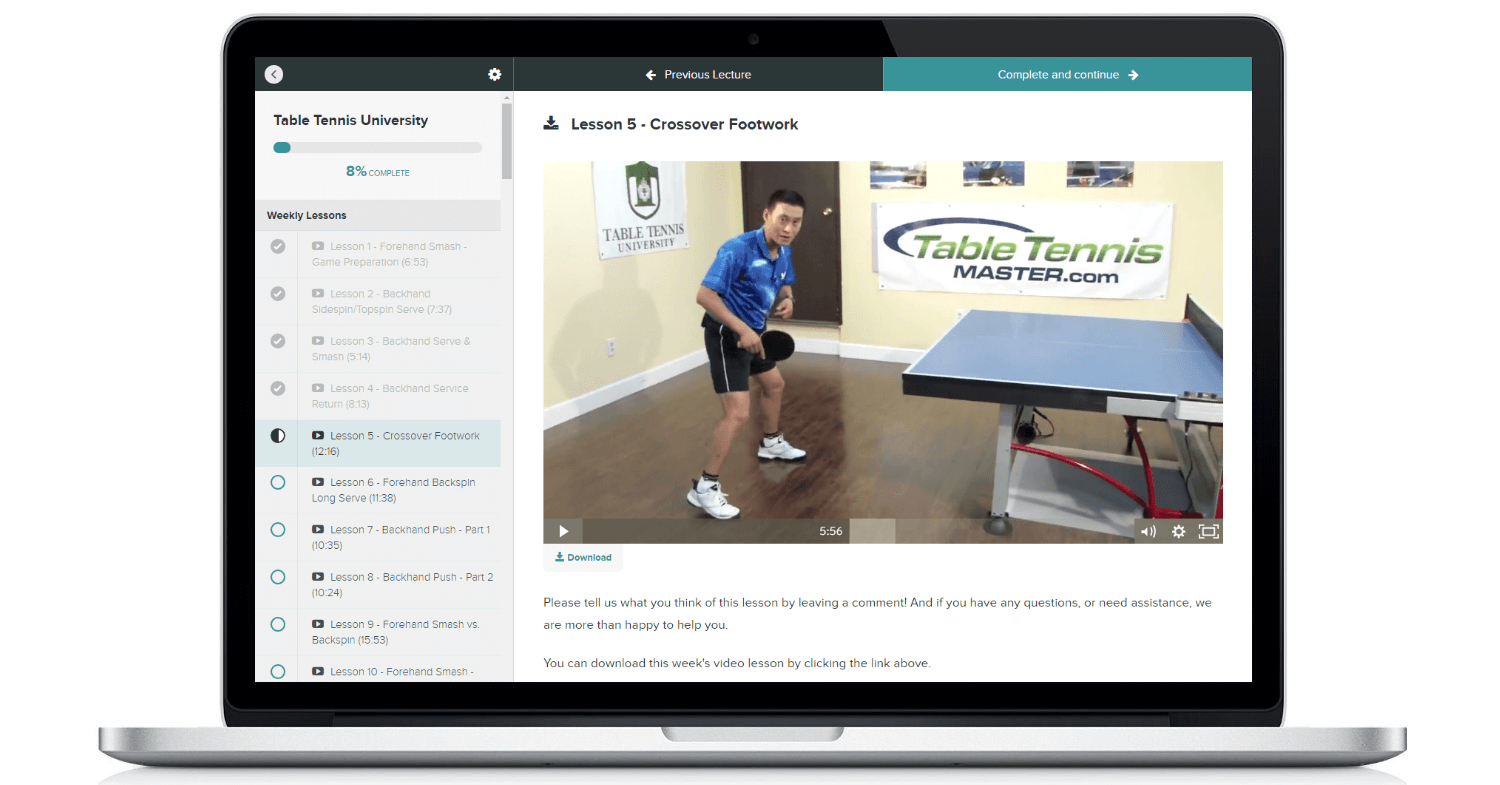 If you haven't already heard, Table Tennis University is back, thanks to the efforts of Ben Larcombe from Expert Table Tennis.
The relaunched Table Tennis University website has several online table tennis courses, covering topics such as service, forehand loop, backhand loop, footwork and a flagship 'university' course which covers pretty much every aspect of table tennis you can think of. And more table tennis course are going to be added in the future.
The big question is, are these courses any good? Can online table tennis lessons help you improve? Is it worth spending money on an online table tennis course, or should you just find a coach to teach you?
Here's my views…
Getting ready to learn
Ben very kindly gave me access to the flagship Table Tennis University course. This is the the most comprehensive course on the website (and anywhere on the internet).
I was ready to learn.
I put the kids to bed, made myself comfortable on my sofa, switched on my laptop and logged in the my Table Tennis University account.
And wow…
The first thing I noticed was the huge volume of content. The first part of the course includes 52 lessons, covering every aspect of table tennis.
Service? Check.
Service return? Check.
Pushing? Check.
Forehand loop, backhand loop, blocking, flicking, counter loops, smashing? Check, check, check, check, check.
Each lesson focuses on a particular stroke or skill. The lesson includes a video demonstration and a downloadable training plan. Each video is around 10 minutes long. Some are a bit shorter and many are longer.
There's so much to look at and learn, I wasn't quite sure where to start (in a good way). I wanted to look at it all at once! Instead I picked out a few lessons and started watching and making notes.
These 52 lessons on their own would be enough to keep me learning for a long time, but there is more…
In the second part of the course there's 148 drill demonstrations. That's right, one hundred and forty eight. Again, these training drills cover every type of stroke and combination of strokes. These videos are great, as they show you what drills you need to do during your practice sessions.
By this point I was starting to contemplate how I could take 6 months off work to watch all of the the lessons and training drills. But wait, there's even more…
In the third part of the course, there's 60 'how to' videos, e.g. how to beat long pips players, how to keep your smashes on the table, how to loop heavy backspin. These videos are probably the most useful of the lot, as they really address the issues which players often struggle with.
With the 52 lessons, 148 training drills and 60 'how to' videos, there is enough content to last a very long time. I'm sure I will keep watching and re-watching these videos for years.
Quality of teaching
The coach for Table Tennis University is Tao Li.
Tao Li played table tennis professionally in China from 1985-1991 and won a gold medal at the 1989 Chinese National Junior Championships.
In 1995, he began his career as a table tennis coach at the Beijing Jiaotong University in China.
In 2000, he moved to Canada and coached the British Columbia Men's and Women's teams to international success.
In short, Tao Li has played at a very high level and has had great success as a coach.
In the videos, Tao Li comes across as very passionate and he clearly gets great joy from playing and teaching table tennis.
One thing you need to be aware of is that English is not Tao Li's first language. It can be a little difficult to follow what he says. He sometimes struggles to find the right words to communicate his message.
I did find myself rewinding a few times to listen again to what he said. Most of the time the meaning is clear, but occasionally something does get lost in translation.
If you have any doubts before signing up, I would recommend watching a couple of the free videos available on the Table Tennis University youtube channel.
In terms of the content he is teaching, Tao Li clearly knows his stuff. I found myself nodding in agreement lots of times and making notes on new stuff I was learning.
I didn't agree with everything he was saying. For example, when explaining how to attack backspin with your backhand, he says you should play with a straight wrist and just use your forearm. I have always been taught (and teach players I coach), to use your forearm and wrist to attack backspin balls with your backhand. But it's good to be challenged and try different things. In my next practice session I tried a backhand topspin the Tao Li way. It worked ok. I couldn't get much pace on the ball without using my wrist, but it was fairly consistent.
And what the heck do I know? I'm just a local league player whilst Tao Li has played professionally.
Video quality and technology
The production standards are very high – the best I've seen for videos teaching table tennis. The sound is pretty clear on the whole, although on some videos you do get some background noise from balls being hit on a nearby table.
The Table Tennis University website is very easy to use. You can dip in and out of videos as you choose. You don't have to watch the videos in any particular order. And you can re-watch as many times as you want. You can watch the videos on a desktop computer, tablet or mobile phone. And there is even an option to download videos to your computer's hard-drive.
Cost
Here's the sticking point. The flagship Table Tennis University course is expensive. At time of writing, the course costs $297. It's going to put a dent in your wallet!
But for this cost, you do get a lot of content. You will be learning from the videos and using the training plans for a long time. If you were to split this cost over a two or three year period, then it really doesn't work out that expensive.
But if this initial investment just isn't affordable for you, then there are other cheaper courses on the Table Tennis University website.
You could sign-up for the free course – Basics Mastery. This includes 12 lessons looking at grip, drives, blocks, footwork and the forehand topspin serve.
Or you could choose one of the smaller $47 courses. There are four available:
These courses are also taught by Tao Li and are obviously much more affordable.
Online course vs real-life coach
So is it worth it?
As a table tennis coach myself, I will always say the best way to improve is to find a good coach who can teach you. If you do something wrong, the coach can correct you straight away. And the coaching can be tailored to your specific needs.
However, I do think that online table tennis courses can be a really useful addition to your table tennis development, even if you already have a coach. You get to hear a different perspective. You may learn something new, which your coach has never explained. A coach like Tao Li has played at a very high level, so he can give you insights other coaches may not be able to give you.
And if you have no access to a coach at all, then an online table tennis course is your next best option. You can learn so much from a coach like Tao Li. If you follow his advice, you'll certainly improve and gain an advantage over other players. What other players won't know, is that you have a Chinese super-coach in your pocket!
—
To find out more, visit the Table Tennis University website.