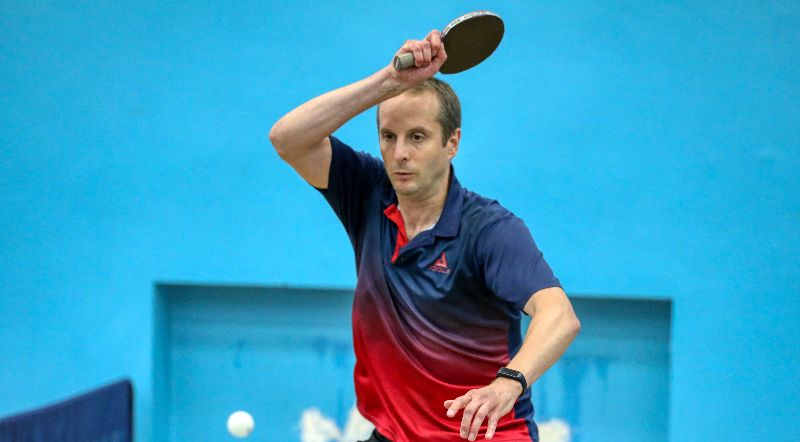 Since my last tournament update in June I have won a couple of informal club tournaments at Cambridge-Parkside table tennis club. I also won my first ever prize money at a veterans tournament in Nottingham.
The tournament was a round robin group (no knock-out stage). There were 7 groups in total. As I haven't achieved a high ranking yet, I was in group 6 of 7. I managed to win all my matches, finish top of the group and I picked up a cash prize of £30. Admittedly it did cost me £40 in petrol to get to Nottingham and back, so I was financially down on the day, but at least my table tennis career earnings stand at a hugely impressive £30!
In the past few weeks I've been feeling pretty good about my game. I have made improvements to my footwork, stance, service return and forehand counter topspin.
So how would I get on in my latest VETTS Masters tournament? The standard at these tournaments is very high. Many of the best 40+ players in the country attend. The first time I attended one of these, in February this year, I was comprehensively trounced. This time I was determined to do better.
A slow start
My latest tournament was the VETTS Midland Masters, held in Wolverhampton on 8-9 October 2022. My first opponent was the number 15 seed Stephen Scowcroft. He is left handed, uses short pimples on his backhand and is fast and spinny on his forehand. A very tough opponent and playing style for my first match.
It didn't help that I had no warm-up, and my body was tight and my nerves still too jittery. This was not a good combination. And I got outclassed in a match which only seemed to last a few minutes. I was trying to be positive, but my attacks were far too steady. I was just rolling the ball on the table and Stephen powered through me. Final score 11-4. 11-8, 11-2.
A bad start, but I knew this was likely to be a very difficult match. I would have liked to have been more competitive, but I didn't dwell on it too much. I knew I could play better and with my nerves a little more under control, I was confident I would improve.
Battle of the YouTubers (sort of)
My next match was against Peter Ives. Peter is the father of Dan Ives, who runs the popular Table Tennis Daily website and YouTube channel. Peter has appeared in a few videos too. As one observer commented, this match was going to be a battle of table tennis YouTubers!
Peter is ranked in the top 100. And I am a lowly 373. So I knew it would be another tough match. In the first game my poor form continued. I was jerking my backhands, not moving well, still too stiff and making silly unforced errors. I lost this game 11-4.
In the second game, I finally started to find a little bit of a rhythm. Peter and I have similar playing styles, although he is a lefty and I'm a righty. As we started to play lots of open topspin rallies, I was finding opportunities to hit a few faster forehand topspins. The score was still very close. For every winner I hit, Peter would respond with a winner of his own, usually with his well placed forehand attacks. But at least I was playing a bit better – not as well as I have in recent weeks – but there was a little more fluidity to my play.
I managed to win the second game 11-9. Good. The match continued in much the same way. I think we were both content to get into these open topspin rallies and try to outmanoeuvre each other. Neither of us were using explosive power, just consistent, well placed forehand and backhand topspins. We traded the next two games – 11-8 to Peter and the 11-5 to me.
In the final game, I opened up a 7-3 lead. I felt Peter was looking a little ragged and I was confident of the victory. But never underestimate my ability to cock things up! Unconsciously I just eased off, trying to play it safe. It's such a silly thing to do. Peter took advantage of my passive play and made several good attacks to bring the score level to 9-9. I sneaked the next point. 10-9 to me. And match point. To be honest, I can't really remember what happened next. All I know is that I lost three points in a row and lost the match 12-10 in the fifth.
So agonisingly close! But I have to be honest and admit my performance from 7-3 was poor. I was too passive. Too steady. Peter played the final part of the game much better and he was rewarded with a deserved victory. More lessons for me to learn.
This is the second time I have lost to a player ranked in the top 100, having led in a deciding game. It's good that I am competitive against these strong players, but frustrating not to pick up my first win against a top 100 player.
Finding some form
My third group game was against Michael Wilkins. Another very experienced player. He looks incredibly relaxed on the table, but he can be really quite awkward to play against. He has a whippy backhand. There is more spin than you expect. And he uses long pimples on his forehand.
And once again I started poorly. After my exertions against Peter – and maybe still dwelling on that missed match-point – I lacked focus and lost the first game 11-6. It was beginning to look like 3 matches and 3 losses, which would be hugely disappointing. I was starting to feel a little fed up.
I actually told myself to stop trying so hard. Treat it like a coaching session. Try to spin the ball. Use my good ball placement. Attack strong with the forehand when I have the chance. This did help and I managed to find a higher level of play eventually. I won the match 3-2, but the final two games were 11-6 and 11-5 to me, and I was happy with my level of play in these two games. Finally a little bit of good form.
I finished 3rd in the group. If I had converted that match point against Peter, I would have made it through to the main draw, but alas it was not to be. I was now going to be competing in the consolation event. And actually I wasn't too bothered by that. The standard of the top 20 players in the tournament is incredibly high and I am nowhere near this standard. The consolation event would still be tough – all players are top division local league players – but the standard is a little closer to mine.
My first round match was quite straight forward and I won 11-3, 11-2, 11-5. I was hitting more forehand winners and my backhand – whilst not particularly penetrating – was at least reliable.
Another 'steady' performance
In the round of 16, I faced Kevin Taylor. His playing style is a bit like a brick wall! He gets lots of balls back. He is quite controlled, but will take opportunities to hit strong forehand attacks. This meant we played a lot of very long rallies. One rally must have lasted 30-40 shots, which is the longest rally I can ever remember playing in a competitive match. I lost the point by sheer exhaustion!
We were very evenly matched. I won the first game 14-12, but lost the second game 14-12, failing to convert a game point. The third game was also close, but I lost 11-9. In the final game I tried to be more aggressive, but made too many errors and lost 11-6. My tournament was over.
After the match, I had a chat with Kevin. Nice guy. And he said that I was very 'steady' as a player, which I think was a very fair summary of my performance in this tournament. I was very steady. Too steady. I lacked the penetrative power to get through my opponents. I had opportunities, but I didn't have enough spin, speed or power to hit enough winners. This will be something for me to work on.
So overall, five matches, two wins and three losses. I have definitely improved in the past 6 months. I am more consistent. My backhand is more reliable. I am returning more serves.
And the match statistics back this up as well. In my first VETTS Masters tournament in February I won 1 match, lost 4 matches. This time I won 2, lost 3. In February I won 6 games and lost 12. This time I won 9 games and lost 12. In February I won 149 points, and lost 177. This time I won 177 points and lost 175.
I am moving in the right direction, just quite slowly! My progress, like my play, is a bit too steady. It's time to up the tempo and play with more attacking intent. I hope to enter one more tournament before the end of the year. I'll keep you updated with my progress.