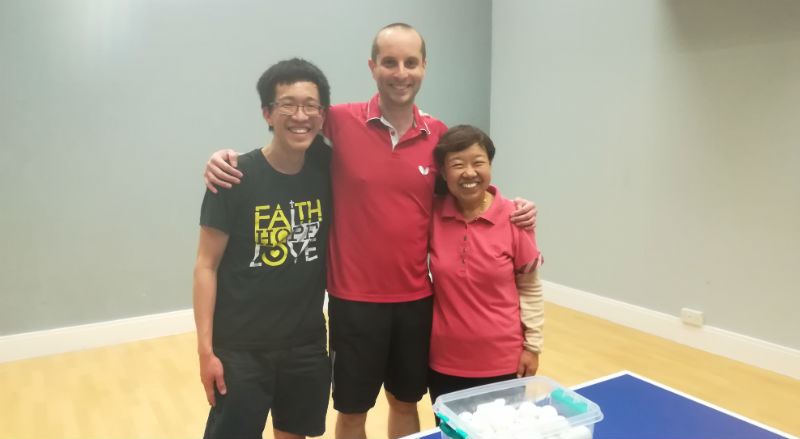 I have great pleasure to announce that I am now a full-time table tennis coach.
Over the past few years I've been doing both my day job – digital marketing for an international education company – and table tennis coaching in the evenings and weekends.
But the table tennis (coaching, website, youtube) has been going so well and demand for coaching has been high, it has become viable to do it full-time.
I am hugely excited by this. I love table tennis and I love coaching, so I am very grateful to have the chance to spend more time on my passion.
Plus it was getting a bit too much trying to do two jobs (digital marketing and table tennis), and spend quality time with my two little monsters (aged 2 and 6) all at the same time. I was getting pretty exhausted.
Just having one job, plus the monsters, is a bit more manageable.
Disastrous start
My new table tennis career has got off to a disastrous start though! In March I was admitted to hospital and diagnosed with meningitis. This meant I missed my last two weeks of my digital marketing job and spent the first two weeks as a table tennis coach in bed!
Meningitis can be a very serious illness, but I seem to have got away with it quite lightly, compared to what other people experience.
I'm now on the mend, although I'm still likely to feel the effects of meningitis for a few weeks – mainly tiredness and headaches. But I'm fit do coaching and did my first sessions this week. I'll have to wait a while before I do any hard training though.
The image above is from my first session back with Mao and his mum, who are both from Singapore. Mao has just finished studying in Cambridge and his mum was visiting before they returned to Singapore. It has been a great please coaching Mao and real treat to meet his mum in our final session together.
Website and videos
So what am I going to be doing with my time, now that I am a full-time coach?
I have lots of plans.
On the website, I will continue to write my weekly blog post, but I want to do lots more video lessons for my Youtube channel. This has grown quickly over the past year and I earn a little income from YouTube advertising. So I want to grow this much more.
I'd really like to team up with high level players and coaches to make some videos. There is no single 'truth' when it come to table tennis coaching, so I want to share different perspectives from other players and coaches. I think we can all benefit from this.
Also on the video front, I want to create new online courses, similar to my popular Table Tennis for Beginners course. I haven't planned the details yet, but probably something on service or receiving or topspin or training drills.
And I'd love to publish a book at some point. I have 130+ blog posts on my website now. My plan is to take all these tips and put them into some sort of coherent structure for a book. This is something probably for 2019.
Coaching
With my coaching, I will continue to do 1-to-1 coaching, but will be able to do more of it.
I don't have any ambition to become the world's greatest coach or develop future world champions (although that would be nice!). I see myself more as a community coach, helping adults and juniors of any standard – beginner to advanced – improve their skills and develop a lasting passion for table tennis.
Most of my coaching is for players in and around Cambridge area, but I am getting more people coming from further afield.
People often combine a short break to Cambridge, with some coaching with me. If this is something you may be interested in, please take a look at my coaching page and then send me an email with your details.
I plan to set up some group coaching sessions and may even venture into organising coaching camps at some point. And I'd also like to set up training sessions for junior players. There's not much available for juniors in Cambridge at the moment. This is something I can help change.
If I have any time left, I may also do my level 3 coaching qualification.
Give me my old job back!
So it's an exciting time, even though it hasn't started as I would have liked. I definitely need to look after my body and health.
It's not going to be easy. There are not that many full-time table tennis coaches in the UK. It's not a sport which is blessed with lots of money.
But hopefully I will make it work and maybe even inspire others to do a similar thing.
If all else fails, I'll be sprinting back to my old company begging for my job back and explain what a terrible mistake I made.
Ha!
I'm sure it won't come to that. I'm looking forward to the challenge which lies ahead. And I'm hugely excited about playing lots of table tennis!