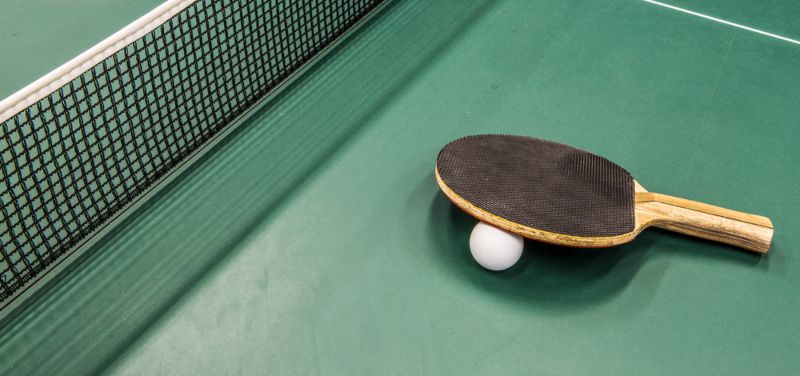 Life is in limbo. With ongoing restrictions and lockdowns, most of us have not been able to exercise and play sports in the way we would like. With our choices severely restricted, many of us are trying to find ways of being active at home.
Table tennis is one very good option. During the first UK lockdown in March-May 2020, sales of table tennis tables skyrocketed. So much so, that all the stock sold out! I can understand why. Table tennis is great fun. It is beneficial for your physical and mental health. It is suitable for all ages. And you can play with family or by yourself, with the right equipment.
In this detailed article, I am going to give you lots of practical information about playing table tennis at home, including…
In the article I make some equipment recommendations. These are based on personal experience. I will earn a small commission if you click a link and then purchase. This helps me keep my coaching business afloat, whilst I am unable to coach. But I only recommend products which I use myself and I believe are very good quality and value for money. If you happen to purchase any equipment based upon my recommendations, I thank you in advance.
And if you are in the UK, I fully recommend purchasing all of your table tennis equipment from Bribar Table Tennis – a family run company who do a tremendous amount of work supporting the table tennis community.
OK, let's move on to the practicalities of playing table tennis at home. First of all, we need to get our measuring tape…
---
How much space do you need?
Table tennis is an indoor sport. You can play outdoors (more on this later), but my preference is always to play indoors, as you have no wind or rain to contend with. But the problem most people have in their home is lack of space.
A full size table tennis table is 2.74 metres in length and 1.525 metres wide. But you also need space either end of the table and to the side of the table to actually have space to play.
So let's start with an ideal sized room in your home or garage…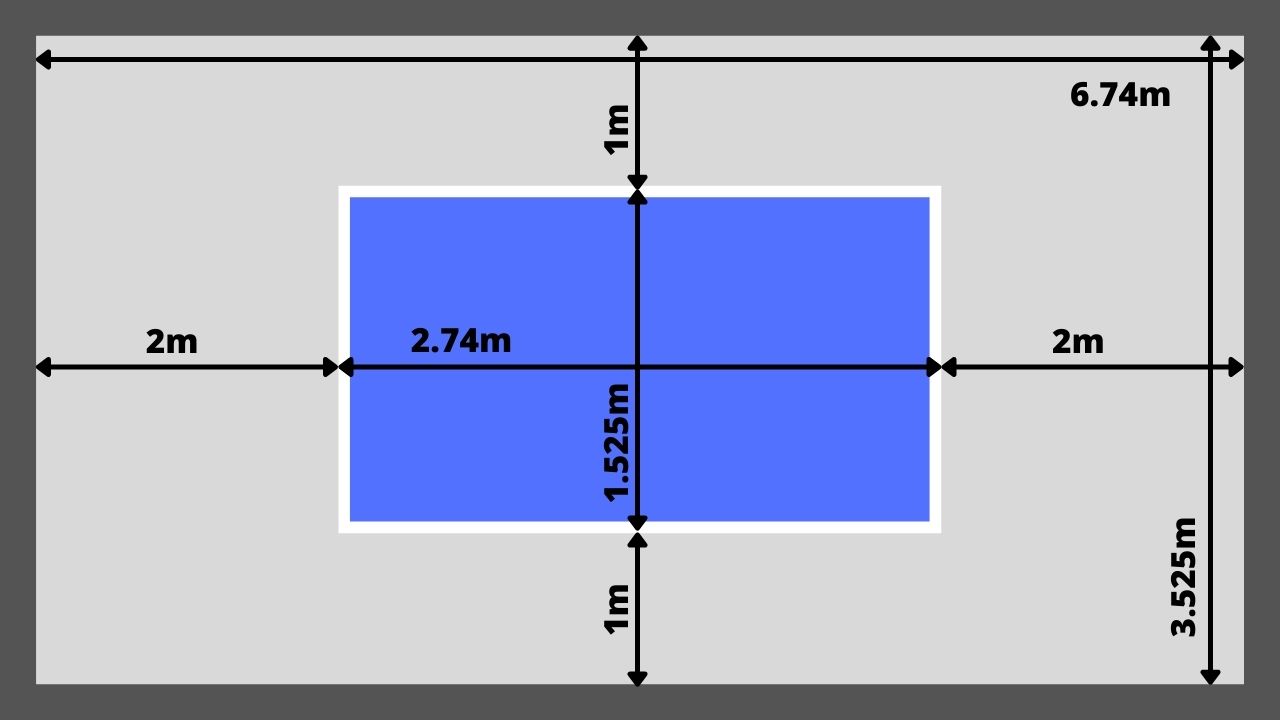 Roughly speaking you need 2 metres either end of the table and 1 metre either side of the table. Therefore you need a room which is approximately 6.74 metres in length and 3.525 metres wide. In a room this size, you have a bit of space to go back from the table and to the side. It's still tight – you can't go back too far from the table – but there is enough space to have a very enjoyable game of table tennis.
I appreciate that many people do not have a spare room of this size. I do not either. So what about a smaller sized room? Over the past few years I have coached a family (3 adults) in their garage. The length of the garage is 5.5 metres…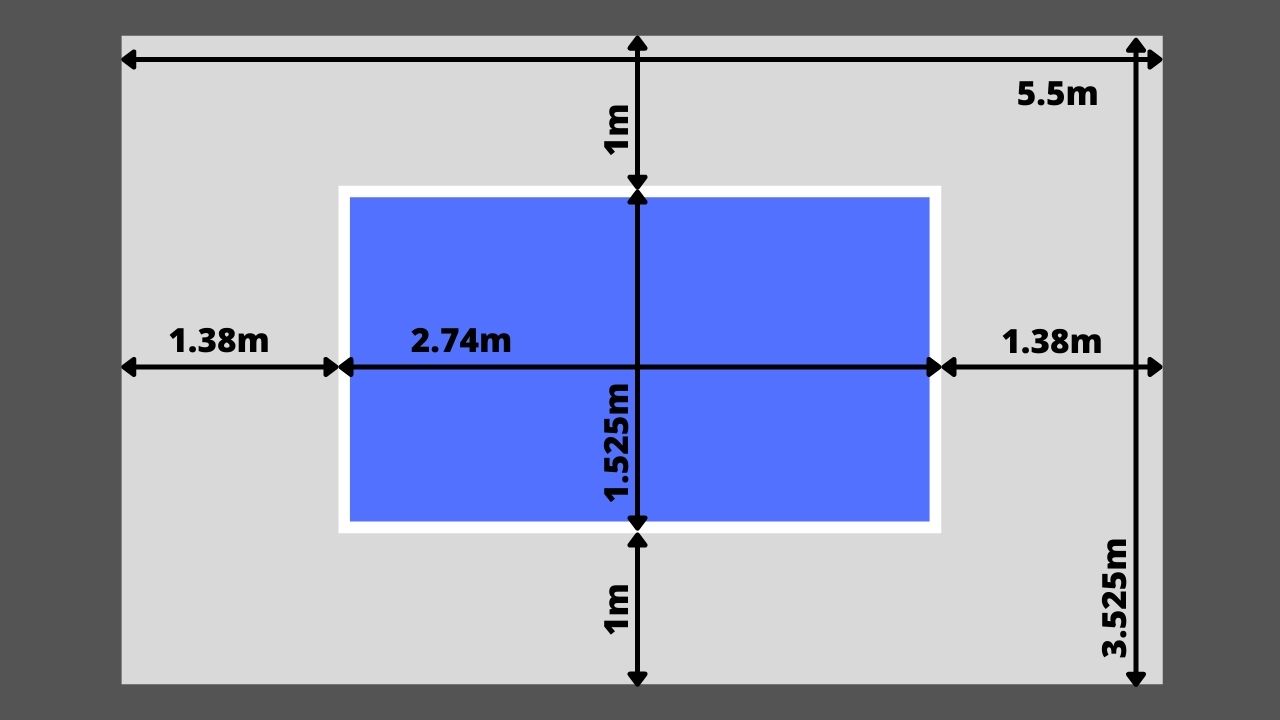 This is tight. If you like to play back from the table or you have big back-swings, you will probably find this space too small. When I coach in this garage, I have to play close to the table all the time. This doesn't bother me much, as I play quite close to the table anyway. If I step back too much, I will hit my bat against the wall. So it it very tight, but it is do-able. When I am not there, they all play against each other and have lots of fun and exercise. But 5.5 metres really is the limit. Anything smaller than this becomes very hard for two people to play.
For what it's worth, I am planning to build a room in my garden, which will be 6 metres in length and 3.5 metres wide. Again, this is really quite tight. It's certainly not big enough for competitive table tennis matches, but it will be enough space for me to play with my kids.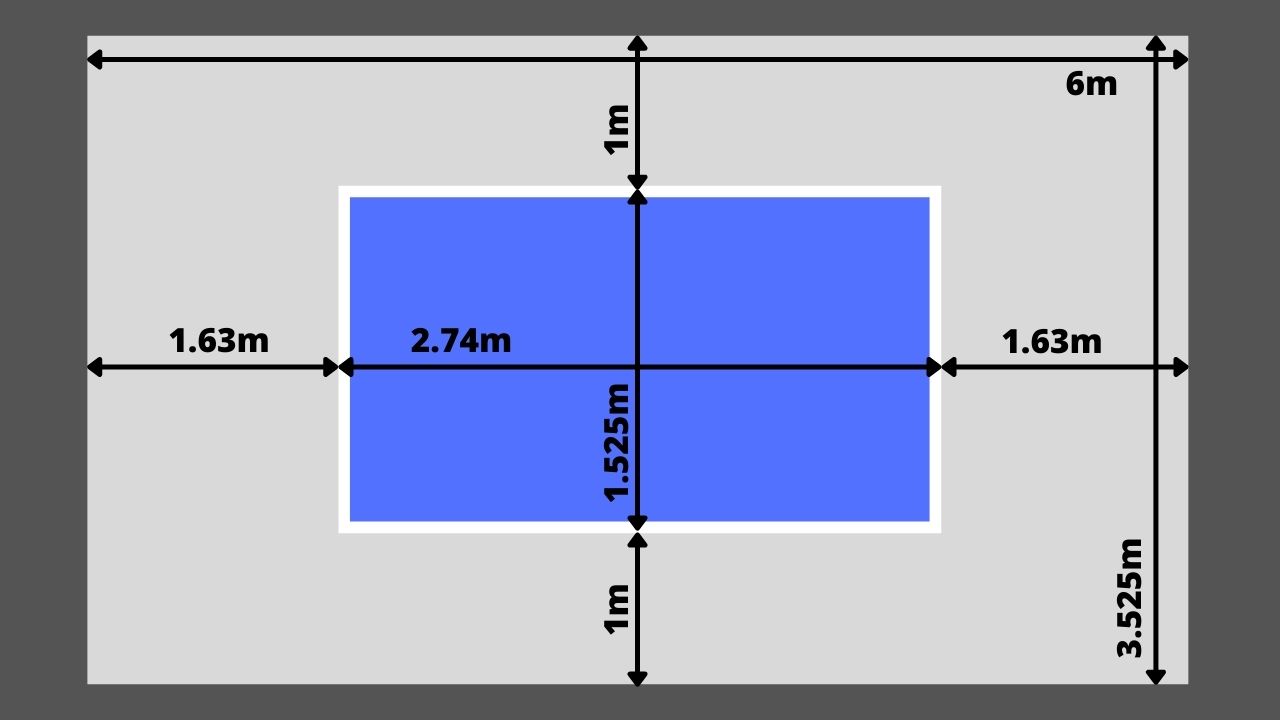 To recap, if you have a room which is between 5.5 and 7 metres in length, and at least 3.5 metres wide, then you have space for a full sized table tennis table. If you are lucky enough to have a room bigger than this, then even better!
Smaller sized rooms
If you have a room which is smaller than 5.5 metres, you still have a couple of options. You can buy a smaller table – either half size or ¾ size. You will still need at least 1.5 metres each end of the table for the minimum amount of space to play.
Is it worth getting a smaller table? Well if you just want to play for some fun, then a smaller table is fine. I have used a ¾ sized table in the past, when teaching my young kids how to play – and in many ways it was easier for them to learn. But if you are a more experienced player and want a proper table tennis workout, then you may find a smaller table quite limiting.
Another option if you have a smaller room is to use a robot, instead of playing with another person. A robot sits on the table or clips on the end or is located just behind the table. A robot does not require any additional space behind the table. This means you can push the table very close to the wall.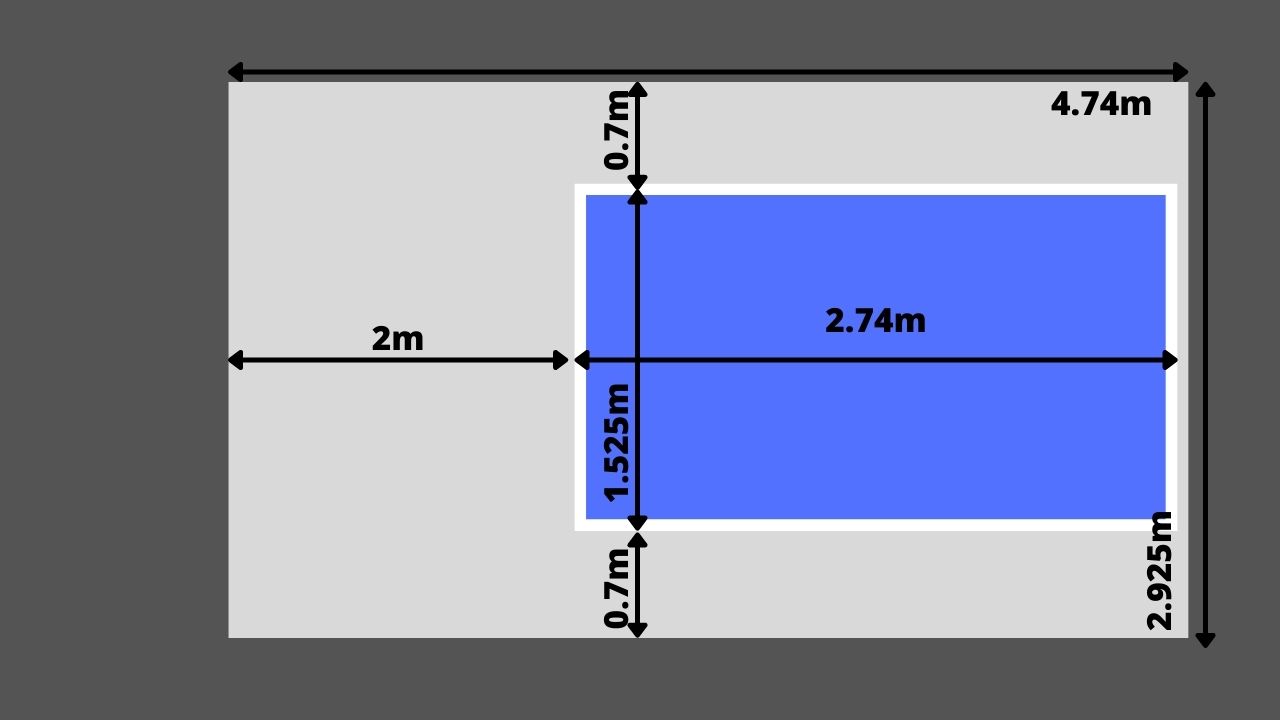 I used to have a full sized table in my garage (before it got turned into a bedroom!). The garage was approx 4.7 metres in length, so not enough space for two people to play. But it was big enough for me to play with a robot. I pushed the table against the wall, giving me nearly 2 metres of space to play.
Big room but no space
It might be that you have a big enough room, but you have no space for a table tennis table because you have a dining table in the way. In this scenario, there is quite a simple solution. You can buy a table top which sits on top of the dining table.
These table tops usually come in two halves. You just slide the table on top of the dining table and then you have converted your room into a table tennis arena!
I have a table top at home and it works well. The quality is decent and it is very easy to set up and store. When I have finished playing, I just put the table top in the shed.
---
Indoor vs outdoor
My preference is to play table tennis indoors, but for many people this is not possible at home. There just isn't a room big enough to accommodate a full sized table.
If this is the case, then you have no option but to play outdoors. I also have an outdoor table (yes – I really am obsessed with table tennis!). Here is my honest opinion. In the UK, an outdoor table is good for half a year, from April to September. When the weather is too cold and damp, it's just not much fun. The ball gets too moist and doesn't bounce properly and everything gets grubby. But in the spring and summer months, when the weather is good, then it can be very pleasurable playing outside.
Other than the cold and rain, the other big weather consideration is the wind. A table tennis ball is very light, so even a slight breeze can impact the flight of the ball. I would say that during spring and summer, you will get two or three days every week when the conditions are good enough to play. These are days with either a small amount of wind or hardly any win at all.
You can still play if it is a bit breezier, but the impact on the flight of the ball is more dramatic. If you just want to play for fun, then you will probably enjoy the experience of battling your opponent and the wind!
So whilst I prefer playing indoors, it is absolutely possible to play outdoors during the spring and summer and have a really good workout.
The space needed to play is going to be the same as indoors. So if you have a garden space which is at least 5.5 metres in length, you will have room for a full sized table. Something closer to 7 metres in length would be preferable, as this would give you more room to step back from the table.
Ideally, you need an even surface when setting up your table outside. You could set up on a patio area or a flat grass area. You can adjust the leg heights to even up the table, so even if your surface isn't completely flat, you can still make the table top even.
---
Is it worth getting a robot?
If you don't have anyone to play table tennis with at home, there is still an option for you. A table tennis robot. This is a machine which shoots table tennis balls at you, giving you the chance to improve your skills. There are basic robots, which are fairly cheap but limited. And there are advanced robots – which are much more expensive – but are more realistic and can change spin, placement and do all kinds of drills.
I have two robots at home (of course!) – one basic and one more advanced. Here is my honest opinion. If you do not have anyone else to play table tennis with, then a robot is the next best thing. It is not the same as playing with another person. It can get a bit repetitive and boring. But it is much better than not playing at all.
With a robot you can improve your technique, improve your footwork, improve your reactions and have a really good physical workout. This is how I use mine. I will play for 40-60 mins. In this time, I will work on my rallying skills, switching between forehands and backhands. I will practise my loops. I will do some footwork drills. By the end of my session I will have hit 1000-2000 balls and am usually drenched in sweat.
For my situation at home, I find a robot essential. I can play table tennis with my kids. But really I am just teaching them to play. My standard is quite a lot higher. So to get a proper workout, where I am improving my table tennis skills, I have to use my robot.
---
Advice on buying a table, bats, balls and robot
There is a huge range of table tennis equipment available to buy. But in this article I'm not going to review lots of different products (see my equipment section for reviews). Instead I am just going to list the products I use myself. As I coach table tennis for a living, I only use products which I believe are good quality and good value for money. So I am very happy to recommend all of the products listed below if you want to make a quick purchase without doing too much research. And as I mentioned at the start of the article, if you are in the UK, I fully recommend purchasing all of your table tennis equipment from Bribar Table Tennis.
Indoor table
For many years I had a Butterfly Easifold 19 Indoor table. This is on the 'cheaper' end of the price scale. It has a 19mm table top. It comes in two halves and can be folded and stored easily. It is not as sturdy as more expensive models, but since all I used it for was playing with a robot and my children it was absolutely fine. So it might not withstand adults jumping up and down on it (why would you do this?), but if you look after it, then this table will be good for many, many years.
When I am actually coaching in a sports centre or my table tennis club then I use a better quality table, usually one with a 22mm or 25mm table top. Here are some tables that I use, all of which are very good quality. If I manage to build a room in my garden, then I will probably buy one of these too.
UK
USA
Table top
When my garage got converted into a bedroom, I gave away my full-size table to a local hospital, as I had no more space for it. But I couldn't live without table tennis in my house, so I purchased a ¾ size table tennis top, which I could put on top of the dining room table. I had not used one before, so it was a bit of a gamble.
I decided to get a Tekscore table tennis top. I was pleasantly surprised. It has a good thickness. The bounce is good. And it is really easy to store. I have been using for two years now with my family and it is still in excellent condition. You can get this table top in three different sizes. If this product isn't currently in stock, here are some other similar table tops…
UK
USA
Half sized table tennis table
I have never owned a half sized table, so I can't recommend one from personal use. However, I do know a few people who have purchased the Butterfly Junior Indoor Table Tennis Table. The feedback I have been given is that the table is a good size for kids to learn to play. It is also fine for a more informal game of table tennis. But it's not so good if you want to do serious practice. However, if you only have limited space, it may be the best option for you.
Outdoor table
To recap, I started with a full sized indoor table. I then gave this away, when my garage got converted into a bedroom. I then purchased a ¾ size table top. But I still wanted more! So last summer, I also purchased an outdoor table tennis table. I deliberated for some time about what to purchase. In the end I went for the Cornilleau 600X Outdoor Table Tennis Table. This is a high quality outdoor table. The reason I spent more was that I wanted something really sturdy with a high quality bounce. And the extra expense has been worth it. It's a beautiful table, really easy to set up and put away and great to use with the family and my robot.
Here are some other good quality outdoor tables…
UK
USA
Bats
I will keep my advice on bats simple. It can feel overwhelming choosing the best option. There is just so much choice available – and many of the bats you can buy are likely to be very good too. So by all means do your own research. But if you want to make a quick decision, these are the bats I recommend for players I coach. I have listed three options each for beginner players, intermediate players and advanced players. I have tested all these bats extensively, so I am very happy to recommend them to you too.
Beginner
UK
USA
Intermediate
UK
USA
Advanced
UK
USA
Balls
There is also a large range of balls you can buy. They come in two categories – training balls and competition balls. Competition balls are higher quality, but more expensive. If you only want a few balls, then you may as well buy competition balls. But if you want to get lots of balls for using with a robot or doing drills, then training balls will be more cost effective. And to be clear – the quality of training balls is still really high. If you're a beginner player, you probably won't notice any difference. At home when I play with kids or with my robot, I just use training balls. This is what I recommend…
Training balls
UK
USA
Competition balls
UK
USA
Robots
Basic
I have two robots at home. One is the JOOLA Buddy V300. This a basic robot, which can do topspin and backspin and some basic placement. The robot sits on top of the table and you can move it around to get different angles and flight trajectories. You can also change the speed at which the robot shoots the ball. This robot is good for beginners or someone who just wants an inexpensive robot to hit a few balls. Here are some basic robots I recommend…
UK
USA
Mid-range
My main robot is the Newgy Robo-Pong 2050. I have used this for many years. It has been very reliable and has had a lot of use. This robot comes with a collection net and a ball recycling system. This means you can keep playing and playing, without having to pick up the balls all the time. You can set up the robot to feel topspin, sidespin and backspin. You can change the speed, the frequency and ball placement. It also has a load of pre-programmed drills. This robot is suitable for any standard. Here are some mid-range robots I recommend…
UK
USA
Advanced
In the future I am tempted to buy an even better robot. The main drawback with the Newgy Rob0-Pong 2050 is that it can only do one spin at a time. The latest advanced robots are capable of changing spin with each ball, e.g. one ball backspin, the next ball topspin. This is more realistic and gives more options for different drills. Here are some robots I will be tempted to buy…
UK
USA
---
Improving your skills
If you play for an hour or more each week, then you should experience some improvement. But if you want to improve quicker, then it is useful to practice with a purpose, e.g. doing training drills, learning new shots, developing existing skills.
There's lots of table tennis coaching videos available online to help you improve. These videos will teach you how to play various shots and give you ideas on how to practice.
You can start with my Table Tennis YouTube channel. I have 100+ video tutorials with advice from myself and other coaches. My videos cover technique, tactics, service, receive, training and more.
I also have an online course 'Table tennis for beginners', which covers all the basics, such as grip, stance, footwork, forehand drive, backhand drive, forehand push, backhand push and how to serve backspin, sidespin and topspin. The course also includes lots of different training drills you can do to improve your skills.
PingSkills is an excellent website. Alois and Jeff have created hundreds of videos over the past 10 years on every aspect of table tennis. What I like about their videos is that they explain everything very clearly. Lots of the videos are free to watch. Others you have to pay a membership fee to access.
I also recommend the Table Tennis Daily Academy coaching site. Again this is one you have to pay for, but it is very good quality and worth the money in my opinion. They have a range of coaching videos on technique, tactics, service, returning serves, psychology and training drills. New content is added every month.
Table Tennis University is another choice with a mixture of free and paid for content. Coach Tao Li reveals his substantial knowledge of table tennis. There is a free basics mastery course, where you can learn the fundamental skills needed to become a great table tennis player. And then there is the full online training program which includes 52 lessons, 148 drills and 60 answers to commonly asked questions.
There's also a few books which are worth reading. I'll start with my book SPIN: Tips and Tactics to Win at Table Tennis (a bit of shameful self-promotion!). I share tips on training, service, returning serves, winning points, tactics, playing matches and continual improvement. These are tips which work at amateur level. Tips which are achievable. Tips which will make a difference, even if you only play one hour per week. It's a cracking read, honest!
Table Tennis For Thinkers by Larry Hodges is probably my favourite ever table tennis book. I have read it, re-read it and re-read it again. The book contains so much invaluable advice about table tennis tactics, which you can't find in any other book. There are 20+ chapters focusing on tactics against different styles, grips, and surfaces as well as tactical and strategic thinking. This book changed the way I thought about playing table tennis. I highly recommend.
Table Tennis: Steps to Success by Richard McAfee is a very good book about table tennis technique. There are chapters on grip, stance, movement, basic strokes, advanced strokes, service, returning serves and more. Every chapter includes photo sequences so you can see strokes from start to finish. It also includes training drill ideas for the first 5 shots in the rally.
---
Rules of table tennis
The rules of table tennis are contained in a 200+ handbook on the ITTF website. I suspect you have no desire to trawl through this document, so these are the essential rules you need to know…
Games are up to 11 points.
Each player has two serves before swapping.
If the score reaches 10-10, then you have one serve each, until a player wins by two clear points (e.g. 14-12).
When serving the ball must bounce on your side of the table and then your opponent's side of the table.
In singles, you can serve anywhere on the table. In doubles, you must serve cross-court from the right hand side.
The serve must be behind the table.
When serving, you must toss the ball 16cm and contact the ball as it is falling.
When serving, if the ball clips the top of the net and bounces on your opponent's side, you call a let and replay the point.
In a rally, the ball must bounce on your opponent's side of the table. You are not allowed to volley the ball. If your ball goes into the net, you lose the point. If the ball does not hit the table, you lose the point.
In a rally, if the ball clips the top of the net and bounces on your opponent's side, and he/she cannot return, it is your point.
In a rally, if the ball clips the edge of the table and your opponent cannot return, it is your point.
If you do want to know all of the rules, then please check the ITTF handbook.
---
Alternative game formats
Whilst it is useful to know the official rules, if you are playing at home it is not essential to follow the rules exactly. If there is a big skill difference between payers in your household, you might find it more beneficial to use a different format. Here are some alternative game formats which I use at home and also in my coaching sessions.
Handicap – The weaker player starts with a point head start. So instead of starting at 0-0, the score starts at 6-0. The weaker player starts with 6 points. The stronger players starts with 0 points. You can adjust the amount of points the weaker player starts with, depending on how close the final score is. You want the match to be competitive. And if you want the match to go on for longer, then play to a higher amount, e.g. 15 points.
Weaker player always serves – This usually gives the weaker player an advantage and can make an uneven match more competitive. For the stronger player it is an opportunity to improve at returning serves.
Half table only – In this format, the weaker player can hit the ball anywhere on the table, but the stronger player is only allowed to hit the ball on one half of the table (preferably to the weaker player's stronger side!). If the stronger player hits the ball on the wrong side, he/she loses the point.
Attack vs defence – In this format, the stronger player is not allowed to attack, and is only allowed to use defensive shots, e.g. pushes, blocks, chops and lobs.
Weaker hand – In this format the stronger player has to use his/her weaker hand. So if he/she usually players with his/her right hand then he/she has to use his/her left hand instead.
These are just a few ways to make a match competitive when there is a big skill difference between players in your household. Or be imaginative and come up with your own format. Some people still prefer to use the old scoring system, playing up to 21 points with 5 serves each. This is fine also. Use whatever format you like. The most important thing is to make it competitive and have some fun.
---
This concludes my ultimate guide to playing table tennis at home. I hope I have given you lots of helpful information and inspiration to pick up your bat and start hitting some balls. If you do have any questions, please do post a comment below.
I'll finish with a series of videos I made in 2020 during the first lockdown. These are just light hearted videos of me playing table tennis at home with the kids.
Enjoy…
Table tennis at home – Episode 1 – Bat and balls skills
---
Table tennis at home – Episode 2 – Leg work-out
---
Table tennis at home – Episode 3 – Beat the wall
---
Table tennis at home – Episode 4 – Make your own table
---
Table tennis at home – Episode 5 – Shadow practice
---
Table tennis at home – Episode 6 – Rally with a robot
---
Table tennis at home – Episode 7 – Beat your family