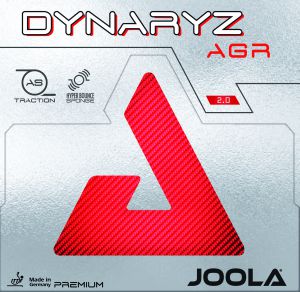 Over the past two weeks, I have been testing the new JOOLA Dynaryz rubbers. There are two versions – Dynaryz ACC and Dynaryz AGR. Both use the same hyper bounce and advance traction technology, which helps players generate more spin playing with the new generation plastic balls.
In this review, I'll give my impressions of playing with the rubbers – looking at topspin, blocking, pushing and serving. I'll also provide links where you can purchase the rubbers, if you want to try them out too.
Set-up + testing
Over the two week testing period, this was my set-up…
I tested the ACC and AGR rubbers on both my forehand and backhand. I also gave the bat to five other players, of varying standards, to get additional feedback.
Difference between AGR and ACC
Both Dynaryz AGR and Dynaryz ACC use the same hyper bounce sponge and grippy topsheet, and so have very similar playing characteristics. ACC is supposed to have more control. AGR is supposed to be for more aggressive play.
In reality, there is not a huge amount of difference between the two rubbers. Both are very, very spinny and very fast.
The ACC rubber has a slightly higher trajectory and maybe is a tiny bit slower, but it really isn't very noticeable.
Topspin
Let's start with the biggest selling point – topspin. These rubbers are incredible to play topspin shots with. I don't really understand the technology of the rubbers (or care that much!), but it was very noticeable that my topspin shots had more spin and more speed than usual. It just feels so effortless, but with great spin output.
Looping backspin balls is so, so easy. I mean really easy. If you have ever seen any of my videos, you will know my looping of backspin balls is a bit dodgy, but with these rubbers I was able to loop with very high consistency. The ACC rubber has a slightly higher trajectory, so this made it even easier for me, but I had no issues looping backspin with the AGR rubber either. Really excellent.
I gave the bat to other players, of varying abilities, to try also. So now I was on the receiving end of topspin attacks. And once more, it was very noticeable how much extra speed and spin was being generated, even with an intermediate standard player.
But what surprised me most, was the attacking consistency of the other players who tested the bat. With faster and spinnier rubbers, I was expecting a drop in consistency. More balls being hit off the end of the table. But this didn't happen. The attacking consistency with all players was very high. Some spun more, some had a flatter contact, but the rubbers have this lovely catapult effect, which makes ball dip onto the table, enabling high consistency.
So for topspin attacks, these rubbers are fantastic.
Blocking
For blocking, I had mixed results. I found the AGR rubber easier to block with because the rubber is a little harder and the trajectory a little lower. I was actually able to block low and fast very effectively, but found it a bit harder to slow the ball down.
I did have a few issues keeping the ball on the table with the ACC rubber. My blocks just seemed to pop up a bit more. To block well, I really had to soften my grip and close the bat angle more.
I noticed this also when I gave the bat to a team-mate to try out. Normally he would have no issues blocking my topspins, but he was also blocking long more than usual when using the ACC rubber.
So blocking well is possible with these rubbers, but I think I need a bit more time to adjust my technique.
Pushing
When pushing, I was able to generate decent amount of backspin with both AGR and ACC.
I did find it easier to keep the ball low and short with the AGR rubber. Once again, I had a few issues keeping the ball low with the ACC rubber, because of the higher trajectory. I had to adjust my bat angle more to keep my pushes low.
An intermediate standard player told me she found it difficult to control the ball when pushing and playing more passive shots.
So my feel is that you do need quite an advanced touch to be able to control the ball for the short game and when returning serves.
Serving
Both rubbers are excellent for serving. You can generate lots and lots of spin.
Once again, my preference was for the AGR rubber. It was just a tiny bit easier for me to keep the ball low and tight.
But really, I couldn't tell a huge amount of difference. Both are very spinny.
When I gave the bat to my team-mate to test, his serves became just that bit harder to return. I made a lot of errors, underestimating how much spin was being generated. My team-mate was very happy with this!
Overall verdict
JOOLA Dynaryz ACC and AGR are extremely fast and spinny rubbers. They are brilliant for topspin play. It feels effortless to generate topspin and it is very noticeable that my shots had more speed and spin.
My usual set-up is JOOLA Rhyzer 48, JOOLA Rhyzer 43 and a JOOLA Fever blade. This set-up is medium-fast. By comparison the JOOLA Dynaryz and JOOLA Noblis combination felt a good 25% faster and spinnier. A really big improvement. This set-up is ideal if you have a predominant topspin attacking style of play. It is a complete joy to play with.
My personal preference is for the AGR rubber. I found the bounce for the ACC rubber a little too high to control for pushing and blocking. It may be worth me trying out the 2.0mm thickness version, as thus may reduce the speed of the rubber a little. But if you prefer a higher throw rubber, then ACC is a very good choice.
I found the AGR rubber easier to control for my playing style, plus there is a huge catapult effect when playing topspin strokes which is just beautiful! This is left with me with a bit of a dilemma. Should I switch to using this rubber all the time? I might wait until the league season is over and experiment using with my JOOLA Fever blade.
So in summary, the Dynaryz rubbers are very serious contenders from JOOLA. Amazing speed and spin. Judging by other reviews also, the general consensus seems to be that the JOOLA Dynaryz rubbers are as good as anything else available at the moment. Definitely worth trying out.
Where to buy
If you're in the UK, you can buy a JOOLA Dynaryz rubbers from Bribar Table Tennis.
If you're in the USA, you can buy a JOOLA Dynaryz from Megaspin.
For the rest of the world, I recommend looking at the JOOLA website, which has links to suppliers all over the world.
RELATED: If you want to understand how these rubbers compare to other JOOLA rubbers, then please read my JOOLA Rubber Comparison Guide