Article by Rachel Boardman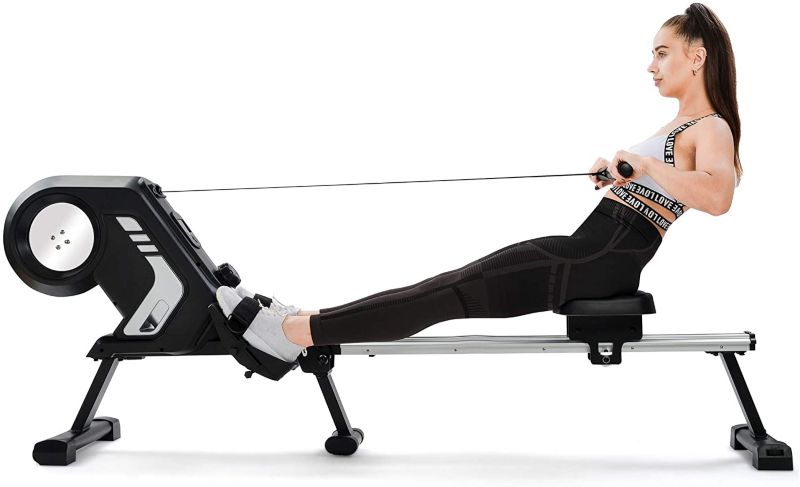 There's a reason why Olympic rowers look like they do. Believe it or not, rowing is one of the best full body exercises you can do. Not only is it an awesome cardio workout but it's a workout for 9 different muscle groups across your upper and lower body. Plus, its low impact so if you have joint pain or are rehabilitating after injury you can have a great, pain free workout.
The great thing is you don't even have to fork out for a gym membership or join a rowing club to get the benefits of rowing. You can have one in your own home!
When you're looking for your perfect rowing machine there are a few things that you should consider before even looking at one.
Where in your home are you going to use it?
Where are you going to store it when it's not in use?
Are you bothered about how loud it is?
What is your budget?
Once you've answered these four questions, choosing the best rowing machine for you should be much easier. Plus, it will avoid that awkward moment when you're stuck with a rowing machine in your kitchen because there is nowhere else for it to go.
There are actually four types of indoor rowing machines that you can choose from and which one is right for you will mainly be determined by your answers to the four questions above.
Hydraulic Rowing Machine
Often referred to as piston rowing machines, these rowers are a great option if you are short on space
The resistance is created from the amount of air or fluid which is compressed within a cylinder or piston. Most models allow the resistance to be easily adjusted.
These rowing machines are often able to be folded up and stored and are usually the most affordable too. However, most hydraulic rowing machines are set up so that when you exercise you cannot actually perform a natural rowing motion. This limits the full body benefits that you get with other more expensive rowing machines.
Air Rowing machines
Air or flywheel rowing machines provide a more natural feel to indoor rowing. These rowing machines work by using air resistance. When you pull the "oar" the flywheel and attached blades spin. The resulting wind provides the resistance. To increase the resistance all you need to do is pull harder. The flywheel will then spin faster creating more air resistance.
Unlike the Hydraulic rowing machines, air rowing machines are much smoother to use and feel closer to rowing outdoors in a boat.
These rowing machines are by far the most common on the market and are probably the type of rowing machine found at your local gym. However, it is worth noting that they do generate a fair bit of noise.
Magnetic Resistance Rowing Machine
For those of you after a rowing machine that isn't noisy a magnetic resistance rowing machine might just be for you. These types of rowing machines are known for being pretty much silent and have a smooth rowing stroke.
Magnetic resistance rowing machines, like the name suggests, utilises a magnetic braking system which produces no friction and so very little sound. The resistance level can often be adjusted using a digital console or a slide lever.
However, these types of rowing machines lack the same reactive and powerful resistance of air and water machines and it can make it harder to achieve the all-round muscle gains of more advanced rowing machines.
Then again you can get indoor rowing machines that utilise a combination of both air and magnetic resistance.
Water Resistance Rowing Machine
Indoor rowing machines that use water flywheels are ideal for those that want to simulate outdoor rowing. Using large, water-filled tanks and a paddle-based flywheel they create resistance akin to what you would feel out on the water. They are relatively quiet and usually made out of wood unlike the other types of rowing machines.
The major downside to these rowing machines is the cost. They are generally more expensive and off less functionality than other machines.
Recommendations
There's no right or wrong in choosing a particular type of rowing machine. You have to choose the option which best fits your budget and the space you have in your home. The most important thing is actually doing the exercise in the first place.
Here are some rowing machines I recommend. I have selected a few at different price points. All of these have high ratings and lots of reviews, so you can feel confident you are purchase a good quality rowing machine.