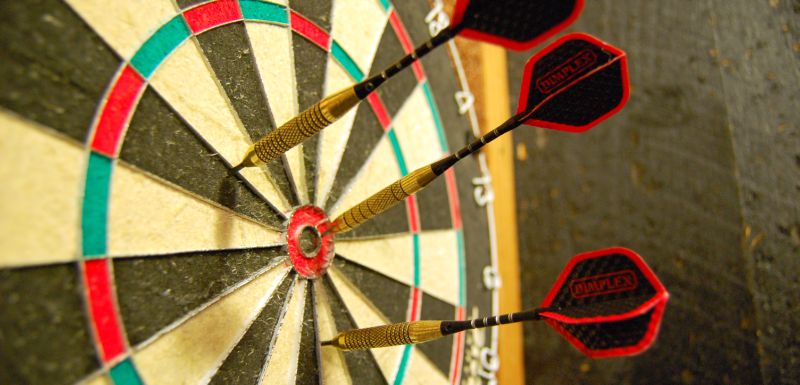 Article by John Matich
Known to many as The Governor, The Crafty Potter, The Godfather, and the Power, Phil Taylor may well hold the record for the most nicknames of all time.
But that's not the only record he holds.
In the sport of darts, he's also a 16 x World Darts Champion, 11 x Grand Prix winner, 6 x Premier League winner, 16 x World Matchplay winner, 6 x Grand Slam winner, and 4 x World Cup of Darts champion. To many, he's the greatest player the sport has ever seen – described by many as a competitive animal, a winning machine, and a genius.
Taylor turns what to many is a simple pub game into an art form of accuracy, and brings to it a sports personality just as big in his field as Tiger Woods or Roger Federer are in theirs. In other words, his passion doesn't just make him win, but it inspires others to do the same.
If like many people who have seen him play, and you're inspired to take on the game of darts, then your first port of call will be buying yourself a dartboard.
That's where this article comes in.
I will help you understand exactly what you need to know about dartboards, which you should choose, and why you should choose them.
What type of dartboard should you choose?
Mark Twain once said that if you ever find yourself on the side of the majority, it's time to pause and reflect. Well, in the case of dartboards, this couldn't be further from the truth. When it comes to popular opinion, the consensus on the best dartboard is pretty accurate.
In general, the most common dartboard you'll see is a bristle/sisal dartboard, with thin, bladed wiring and a bladed bullseye. There are other components that matter -and I'll go into all of them- but those are the most important.
Let me explain why:
Bristle / sisal dartboard
Bristle boards are made from a highly durable, high-density material called sisal. The reason this is a great material for dartboards is that sisal has a unique "self-healing" ability that not only guarantees a long-lasting dartboard, but quite literally seals holes shortly after the dart is removed. This means that you can continue to use the dartboard for an extended period before it begins to degrade.
If you're looking for a dartboard that will survive frequent use or even tournament play, then this would be the best choice.
Dartboard wiring
The wiring on your dartboard separates the central area from the outer one. Ideally, you want wiring that is crafted in a way that minimises bounce outs. In general, thinner, triangle wires will help improve your chances of hitting the target, and a staple-free bullseye goes a long way towards helping you hit the mark. To go even further, you can look for blade wiring, which removes the need for any staples and reduces the wire thickness even more.
Dartboard depth
The depth and density of a dartboard are more important than most buyers would think. A good depth and density help darts penetrate the dartboard and reduce bouncing. This helps you have a much more consistent game and allows you to achieve a much higher (and accurate) score.
Generally, a bristle dartboard will have a solid density and depth but it is always something to check before you make any purchase.
Bladed bullseye
Let's face it, you'll be aiming for the bullseye a lot, especially if you're a beginner, and landing a dart here is one of the more satisfying feelings in darts. A bladed bullseye helps to secure your darts and eliminate bouncing so that your hard-won hits end up sinking into the sisal.
Inks
Look for dartboards with food-grade eco inks. These will sink into the dartboard with greater ease, providing a deeper and more striking colour that will last through frequent wear. This kind of ink also means that your dartboard will have low glare, improving your potential accuracy.
Hanging
Your dartboard is going to need to go on a wall, so make sure it comes with an appropriate hanging which will allow it to sit firmly on the wall. The last thing you want is to have your darts knocking it loose, after all.
Recommendations
Here are the dartboards I recommend:
UK
USA
Final thoughts
Darts isn't a physically taxing game, and it's extremely fun with friends. This means that your dartboard is probably going to take a lot of wear and tear from extended use. With this in mind, look for reviews on dartboards which complement its durability, alongside finding a build that has decent wiring and a solid bristle construction. With those components, you're sure to have a dependable, attractive board that'll last for a long time.